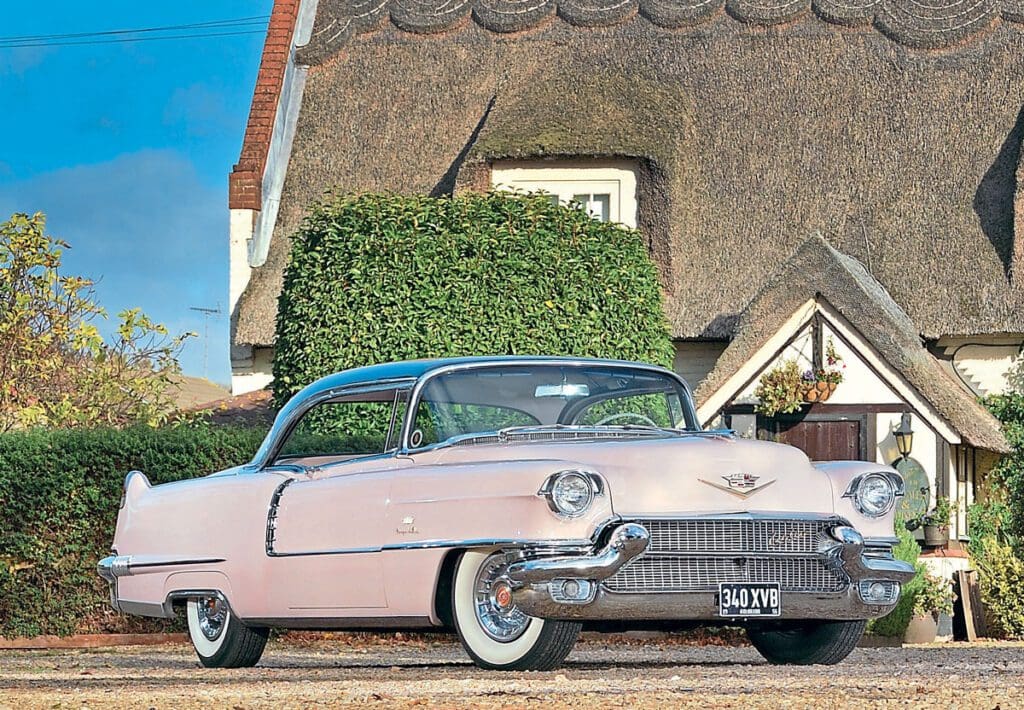 Words: Nigel Boothman Photography: Matt Woods
Owning one of the most dramatic luxury coupes of the Fifties is an exciting prospect, but owning two of them – in incredible, original condition – is worth shouting about!
If you really, really love American cars of the Fifties, you shouldn't settle for just anything from that decade. You should consider the models where the era's adventures in car styling produced the wildest, most exciting results; cars like this pair belonging to Wayne and Lisa Harrison.
Wayne has had a series of American classics and since he and Lisa spent a spell living in the Midwest, he's focused on seeking out quality examples of models he's passionate about. In practice, this means locating something in the USA in excellent original condition, usually with very few owners and a modest mileage. It's what we all want, surely? Except Wayne doesn't just dream about it, he buys 'em and brings 'em over.
We last featured one of Wayne's cars in 2015, when his previous Mercury Turnpike Cruiser boggled our minds. That was a four-door, also tuxedo black like the two-door we see here, and the only one in the country at the time. There are now three – that's one other, Wayne thinks, apart from the two he's imported. Still not exactly plentiful. So let's have a walk round this one first.
The Turnpike Cruiser was a rather short-lived model, related to a 1956 show car of the same name and becoming a production offering in 1957 and '58. If the second half of the Fifties was the era when America's car stylists had more licence to go nuts than ever before or since, the Turnpike Cruiser was a high-water mark even in that period. Yes, the TC shared its sheet metal with the rest of the Mercury range, but the extra dazzle-factor built in to the new model was memorable.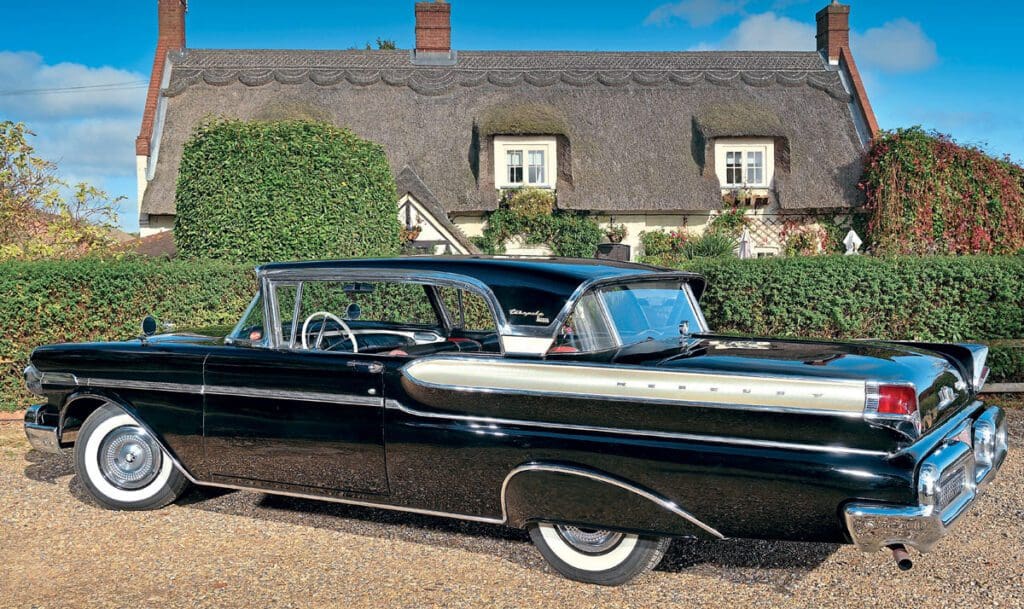 Mercury asked about another $500 on top of the $3236 you'd have to pay for a Montclair coupe, but that bought you a lot of standard equipment, including power-brakes and -steering, automatic transmission and an electric rear window, reverse angled like our humble Ford Anglia and with a centre section that slid down to suck the smoke from the Lucky Strikes right out of the back – or to let you pass the Ray-Bans to your buddy…
It wasn't the option kit that set the TC apart, though.
There are some unusual features on the outside, such as the air vents above the top corners of the screen, each poking a decorative aerial forwards, but it's inside that the space-age fantasy really gets going. A regular '57 Mercury dash isn't exactly dull, but the Cruiser grew a pair of rubber-edged bezels for a rev counter and a clock, plus little joysticks like miniature aircraft throttle levers to control the air flow in the cabin.
The dash panel itself shimmered from an engine-turned finish and the wheel – my goodness, that wheel – flattened itself at the top to resemble the tiller of Flash Gordon's personal runabout.
The push-button transmission controls, over on the left of the column, were a regular Mercury feature for those who could afford Merc-o-Matic drive, but they looked very much at home in the TC's control panel. And we haven't even mentioned the trim yet: it's a Chinese Key broadcloth, with red vinyl and gold piping. The carpets are protected by large rubber inserts. And perhaps even more remarkable, it's completely original. We better let Wayne tell the car's story.
"I sold the four-door Turnpike Cruiser to a dealer back in 2016," he says. "Even as I was loading it on to the truck I was beginning to regret it, and ever since then I'd had an eye open for another one. Someone on the Turnpike Cruiser Facebook page was advertising a cheap '58 model, but when I checked it out it needed too much work. However, it did lead me to a website for Turnpike Cruiser owners, and I saw something else there."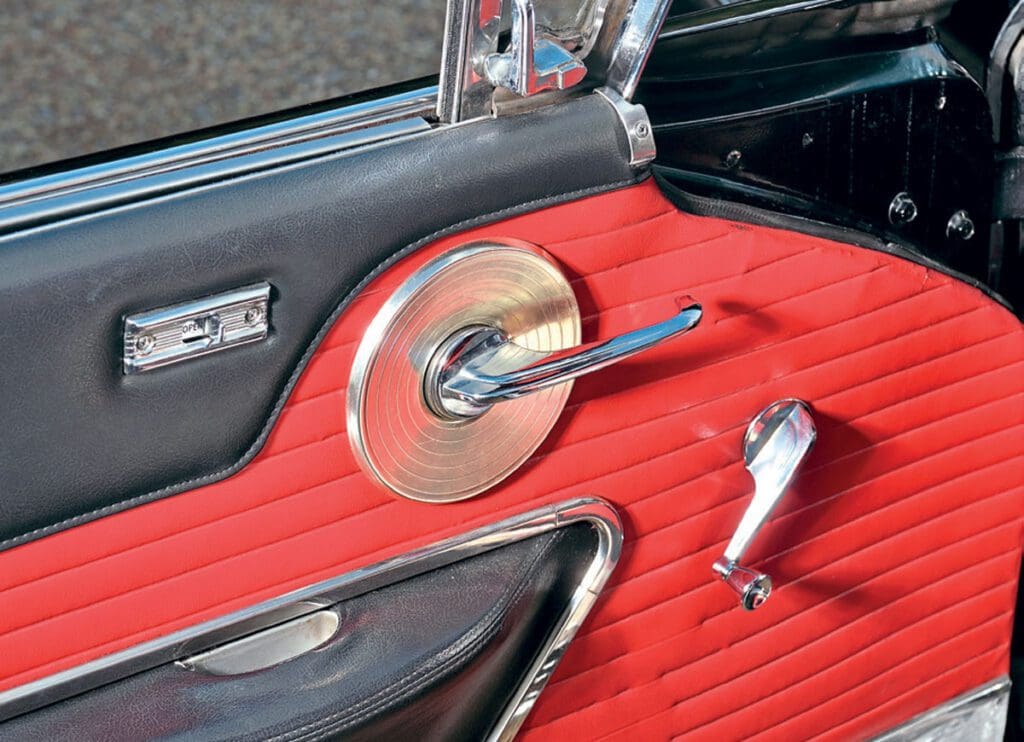 What Wayne saw was a lovely 1957 two-door, with no price mentioned. He emailed the seller and heard the car's history, which suggested it was too good to ignore.
"It was bought new by a man called Oscar Fisher who owned a Sinclair gas station in Lavinia, Michigan. He would apparently go to work in the tow truck, leaving the Mercury for weekends. He died in the Eighties and left it to his son Richard, who died in the Nineties and left it to his son Robert, with the stipulation that it was never to be modified.
Robert sold it to the next owner in 2002, who kept it until 2017. It had done only 26,000 miles when I saw it advertised, and apart from the odd touch-up here and there, was completely original inside and out."
Wayne didn't need any more persuading after he saw photos of that incredible interior. The deal was done, the car arrived, and Wayne says it was even better than he hoped – the vendor had actually under-described it. It won Best in Show at Stars n' Stripes in 2018 and Best Fifties Car at the Atomic festival the same year.
"I wanted to correct a rumple in the carpet, so I removed a bit of trim, lifted the carpet and found a snagging list from the production line underneath," says Wayne. "It had never been up before." It's a stunning car. What could possibly turn your head more than that? A pink Cadillac, perhaps?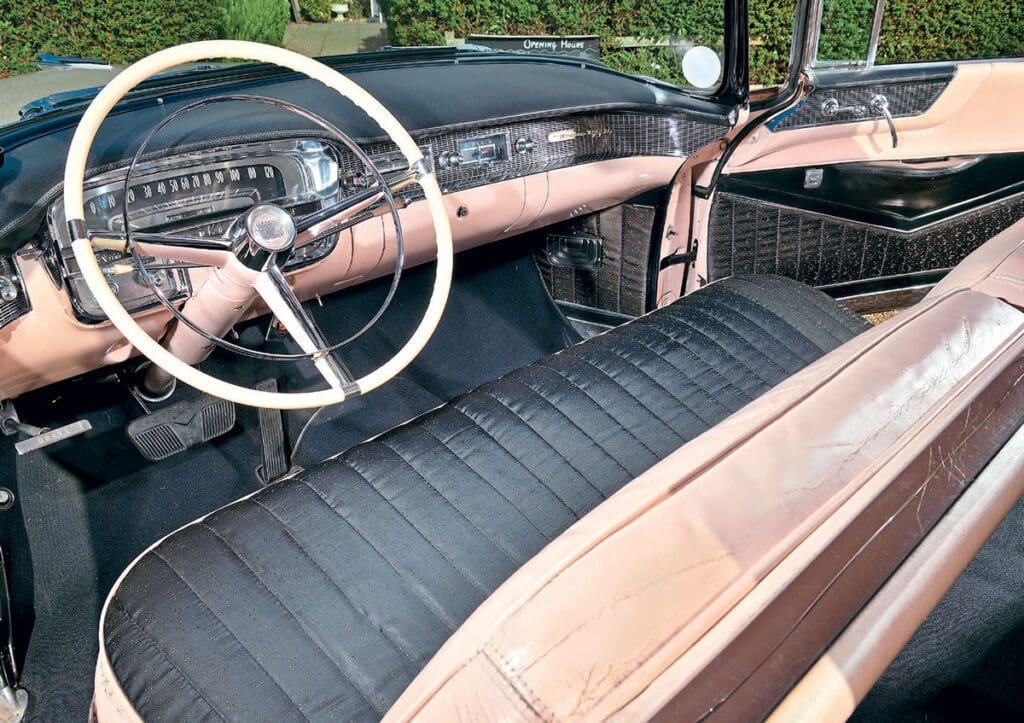 If the Turnpike Cruiser was a short-lived shooting star, the Coupe de Ville was more like a comet – it would return, time and again, always attracting attention. But Cadillac's decision-makers were just as tuned in to the taste for ever-more outlandish looks (how else would we have ended up with the '59 models?) so despite the marque's respectable, patrician image, cars like this '56 example escaped in increasing numbers.
The exterior features are less gimmicky than the Mercury, for sure, with screens leaning the conventional way and one headlamp rather than two on each side. But it's not above a good deal of jet-age influence, with those rocket-nosed Dagmars on the front and pseudo air-intakes on each flank, like a Lockheed Shooting Star jet fighter. But we haven't mentioned the paint, have we? It's Mountain Laurel, code 46 with a black roof.
Compared to the garish, plastic-pink paint you see on hen night limos in city centres, it's restrained and rather beautiful. Think of it on chip card alongside a cornflower blue and a pale yellow and it makes a restful alternative to glossy jet black. But then you look inside, and you discover just what an effect it has on the interior trim choice.
It's astonishing… did you ever see a car with a pink headlining before? The pink paint on the dash, column and door tops is very well matched with the pink leather (not vinyl) around the seats, which are themselves panelled with a cloth that imitates a starry night sky. It's actually a black fabric with white, pink and green dots sewn through it.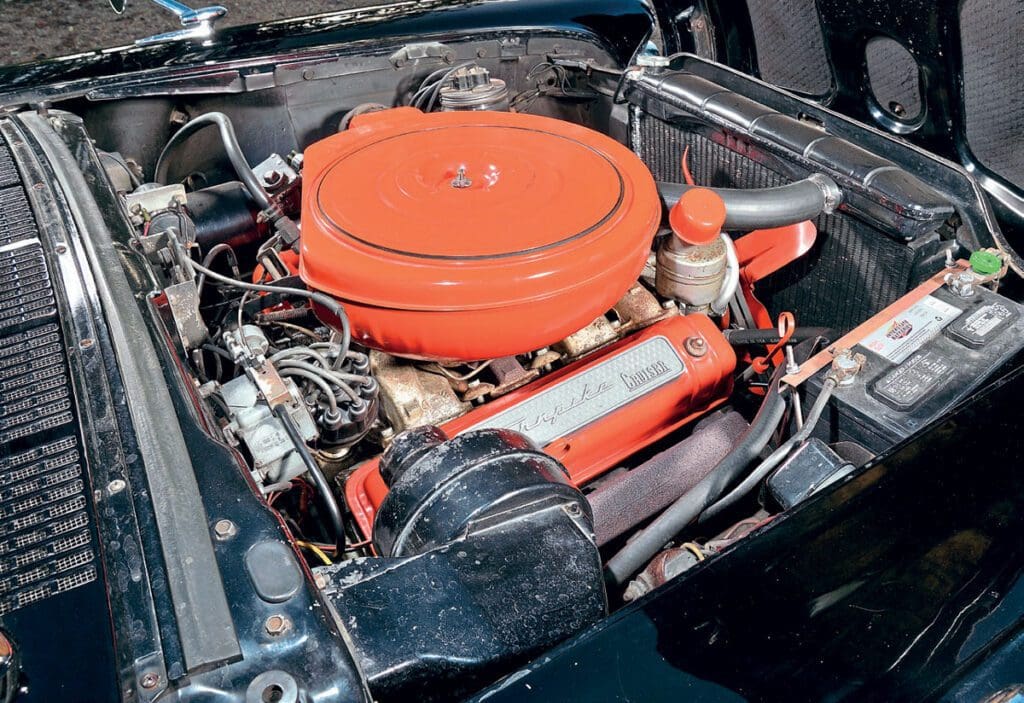 The area where the driver sits is showing signs of wear, but Wayne is a professional trimmer (search Rawhide Auto Trimmers) and specialising in just the kind of careful restoration this area deserves. So it'll be done right, with original-spec material.
The dash has less spacecraft shock factor than the Mercury's, but offers a very classy look with a mesh grille that forms a false surface beneath the dash top (stitched black leather, like a posh briefcase) and mounts both the clock, the self-seeking radio and the script saying Nineteen Fifty-Six. Which is a strange thing in itself… how would you feel when you climbed into your still-new Cadillac in January 1957 and saw that? Wayne knows the name of the man we could have asked, but he's long gone now.
"The car was bought new by an elementary school principal called Richard H. Costello, who would have been 49 at the time. I think he kept it until he died, because it passed to a new owner in the Seventies and this chap kept it until 2007. He sold it through a dealer to a customer who later brought it back to that same dealer in 2017, which is where I saw it advertised."
Ah, the dreaded eBay. Wayne had a 1956 Oldsmobile 98 and liked it very much, but he'd had six Cadillacs previous to this one and his heart was still with the marque. So naturally he was keeping his eyes on the shop window.
"The dealer was in St Louis, Missouri. Apparently it's had just one re-paint, quite a while ago and in the correct colour. It's got the Autronic eye on the left of the dash, a six-way power seat, tinted glass, a Wonderbar radio with a power antenna and a power-winding electric clock, which actually works. It shouts 'Fifties', which is why I love it," he grins. The final question is an obvious one – how do they compare on the road? Wayne has no doubts which is superior, at least in feel and ride quality.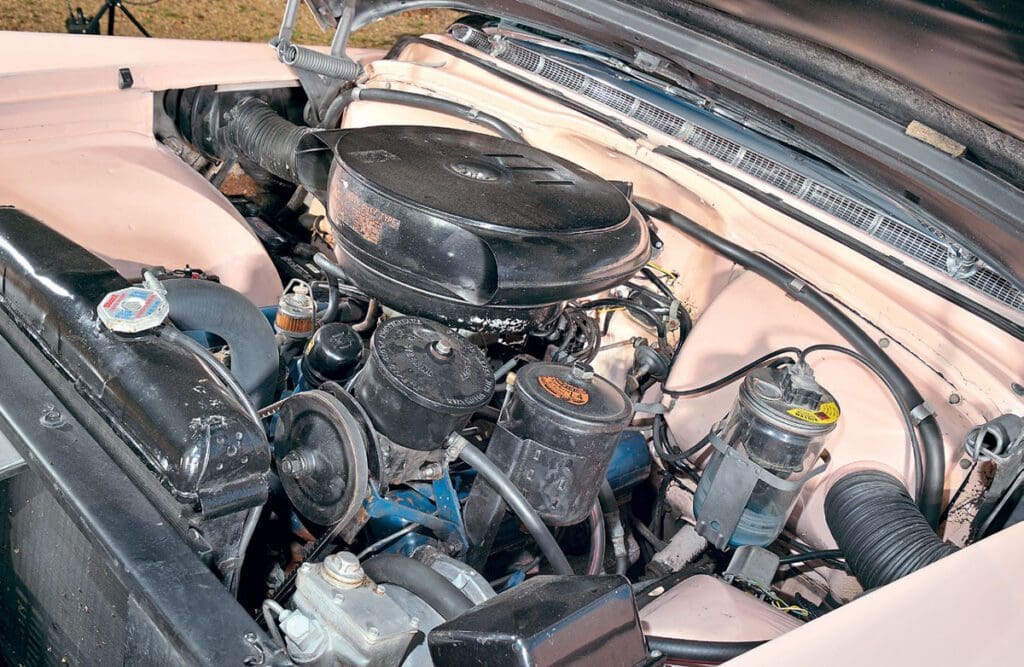 "The Cadillac is far nicer to ride in. I didn't know how good they could be until I owned a '56 Fleetwood when we lived in the States. This one lives up to that example; it absorbs the bumps and is incredibly comfortable, quiet and smooth. The Mercury has harder seats and transmits more of every bump to the occupants, and while it doesn't handle as nicely as the Cadillac it's a lot quicker – it really takes off."
Both cars used hefty V8s with remarkably similar capacities and rated outputs: 365cu in / 285hp for the Cadillac and 368 cu in / 290hp for the Turnpike Cruiser. The Cadillac weighs 400lb more and cost an extra $1000 when new, which perhaps tells you that Wayne's modern-day impressions of the differences between the two would have been echoed back in 1957.
What's certain is that we're lucky to have people like Wayne who can find and import these cars in such original, well-kept condition. But what's next? "Well, I love them both, but we had a 1960 Thunderbird that was Lisa's favourite and we should never have sold that. So I'm keeping my eyes open, as usual…