Now, we know you're all used to your favourite mag being on the newsagents' shelves on the third Thursday of each month.
But the January 2018 issue will be out one week earlier than usual – so you'll be able to catch up with all the news, including the details of the winner of the Footman James Car of the Year competition – on THURSDAY, DECEMBER 14!
And this is great news for more than one reason. Firstly, if you're not yet a subscriber, you'll be able to dive into the shops a week in advance to pick up Classic American before the pre-Christmas rush really gets chaotic. Secondly, we've got an amazing festive gift guide for you to savour, so if you're looking for great goodies for friends and family, or maybe want to treat yourself to some scale models or in-depth reading matter in the shape of some well-researched car books, you can check out our bumper guide to gifts.
Don't forget the December issue of Classic American is already on the shelves, and it is bagged with a FREE, superb calendar containing top-quality photos of some amazing cars.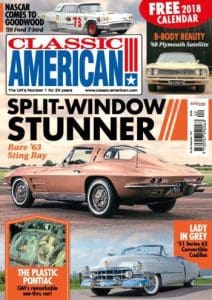 And we've even more goodies to tempt you with… if you set up a subscription to Classic American, we'll include a FREE Classic American T-shirt which can be posted out as a gift. That's one more present ticked off the list!
With Christmas on the horizon, why not take time out to relax with a cuppa and your favourite magazine and leave the hurly-burly behind for a while? Recreate the sights of summer within these pages and look ahead to great events, shows and gatherings in 2018.
Happy reading!
Article continues below…
Advert