The Main Event: FIA/FIM European Drag Racing Championships – Round 1
Santa Pod Raceway
Two contrasting high-velocity events will cap Santa Pod Raceway's busy month of May. The big-money Doorslammers race (19-20 May), with its £75,000 prize fund, now shares a weekend with the Volkswagen festival known as 'Big Bang', postponed from last month in the search for better weather.
A week later, Santa Pod's brand new, all-concrete track undergoes its baptism of fire with The Main Event, the opening round of 2018's FIA and FIM European Drag Racing Championships. Thanks to Easter's washout, the track remains untested by the most potent cars and motorcycles. Barring another calamitous resurgence of winter, Spring Bank Holiday weekend will deliver that opportunity.
Nine Top Fuel Dragsters equal 90,000 brake horsepower itching to be unleashed on the pristine surface. Malta's 2017 European champion, Duncan Micallef, resumes his personal battle with Anita Mäkelä – the Finnish former champion has a score to settle after three early defeats by Micallef last year stopped her title defence in its tracks and helped seal the crown for the 'Maltese Lion'. Yorkshire's Liam Jones will have home crowd support to translate a series of pole positions in qualifying into a career-first victory on race day. Another ex-champ, Sweden's Mikael Kågered, has designs of his own on a title quest while Swiss miss Jndia Erbacher seeks to emulate the achievements of her multi-champion father.
Santa Pod's huge investment in the new track is designed to deliver fresh performance standards. Anita Mäkelä leads the standings at 3.878 seconds and 313.30mph over the class's 1,000-foot racing distance, with Duncan Micallef just a whisker slower. Yet five of the other entrants also have sub-4sec/300mph performances to their credit, with the remaining two just fractionally adrift of that pace. Whether records will fall so soon, and to whom, are intriguing questions for the thousands of fans expected to attend.
Several on the 19-strong Pro Modified entry list will have been in action a week earlier in pursuit of the Doorslammers gold, so will have prior knowledge of the new track to aid their tuning. For the rest, it will be a virtual mystery tour. These unruly cars were deemed unsafe to run in Easter's vile conditions, so this race effectively marks the beginning of this season's MSA British Drag Racing Championship, combined with the FIA Championship's formal opener. Sweden's all-conquering Michael Gullqvist sets off in search of his eighth FIA title while Hampshire's Andy Robinson leads the homegrown challenge emboldened by a UK record-setting performance last time out in September which sealed his sixth MSA crown.
There is further FIA Championship action in the Top Methanol and Pro Stock divisions and a full programme of Sportsman competition in support.
Two-wheeler fans will relish seeing Greece's Fil Papafilippou climb astride the Gulf Oil Top Fuel Bike for the first time. Previously piloted, and still guided, by Cambridgeshire's Ian King, the 5.8sec/240mph Gulf bike returns to Europe after a year in America. It has also enjoyed starring roles at the Goodwood Festival Of Speed. King's successor as FIM European champion, Sweden's Rikard Gustafsson, will be eager to rebuff the Graeco-British challenge with his own, 244mph mighty machine.
The championship competition, on two and four wheels, brings over 275 entrants from 17 countries. As ever, Santa Pod offers its usual, packed programme of family entertainments to complement the track action – Monster Trucks, stunt shows, air displays, funfair rides – together with free paddock access to view the spectacular racing machines and their hard-working crews at close quarters.
The Main Event takes place at Santa Pod Raceway near Wellingborough (NN29 7XA) from Friday 25th to Monday 28th May. For further information, and to book tickets, please visit www.santapod.com or telephone 01234 782828. And as always, children under 16 are admitted free, up to three per paying adult.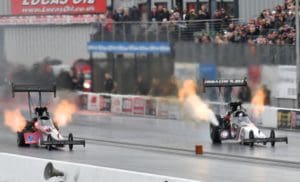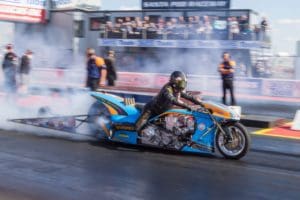 Photo captions
Top Fuel Dragsters: Malta's Duncan Micallef (left) takes on Switzerland's Jndia Erbacher.
240mph Gulf Oil Top Fuel Bike returns with new rider, Greece's Fil Papafilippou.
[ Pictures:   1.Callum Pudge / 2.Dave DJ Jones / Santa Pod ]