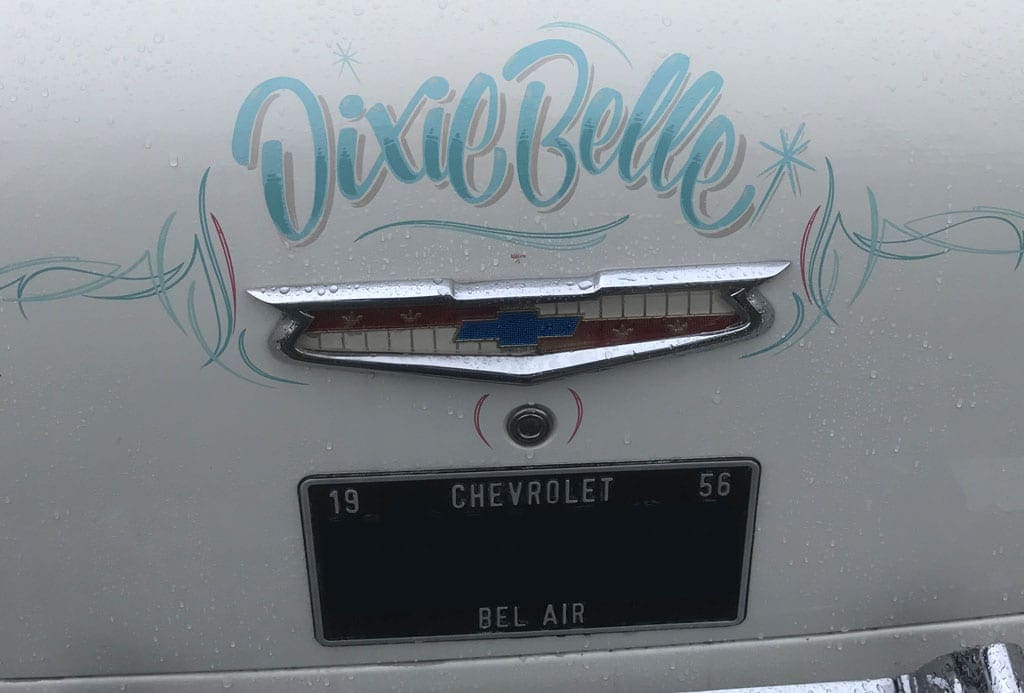 This 1956 Chevrolet Bel Air 2 door Sedan is for sale on Classic American.
The car is called Dixie Belle and it's a 4 time show winning car. The engine has been upgraded to a 350 cc 5.77 Ltr V8 engine and there is an Edelbrock carb.
The headlights are now Halogen and she carries drums brakes on the rear and disks on the front. The rear boot lid has been pinstriped with her name, and there are cushions with her name inside. The interior has been carpeted throughout. There is a 'hidden' modern CD player in the glove compartment.
The car starts first time with regular use, and probably second or third when not used too much. Once started, she drives like a dream.
Problems: The horn is not working at the moment…the seller had it tested, and somewhere between the steering wheel and the horns, there is a broken wire. The spare tire is flat, and would need replacing. The paint work is largely in good order, but after eight years there are signs that if the buyer wanted to present it in top condition, then a paint job might be needed, in a couple of small areas.
Included with the vehicle would be a brand new set of rubber seals (from Danchuk), a polishing buffer, with brand new and unused covers, plus the car cover, and assorted spares.
Article continues below…
Advert
The vehicle is perfectly able to be driven to shows and draws admiring glances wherever it goes…it is a head turner!
For the perfectionist, if the work was to be done that is needed, the vehicle would be worth around £10k more as the 2 door sedans for this year are very rare.
Although the seller has set a price for it, which is at a level that it's worth, they would be very interested in a direct part exchange for a 1950's Chevrolet pick up…just contact them before the sale ends.
Article continues below…
Advert
Price: £18,000 ONO.
Location: Kent
Contact Number: 07930156055