Geoff Carverhill continues his visits to the Earls Court Motor Shows during the Sixties, with photographs from the Steve Miles Collection and the files of Autocar.
Words: Geoff Carverhill
Images: Steve Miles Collection & Autocar
As with any of the previous Motor Shows at Earl's Court during the Sixties, visitors entering the 1966 show by the main Warwick Road entrance would be subject to an immediate shot of American-style glitz and glamour as Pontiac and Oldsmobile stands 135 and 134 showed their latest offerings. There were many more new models on offer for 1967, with American left-hand-drive outnumbering the right-hand-drive Canadian versions for the first time since the late Fifties, especially in the GM camp.
As new models became available so the importance of a right-hand-drive car became less important; buyers just wanted an authentic American car, so American-built left-hand-drive models proliferated. Steve Miles' photographs capture the unique atmosphere of the London Motor Shows, not just the cars, but the enthusiastic schoolboys and wide-eyed dreamers trying to get a peek inside the latest Chevrolet or Plymouth – they are all here.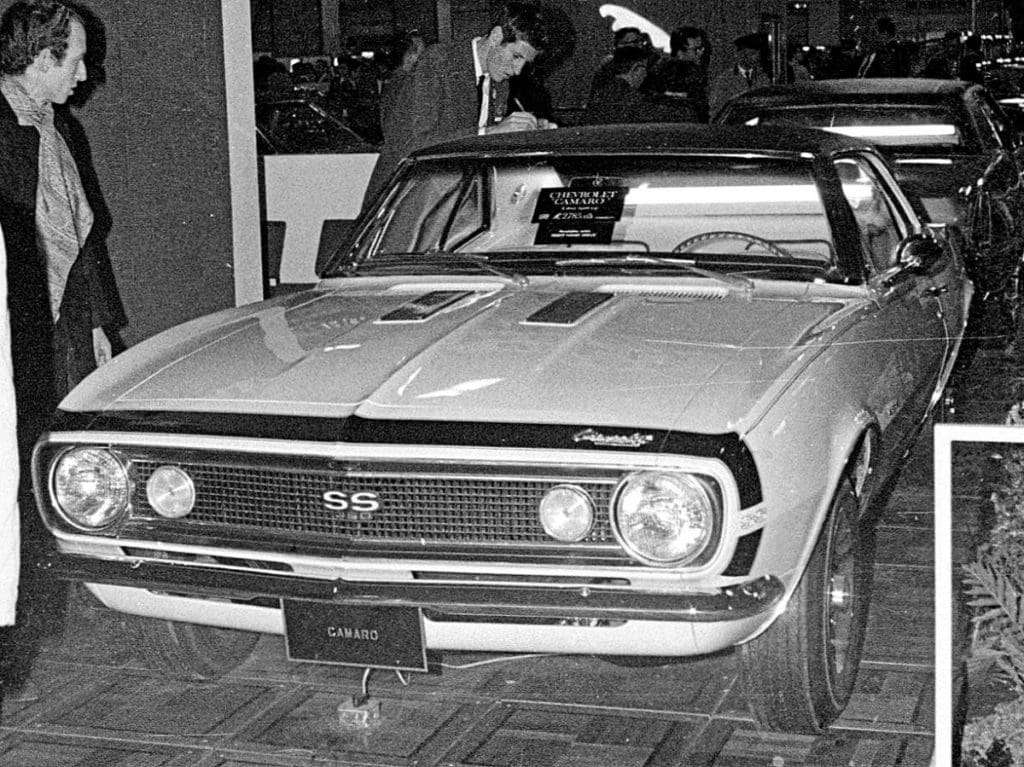 The Camaro was launched in September 1966, and this SS350 model got some envious looks from punters on the Chevrolet stand. 
---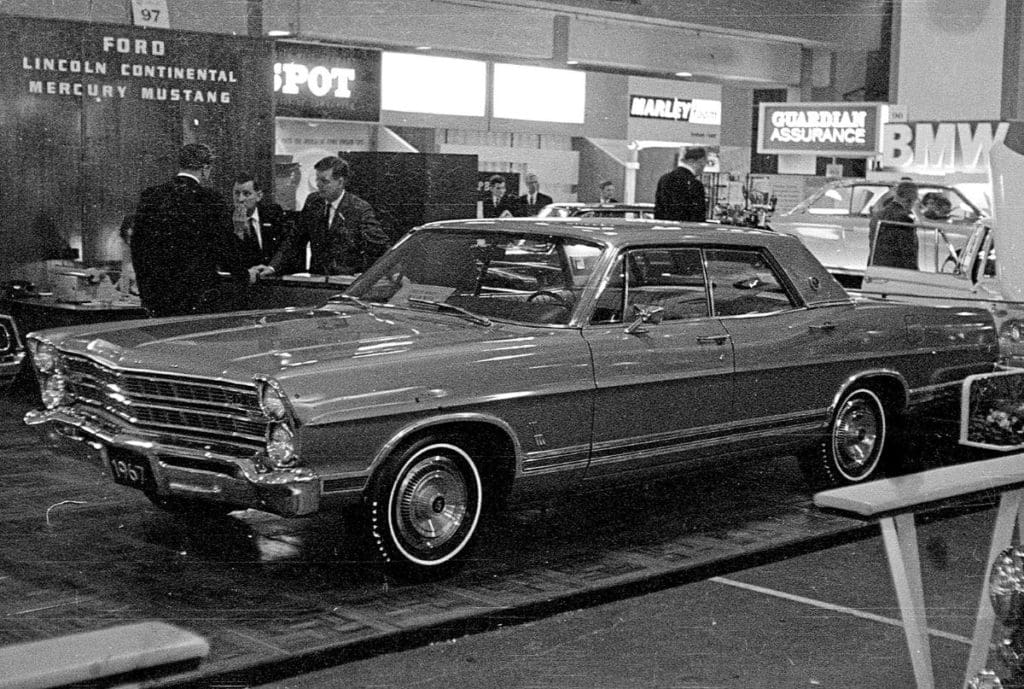 The front-wheel-drive '66 Oldsmobile Toronado was launched at the 1965 show. For 1967, it was Cadillac's turn with the front-drive Eldorado. Built on the Toronado platform, the Fleetwood Eldorado utilised the Toronado body shell but had every conceivable Fleetwood convenience feature as standard. During the Sixties, Lendrum & Hartman gained an enviable celebrity client list for their cars. Radio and television personalities Sid James and Tony Hancock both drove Cadillac and Oldsmobile cars respectively – supplied by Lendrum & Hartman.
In 1963, Lendrum & Hartman were selling around 2000 cars a year, and this trend continued into the mid- and late-Sixties. Rock guitarist Jeff Beck, on getting his first hit with The Yardbirds bucked the trend of his contemporaries, by not investing in a flat or a house, but instead "went straight out and bought a '63 split-window Corvette". Singer Dusty Springfield had a Buick Riviera, Elizabeth Taylor and Richard Burton famously had a special order Cadillac Fleetwood Brougham that was wrecked by a disgruntled chauffeur in Brighton, and it was a Chevrolet Impala that was used by Decca Records to make sure their new chart hit-makers The Small Faces got to gigs on time.
But it was the Ford Lincoln Mercury dealer Simpson's of Wembley that tapped into the world of film and television during the Sixties, as well as into the pop world, with a great deal of success. Lincoln Continentals were supplied by them to Goon Show comedian Peter Sellers and The Who guitarist Pete Townshend. Simpson's also supplied American cars for films – the Morecambe & Wise movie, which featured a '66 Ford Thunderbird Convertible. Wherever an American car was needed, film companies would rent them from Simpson's.
---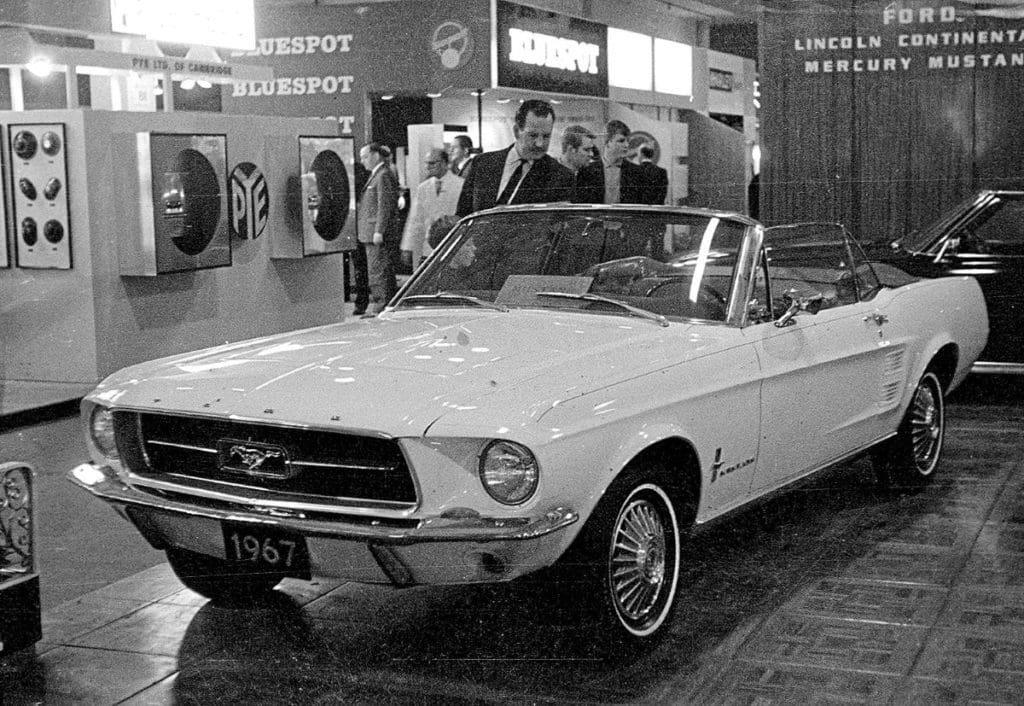 For 1967, all big Fords were completely re-styled, sharing only their drivetrains with the 1966 models. A Galaxie 500 was shown alongside a '67 Mustang Convertible, a Canadian-built left-hand-drive Falcon Station Wagon and a Thunderbird four-door Landau Hardtop on the Ford America stand, a.k.a. Lincoln Cars. Also in the Ford America line-up were the latest models from Mercury, of which the Cougar was the star. Gone was the Comet Caliente and in its place was the new Cougar two-door Sport Coupe, which was designed as a compromise between the sporty Mustang and luxury Thunderbird. On adjacent stand 95, Lincoln Cars were now selling the German Ford range, and showing their 'Cortina-beater', the Taunus.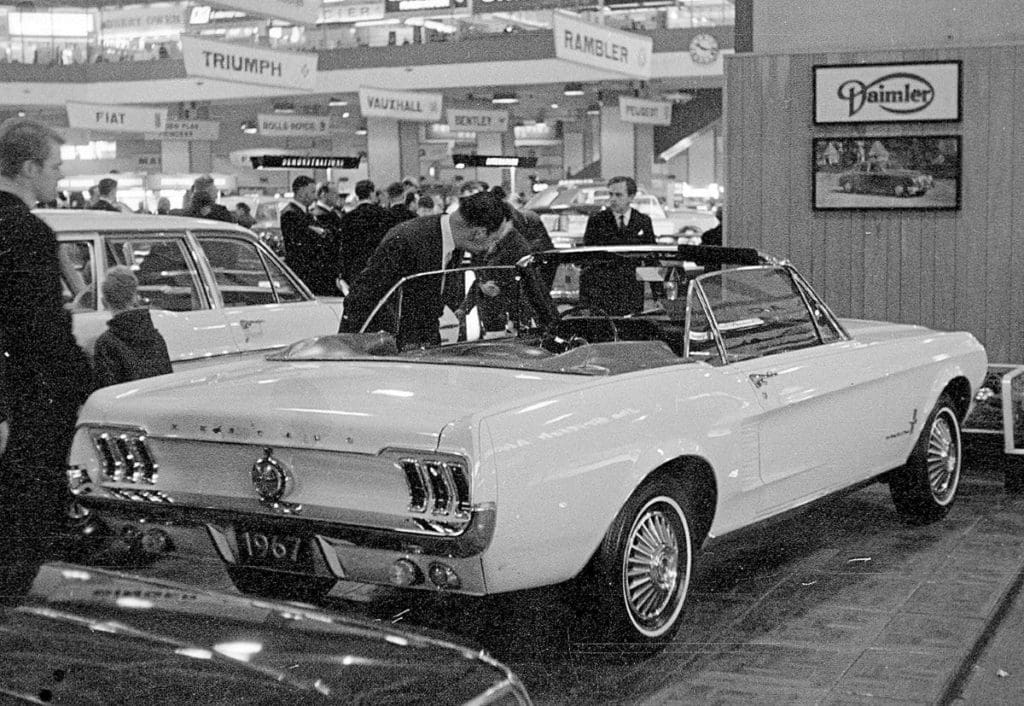 ---
In 1966, American Motors Corporation rebranded all of the Rambler range as AMC, and Rambler became a model – except in the UK where all AMC products continued to be known as Rambler. For the 1967 model year the UK model line-up changed completely. The Classic was now discontinued and had been replaced by the Rebel 770 V8 and six-cylinder Estate, four-door Saloon (Sedan) and two-door Hardtop. The big DPL Ambassador 990 V8, launched the previous year, was also brought in as a Canadian-built right-hand-drive model.
AMC management claimed that Rambler accounted for 40% of all US cars sold in Britain, much of which was due to the success of the Classic. Despite the Rambler line having more models for '67, which also included the compact American 440 and the Javelin two-door Sports Coupe, sales never quite reached the 1966 peak. The 1967 Motor Show was a GM showcase for its new models. However, Pontiac was now sharing a stand with Oldsmobile and the old slot that had previously been used by Oldsmobile, at the front by the main entrance, was now occupied by the Russian contingent – Moskvitch and Volga – outrageous!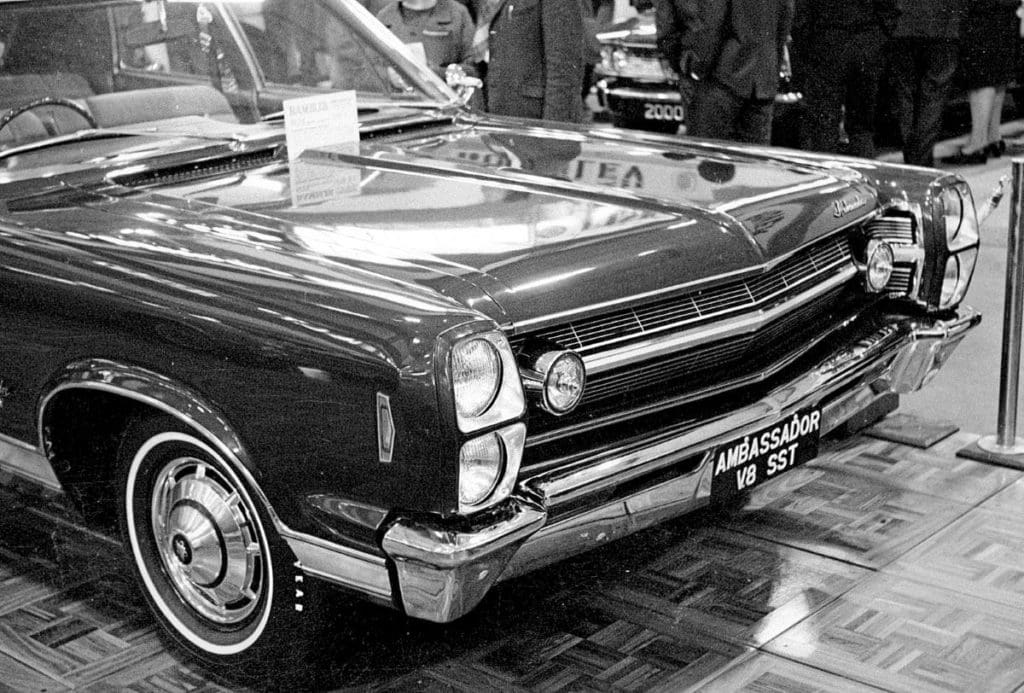 ---
Pontiac was now part of the Lex Group under the Lendrum & Hartman banner, so sales of all GM North American brands in the UK were controlled by Lendrum & Hartman, who exhibited a '68 Olds Vista Cruiser Custom Station Wagon, priced at £3,474. Alongside the Vista Cruiser was a 4-4-2 two-door Hardtop and a Toronado Sports Coupe, which was in its third year of production and had received a facelift, with a new grille and lighting arrangement. At £4,303, the Toronado was approaching the prices that Bristol, Aston Martin and Jensen were asking, but to those buyers who wanted luxury and performance, it was worth every penny!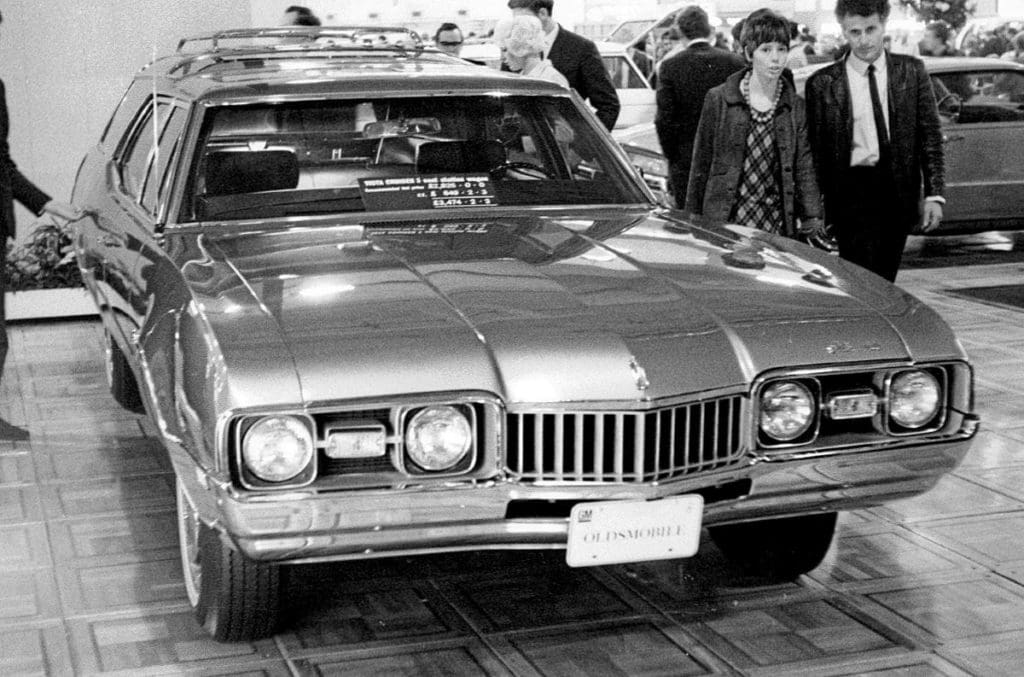 ---
A Chevrolet Camaro SS396 was shown on stand 131. A '68 Impala four-door Sport Sedan stood next to a Chevelle SS Convertible, which was still being called a Chevelle Malibu by Lendrum & Hartman. Chevelle Malibu was available, but not as a high-performance version such as the SS! Confusing?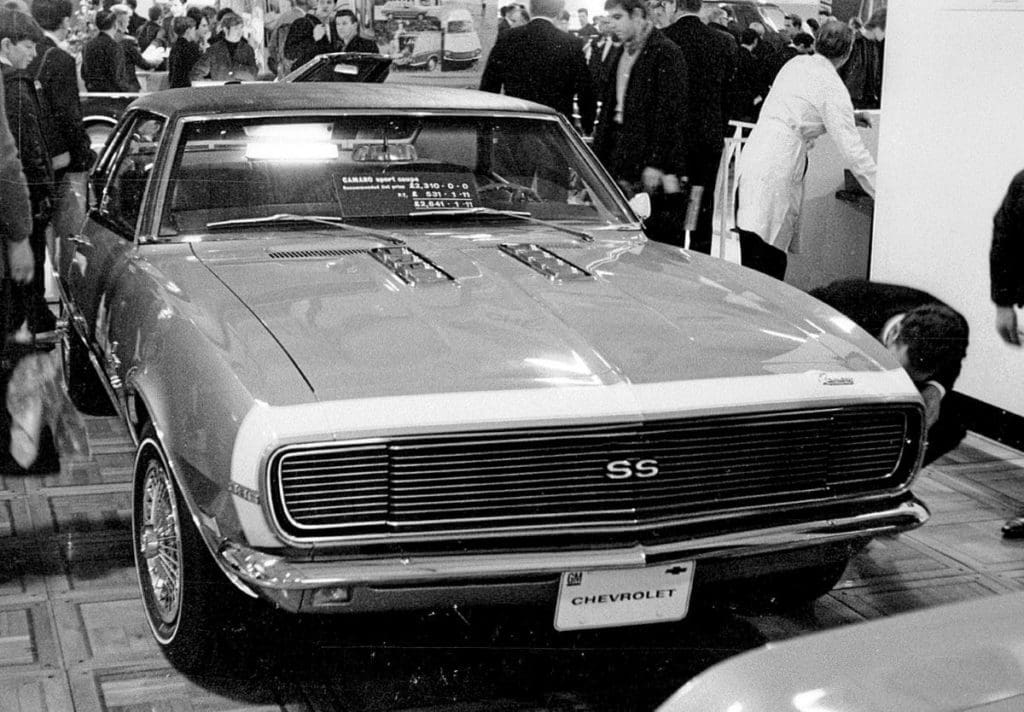 ---
The Pontiac full-size models still came from the Canadian Oshawa plant, so they were all right-hand-drive and Chevy-powered, although you could order a left-hand-drive American-built Bonneville or Catalina if you were prepared to wait. Shown is Steve Miles' photo of a Canadian Parisienne Convertible. A Parisienne four-door Sedan was also available. As the launch of the Firebird had been delayed by Pontiac, this '68 Firebird 400 Hardtop was probably the first example of Pontiac's new 'F-body' car to be seen at Earls Court.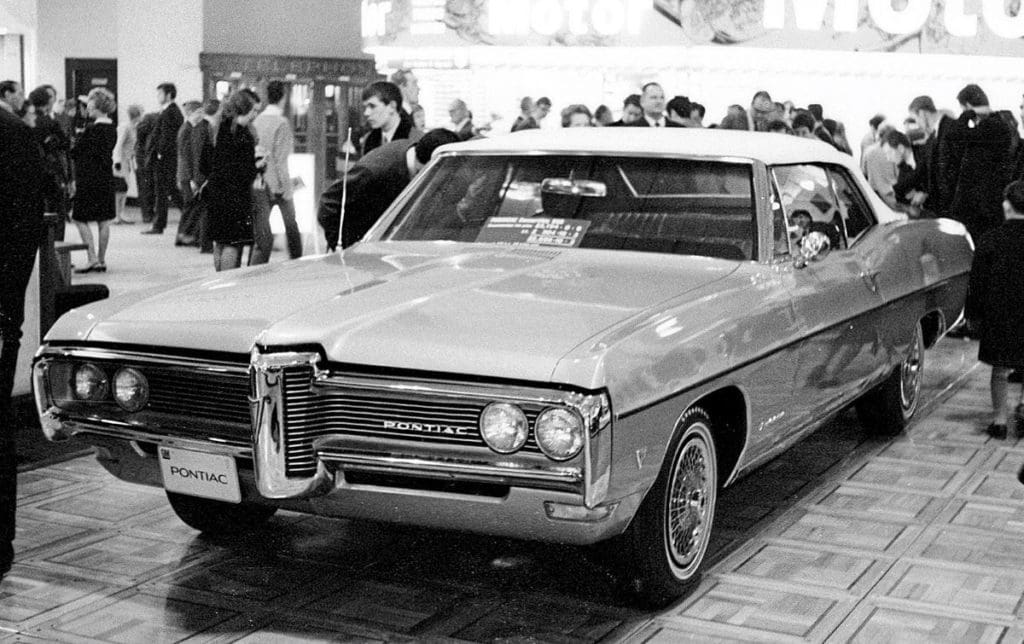 ---
The star of the Chevy show was the new Corvette. With its own cordoned-off plinth, the completely re-styled Corvette was every bit a crowd-puller as Camaro had been the year before. It would remain a firm favourite with British buyers in the Lendrum & Hartman Chevy line-up. For '69, it would regain its 'Stingray' badge.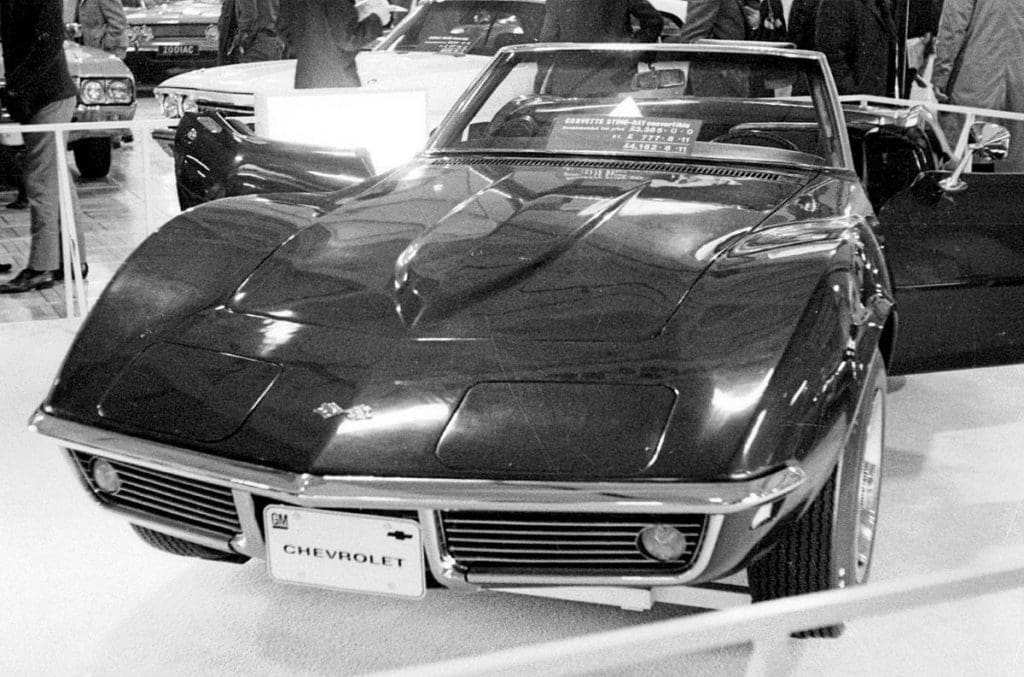 ---
With favourable road tests in both Autocar and Motor, the Barracuda was still proving a popular choice for buyers wanting a right-hand-drive North American car. The Fastback model was certainly attracting a lot of attention when Steve Miles caught this shot of it on the Chrysler stand 142, situated to the rear of one of the main centre aisles. In 1967, the sales situation would change dramatically for Chrysler-Plymouth products, as Chrysler Corporation had taken over complete control of the British Rootes Group. Sales of Canadian and American-built Chryslers were now controlled by the Rootes dealer Warwick Wright Ltd in North Kensington. Within 18 months, Chrysler would be concentrating on their Australian Valiant range to import as a replacement for the old Humber Super Snipe range which had been discontinued during that year.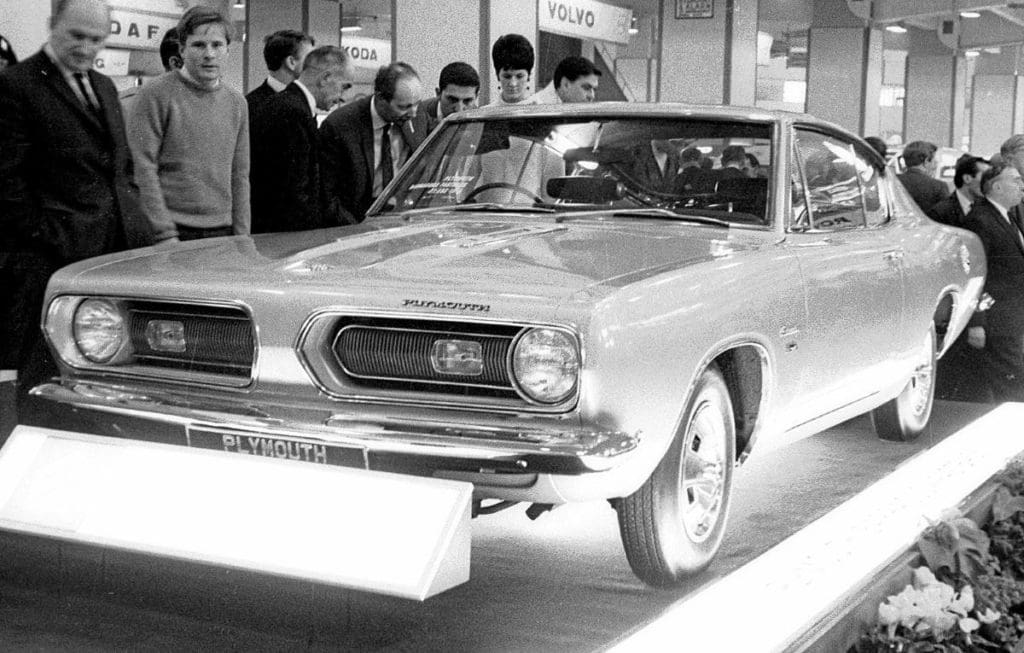 ---
"Can I put my fingers down this grille?" No, mate – it's called a dummy grille for that reason! The Barracuda Convertible was included in the Chrysler International line-up for 1968, along with the Fastback.