The Seventies van was a blank canvas of sheet steel, waiting for whatever your wallet and imagination could afford. An entire industry sprang up to serve the customisation scene, from accessories to paint and interior design.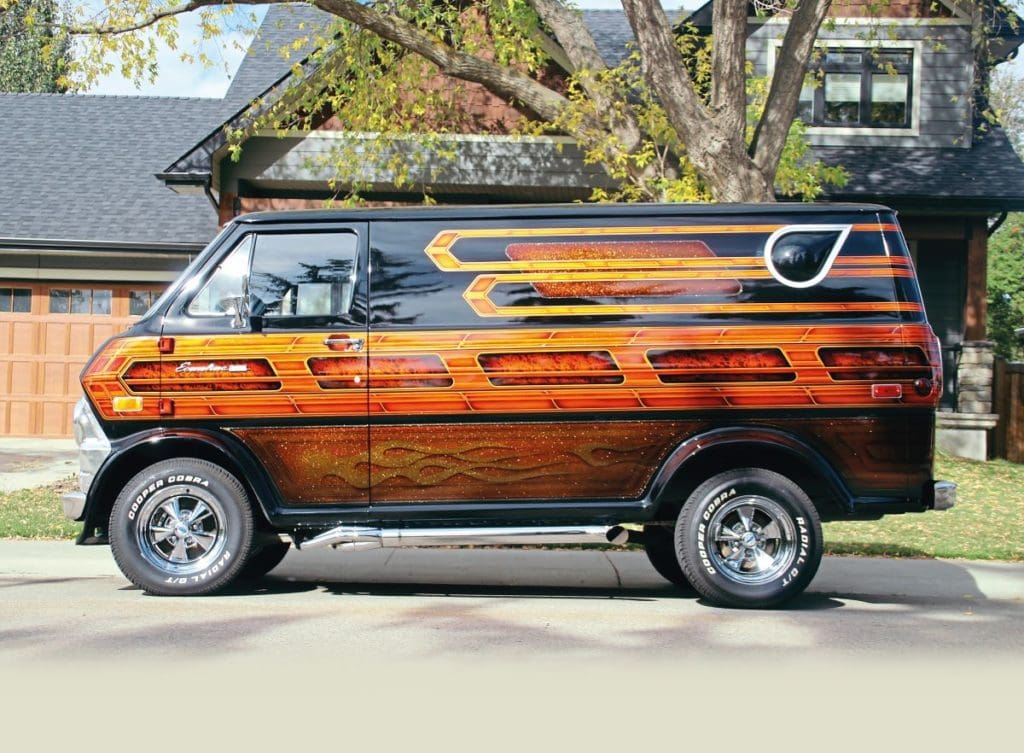 Words and photography: Steve Swanson
No one can say exactly when the 'boogie van' was born. It was some time after the Big Three introduced their range of small business vans in the Sixties. SoCal surfers started to upgrade their old station wagons and jalopies. The vans met their needs, providing transport, a place to store their boards, and a den to sleep in before the next set of waves. As young men came home from Vietnam, many found returning to society difficult. A van and the open road gave them the space they needed.
The first van club, Associated Vans, was formed in Southern California in 1966 and hundreds would follow. As the culture developed, it spread to towns and cities across North America. The teen generation who loved hot rods and muscle cars, but couldn't afford to play, found their four-wheeled kicks in vans. It offered transport with benefits. The van could be a lair, a boudoir, a wet bar, and a hot rod: 1973 was a pivotal year, with the oil crisis effectively ending the muscle car era. The van was poised to step into the vacuum created by recession, a double nickel speed limit, and a societal shift in free living, free loving and good times. The motoring press caught the vibe. Hot Rod magazine editor Terry Cook joined forces with a Colorado van club and created the first National Van event at Tiger Run, Colorado. CB radio added to the mix, creating a community on wheels who could communicate in an age before mobile phones and internet. The van craze was in its ascendancy and the boogie van was the coolest van of all.
Flared arches, bubble windows, wide wheels and side pipes were essential elements. Custom paint featuring airbrushed murals, candy colours, metal flake, flames and stripes, lots of stripes, forged your identity. Inside, an interior wild and bespoke, sealed your individuality. Shag carpet, candyfloss headlining, crushed velvet, sheepskin rugs and quilted panels, ceiling mirrors, funky interior lighting, panel woodwork, and even waterbeds, were popular interior decor choices. Up front were bucket seats or captain's chairs and a CB radio. Muscle car engines, pop-top sunroofs, exterior sun visors, chin spoilers and hood scoops added to the look. Sound systems were crucial, TV was an option. The van was a blank canvas of sheet steel waiting for whatever your imagination or wallet could afford; your humble transport was transformed into your personal custom radical ride. Tudor banquet hall? You got it. Purple velvet passion palace? No problem. Western wagon train? Of course.
An entire industry sprang up to service the customisation scene, from accessories to paint and interior design. Gerring of Indiana was one of the earliest companies to offer a range of custom van builds, frequently changing its model line-up. Its zodiac series featured different interior combinations from basic lined and carpeted models to a full party pad. Talented painters were in high demand. Sharon Roberts of EtiBoke, Ontario, was known as 'Lady'. She was so highly regarded for her custom artwork, she could charge $2000 a mural in the Seventies.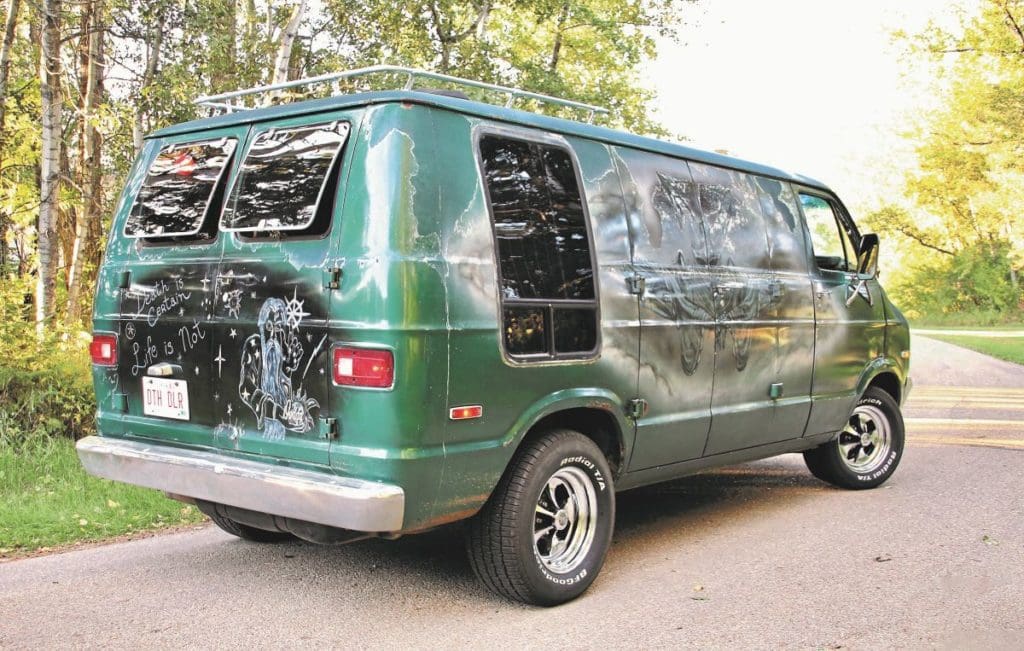 By '76 the van craze was at its high watermark. Clubs stretched all over North America. Vanfests and truck-ins were a thing. Magazines such as Custom Vans and Travvelin' Van entered the market. In 1977, Time magazine reported on the 'van craze' sweeping America. Hollywood cashed in with 'Vansploitation' B-movies such as The Van, CB Hustlers and Supervan.
Corporations from Coke to Yamaha commissioned custom vans to promote their wares. Late to the party, the manufacturers of the vans finally made their own special editions. For 1976, Ford launched the Cruising van based on its new body-on-frame, Econoline. It came with captain's chairs, a stripe package, porthole windows and choice of wheels. Chevy tardily provided the Chevy Van Sport as its mild, but good-looking custom van. It was Dodge that went all in, creating a mini industry segment to cater for the craze. You could buy its YH3 code Dodge StreetVan based on the Dodge Tradesman. The purchase vehicle came with enrolment into Dodge's own club, The Van Clan. Dodge was astute enough to know most people would buy a used Tradesman and accessorise it. They had that covered with a specific StreetVan kit. You could add to it by purchasing custom parts via its Mopar Direct Connection Catalog, offering all the accessories the aftermarket companies were producing, but with Dodge branding.
When something becomes so mainstream that corporations are in on the act, you can guess the fashion or culture has reached its zenith. Slowly the van craze subsided in line with a new decade and a new society perspective. By the mid-Eighties, the easy times and good living vibe was under attack with a shift in attitudes. After years of stagflation, the US economy was taking off. The sharp edges of shoulder pads and corporate business swept away bell-bottoms and shag carpet. Individualism and carefree living were supplanted by easy money and a property boom. New car tastes were evident in burgeoning foreign imports from Japan and Germany.
Vans too were changing. The birth of the mini-van caused consternation in vanning circles. Was it really a van? They allowed it was, but people who bought a minivan transported a family unit and lived in gated communities. They might subscribe to a little factory wood trim, but not to airbrush art or CB radio.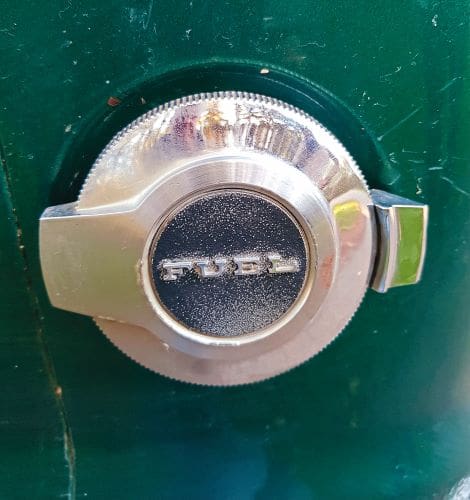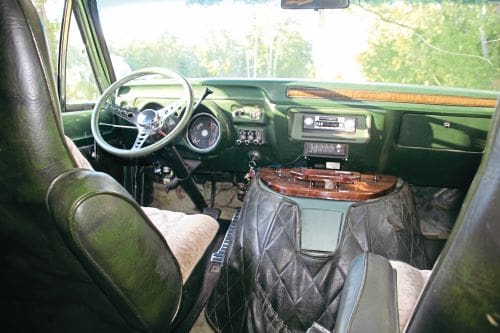 By the late Nineties, the boogie van had slunk back to the shadows. Its supporters were older and out of vogue. Once the epitome of cool, these rides were seen by the next generation as tasteless or plain creepy. The custom van, previously a statement of hedonistic living, became a trope for kidnappers/serial killers, and the perpetual butt of Free Candy jokes.
Nostalgia however is a powerful force. Fast forward to the 2020s. The generation that remembered a laid-back lifestyle, and a new generation, listless and fatigued by wars, recession, politics and a pandemic, view the custom van with fresh eyes. The National Truck-In event for vanners celebrates its 49th year in 2022, seeing an uptick in attendance. New magazines with a Seventies vibe, such as Rolling Heavy, and van clubs like the Vandoleros, celebrate the boogie van as a wild, vibrant outburst of independence in a constrained, sanitised world.
Kyle Clark remembers the boogie van as a kid, not on the roads so much as in the junkyards. While his dad hunted for parts for his truck, Kyle was captivated by the painted vans with their Mag Slot wheels and styled interiors. "Those interiors! Some of them were better than our house," he said. Enchanted by the custom vans and rock music of the time, he became an avid collector; from magazines and playing cards to factory and custom accessories and ephemera. His passions collided in perfect harmony when a friend sent him a picture of an abandoned 1977 Dodge Tradesman 200. He immediately recognised the period airbrush art displayed on the van.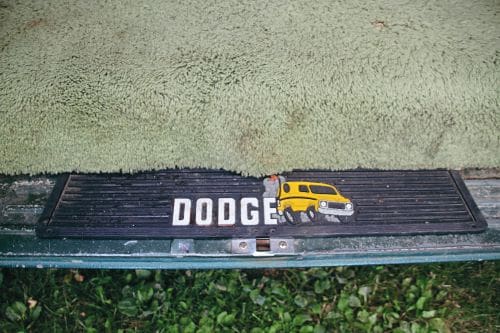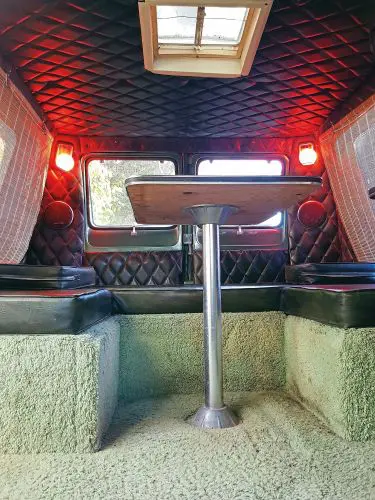 "It was the Death Dealer, the same image used on the 1978 Molly Hatchet debut album cover." Not only that, but the original Death Dealer image was the creation of renowned fantasy artist Frank Frazetta, who penned the Conan the Barbarian fantasy comic images. Whoever did the airbrushing knew their stuff. Someone else added a wizard to the rear of the van, although it wasn't the same calibre of work. Kyle refers to the wizard as 'Satanic Willie Nelson'.
The colour of the van was Kyle's favourite green. The interior was in excellent condition; dark green, quilted vinyl finished to a high standard, a booth, sink and fridge unit, detailed green glass door handles, red spotlights, blinds on the picture windows, and captain's chairs provided period charm.
Kyle simply had to have it. He trailered the non-running Dodge home, stripped off the running boards in anticipation of side pipes, rebuilt the carburettor and replaced the fuel pump. The 360 V8 is believed to be original and retains the standard three-speed column transmission. Kyle added a period custom steering wheel as well as detail touches like dice on the toggle switches and that racing fuel cap. He utilised his old rock music tapes for the radio cassette player, paired with a Clarion graphic equaliser.
Asking the Vehicle Registrations Department for a plate that reads DTH DLR led to a rejection from the office on the grounds it could be deemed intimidating and glorify violence. Kyle won over the VRD director with a detailed letter explaining the cultural significance of the van, its artwork and its music links. The DTH DLR became legit.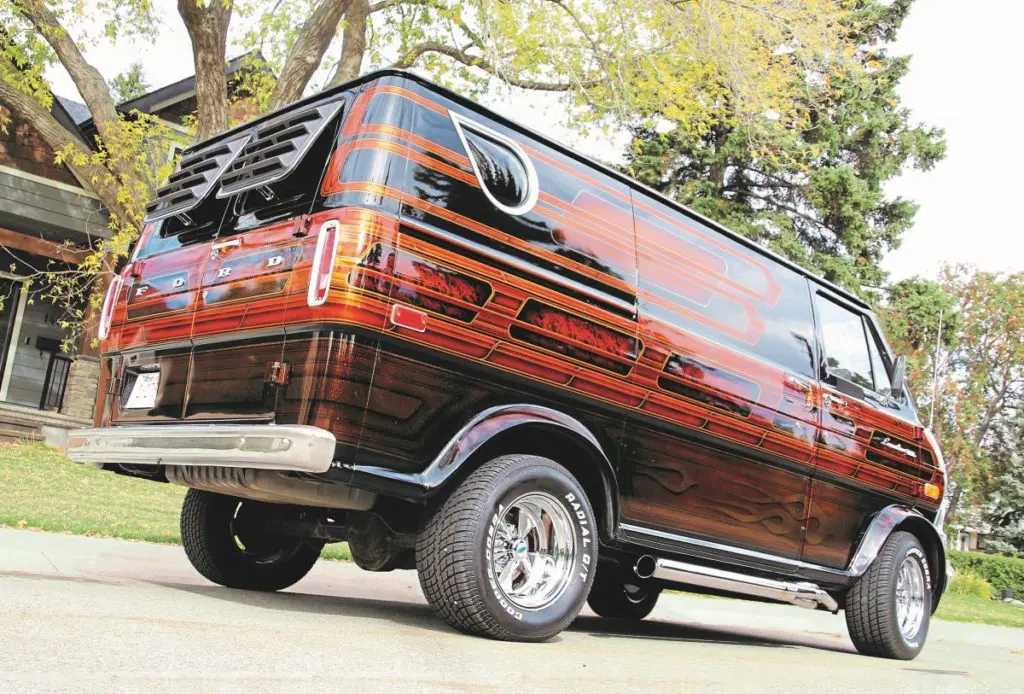 Kyle's intention for the van is to preserve the artwork and treat the rust; keeping it in its current guise, but adding in a few personal touches for a little more boogie. He has a sun visor to respray to match and a period-correct Dodge glass fibre hood scoop to fit. "I joked I wanted a van to airbrush in the classic style. To find a survivor van with the Frazetta, Molly Hatchet cover was just unreal."
Ashley Scott is a sales executive with some fine Sixties Japanese sports cars. Nostalgia for a van of his childhood led him to search for the right one. "My father had a '74 Econoline, but it wasn't a boogie van. When I was 13 years old, I had plans for that van, but naturally life gets in the way. When I finally got round to looking, I ran a wanted ad. It took two years to find the right one. It had to be a '73/'74 Econoline Shorty with a slider. The van turned up on a local deal site. I bought it unseen from a guy who ran a little painting business in Golden, British Columbia. He had purchased it used from Boisie, where it was the flower delivery van for the funeral parlour. All I asked him was, is the windshield good? It was perfect. He volunteered to drive it to Calgary. I figured if he got there from Golden, it would make it to Edmonton."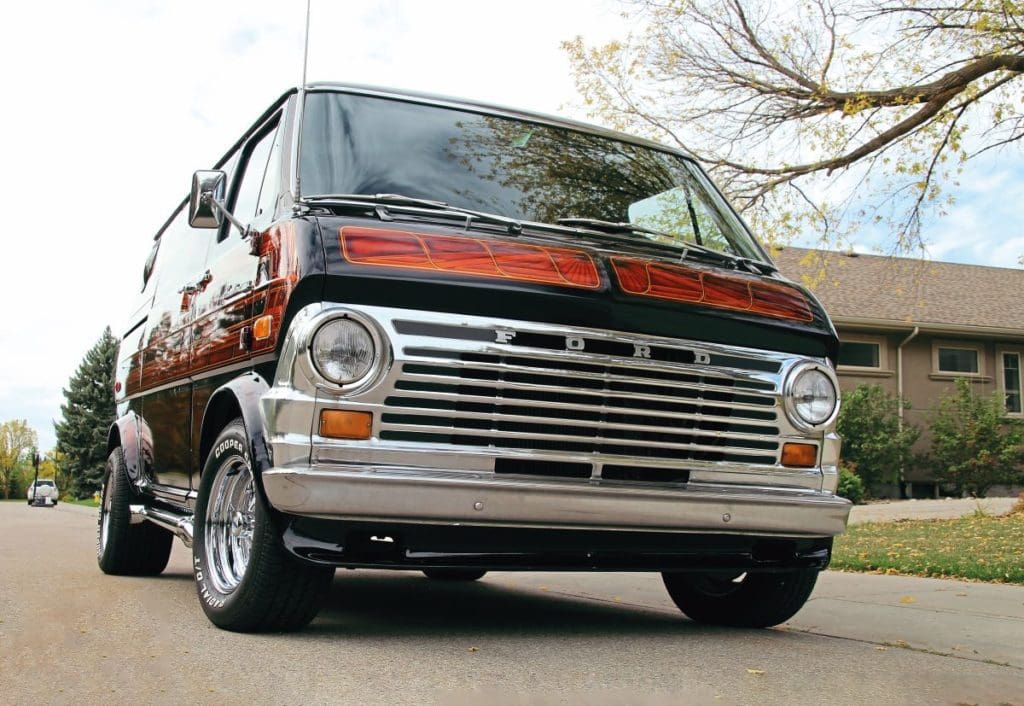 The van proved to be a tidy example, inevitably requiring some remedial rust treatment. It was near bone stock with drum brakes and power steering, a 302 motor and a three-on-the-tree. "It had zero boogie when I bought it. It didn't take long; we slapped some big wheels on it the first day." The wheels were mail-order Cragars 15×7 for the front and 15×10 on the rear. It was all the inspiration Ashley needed to fulfil his teenage dream. He was ably encouraged by his friend Scott Newstead of YouTube channel, Coldwarmotors. "The only rules were, we had to make it Seventies. Our only research was a couple of period magazines."
First, the bodywork needed to be addressed. Ashley sorted the rust issues, letting in new metal and cutting the side panels to take original teardrop bubble windows. He had stored the rare set for the day he finally found his van. A perfect grille from a '69 Econoline enhanced the visual aesthetic. He added a power-brakes disc conversion. Steering and suspension are original to the van. The engine received a head gasket change, but otherwise was left alone. Aftermarket bolt-on fender flares were purchased. A week was spent blending them into the arches with glass fibre. It's a time-consuming but subtle detail which pays dividends for a seamless custom look.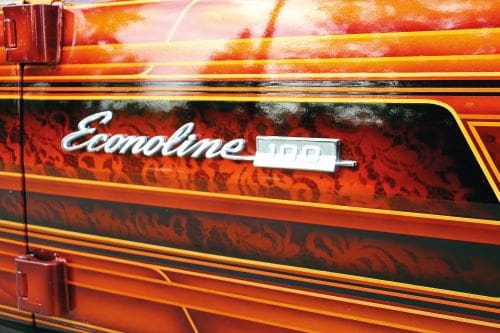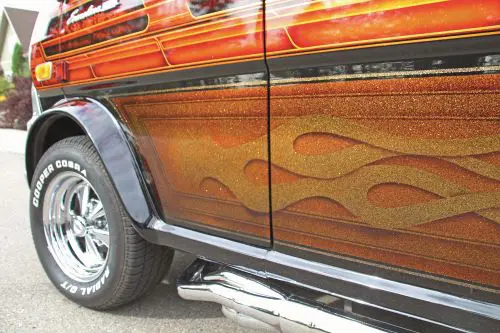 After 16 weeks, the van was ready for paint. Scott volunteered for the task. A base coat of black was applied together with silver metal flake up to the top of the fender flares. Candy brown and candy gold would be used to create the painted panels and stripes; the brown creating base patterns and edging before the gold was overlaid. "Once we'd figured out the colours, we just played around with patterns and period styling. We used a beer box for a template, we got a bunch of guys to cut patterns, and the ones we liked the best we went with. Paint was mixed by eye, we just kept mixing until we liked it. We started on the hood and from there we just kept going. The trick is everything starts from the lines on the front of the van; so long as everything follows them, the stripes will work."
Scott created a theme for the hood consisting of a striped double panel which was inlaid with fish scales and sunrays. Yards of tape would be used to create an intricate series of stripes and curves along the flanks of the van, creating panels that were inlaid with lace effect fish scales and sunrays. It was an organic process. A running joke was "more stripes".
"We got to a point painting where we had stripe fatigue – getting those stripes to wrap around the back and look sharp was the toughest part." That, and the ghost flames; the chunky silver flake played havoc with the masking tape. Eight coats of lacquer followed before Ashley could fit the bubble windows, trim and side pipes. He was able to finish the build with a pair of pop-out louvred rear windows bought from his friend Marlon Reed. These were coveted items and Ashley was delighted to obtain them.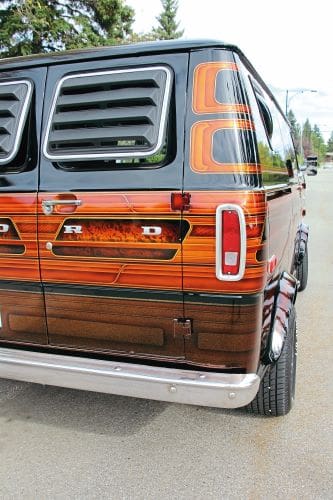 A brand-new boogie build gives an insight into what these vans looked like hitting the highway in the Seventies. The paint changes mood and tone in different light ranges: in bright sunlight, it's a four-wheeled peacock spreading its feathers to grab attention. By night, it's a moody mystery machine, ghost flames flaring in the headlights of passing cars. Close inspection makes you appreciate the detailed work which went into its creation, right down to the gas filler cap treated to a gold glitter makeover. From its paint scheme to its white lettered tyres, this van is a love song to Seventies boogie.
Scott Newstead neatly sums up its appeal: "It doesn't matter if you can't tie your own shoelaces… driving that van is like putting on a suit, you're a rock star." Isn't that what people secretly crave? As society becomes ever more homogenised the boogie van represents a celebration of the individual. It may be brash, it may be loud, but that's the point. It's a rolling metal avatar for your inner rock star.