Jay Pettit's 1966 Dodge Coronet 500 is not only a genuine factory Hemi car, it also has a fascinating outlaw history…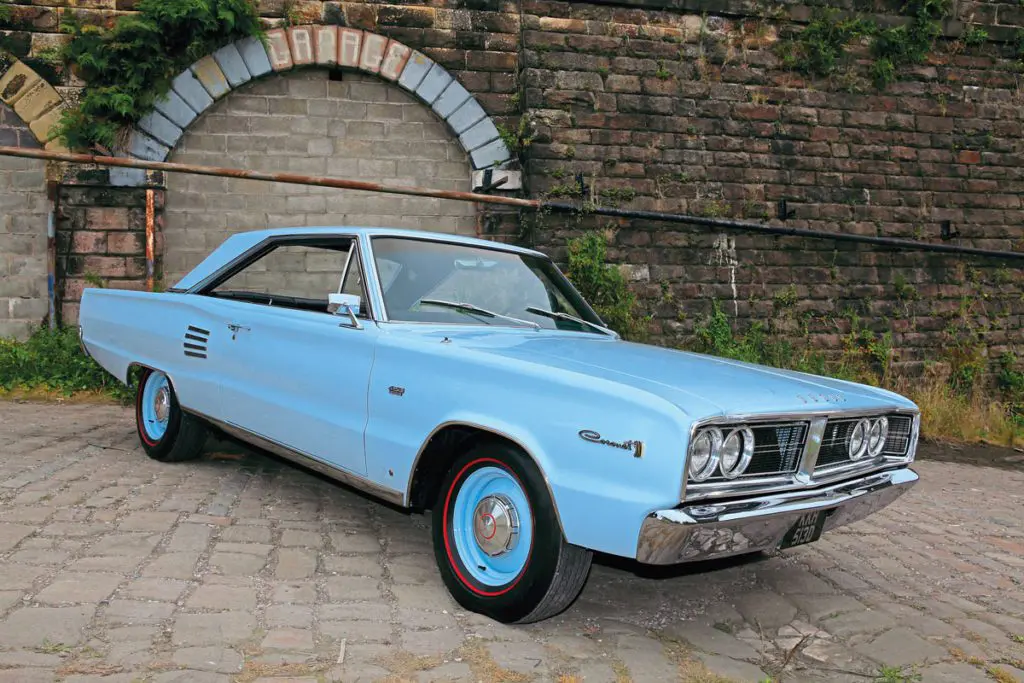 Words: Mike Renaut Photography: Garry Stuart
You might remember we featured Jay Pettit's black 1969 Road Runner in the July 2018 issue of Classic American. That car had a 440cu in engine, but Jay's always yearned to own a Hemi. "I was looking for a genuine Hemi car for many years, but every time I thought I'd saved enough the prices went up again. I finally got my hands on one in the middle of last year."
Yes, this unassuming light blue 1966 Dodge Coronet 500 is a genuine WP23 code car – meaning a 426 Hemi was squeezed into its engine bay. "My Coronet was built July 22, 1966," says Jay, "for that model year there were 339 Hemi-engined Coronets, 204 of those were four-speed manual transmissions, just 29 of those had power disc brakes and mine is the 25th one of them built." Of course, it's fairly straightforward to replicate a Hemi car if you have the knowledge and parts, so I'm relieved to see Jay has a stack of paperwork authenticating his car as genuine, including original bills of sale, VIN and fender tag decodes and a full inspection report by Mopar historian Galen V Govier.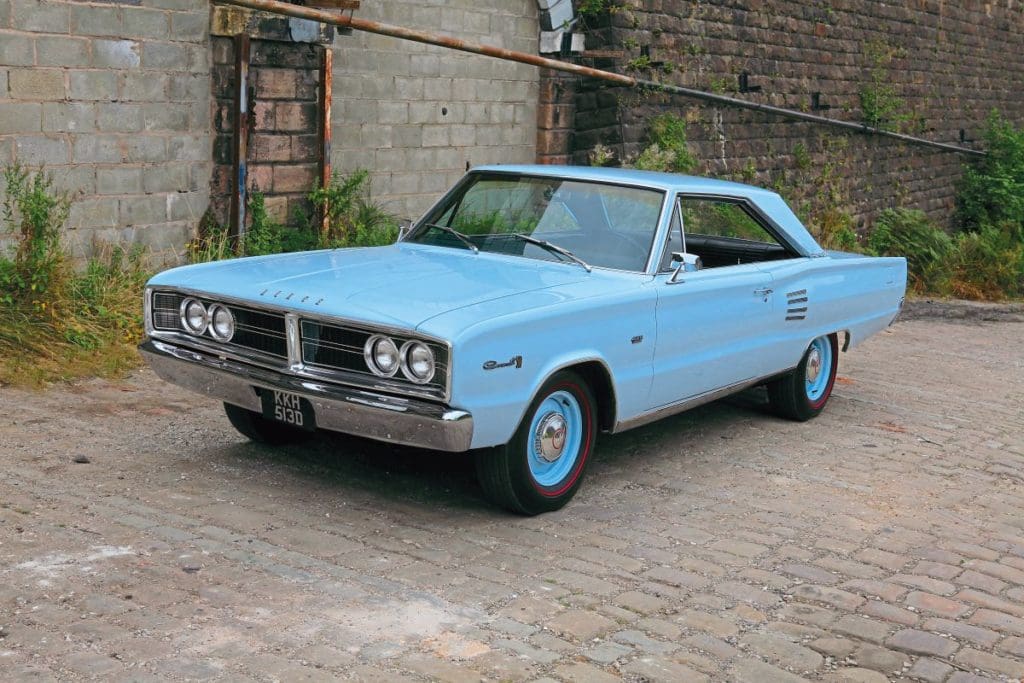 What's equally interesting is other paperwork regarding the car's previous role. "It was sold new by Wilkes Auto Sales Inc in Wilkesboro, North Carolina," continues Jay, "and Wilkesboro is famous for two things: moonshine and NASCAR. For that reason it's said more Hemi cars were sold there than anywhere else in the world. This Coronet made runs for 'Willie' Clay Call – a notorious moonshiner – and was one of several cars used to deliver his whiskey across North Carolina." During the 1800s the Call family included Reverend Daniel Call, a Lutheran minister who ran a whiskey still behind his general store. When the temperance movement gathered momentum he eventually sold the distillery to the young man he'd partnered and taught to distil their whiskey – a fella called Jack Daniels…
Clay Call earned his nickname 'The Uncatchable' behind the wheel of a fleet of 1940 Fords before then progressing to Chrysler. He grew up with fellow 'shine runner and NASCAR legend Junior Johnson and the Call family still make whiskey today – albeit now legally. In Jay's history file there's a newspaper article from around 2008 where the Coronet's then-owner, Gerard Duncan of Rocky Mount, Virginia, met with Clay and verified the Coronet as one of his old whiskey 'tankers', evidently driven for Clay by his friend Jerry Shew.
Clay supposedly owned three such Hemi Coronets, indeed he still has a black one, and this blue car retains a few extras added to help outrun any pesky federal agents. "There's a switch under the dashboard that turns off the tail-lights," explains Jay, "and mountings under the front bumper where spotlights were fitted. The horn ring has been cut off the steering wheel with a hacksaw to make it easier to grip the wheel and the usual Mopar round door mirrors are replaced by larger square ones – the latter being modifications Shew was known to make to his cars. The rear suspension has been uprated to 11 leaf springs on each side – that way the car could carry up to a ton of weight in the back without the rear end squatting down. It sits at that height regardless; I've had five friends stand in the boot and it still didn't move…"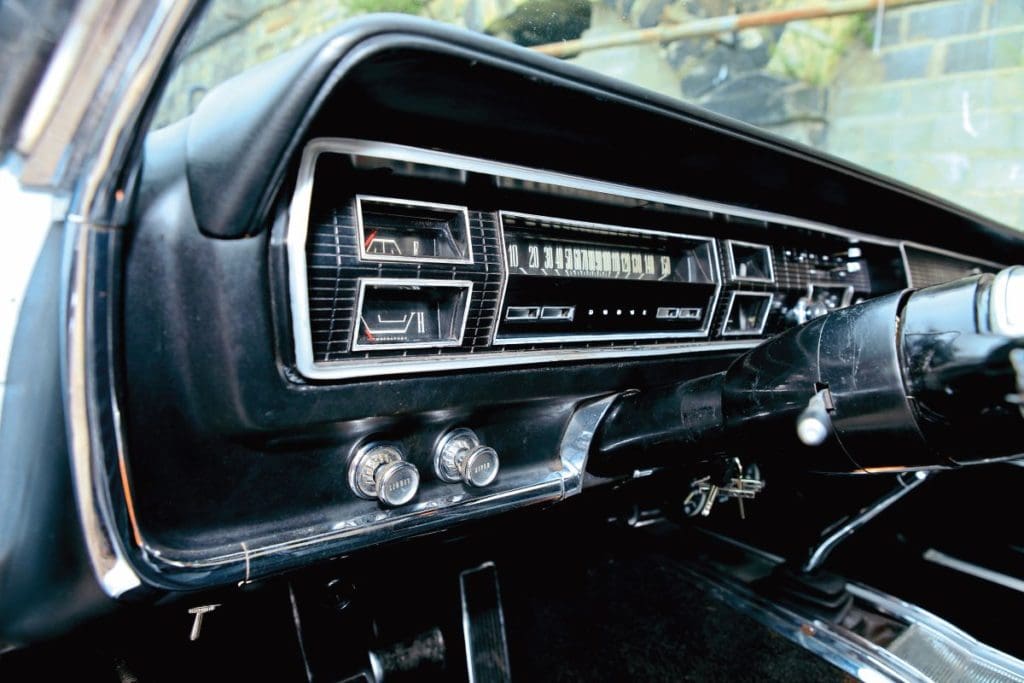 Subtle Sedans
Despite what you've seen in Burt Reynolds' movies, in reality moonshiners didn't draw attention to themselves with flashy cars. Clay previously used a light blue four-door 1961 Chrysler with cross ram induction for his runs and this Coronet was likely also specified in light blue to help it blend into traffic – 'shine deliveries weren't always made at night. That's probably why it retained a full interior, rather than being stripped out for weight saving. "The Hemi badges on the wings look newer than the rest of the trim," adds Jay. "I suspect they initially removed them then the emblems were replaced when the car was restored."
The 500 series was the top trim level for 1966 Coronets. For a $2705 base price you got a centre console between bucket front seats, chromed louvres on each quarter panel, extra chrome trim around the edges of the body and extra tail panel trim. The wheelcovers on Jay's have been replaced by dog dish caps apparently from a Seventies Mopar. Standard engine was a 180bhp, 273cu in V8 but 318, 361 or 383 cube V8s were extra cost options. Top engine was the street version of the 426 Hemi – said to be 425bhp but often far more – which at $907.60 added about a third to the Coronet's price. Although that also included a stronger transmission, in this case the A833 four-speed with a heavy-duty 11-inch clutch, or a strengthened TorqueFlite with higher-stall-speed torque converter.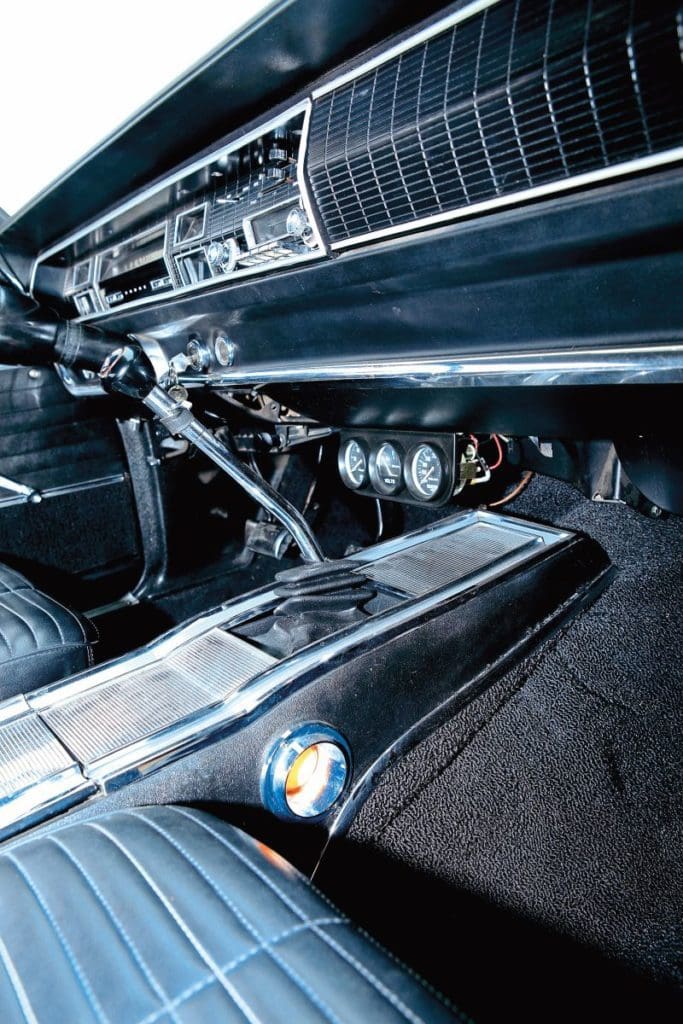 Out back, automatic cars had a 3.23:1 gear ratio in an 8.75-inch rear with optional Sure Grip limited slip diff. Four-speeds like Jay's got a 3.54:1 ratio Dana 60, 9.75-inch with Sure Grip as standard, although other ratios could be specified. The undersides were strengthened with torque boxes and a stronger K-member. Heavy-duty suspension and 11-inch drum brakes were also included, as was a 26-inch radiator with seven-blade fan 'Maximum Cooling Package' and the 150mph speedometer. "I remember seeing this car auctioned around 2009 but lost track of it. Then in 2021 I saw it for sale again and jumped at the chance to bring it to the UK. After the Road Runner I'd had a General Lee Charger but the chance of owning a real moonshiner car was too good to miss."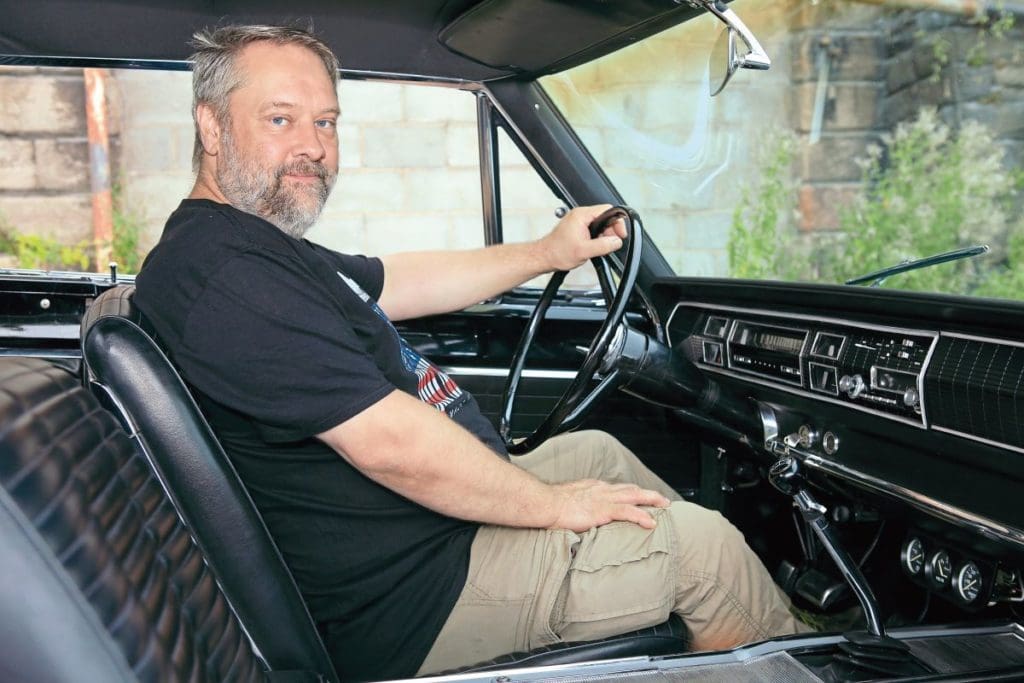 Flying Blades
The Coronet had evidently sat unused for a few years, which led to a couple of issues. "The tyres had to be replaced, the old Polyglas tyres were horrendous, but modern radials have improved it 100%. Then after the motor began overheating I discovered the impellers had rotted and sheared off the water pump – I'm still hoping I got all the pieces out. The front wheels are solid, rather than vented like the usual style rear ones, they've been made that way rather than filled but I've yet to discover exactly what car they're from."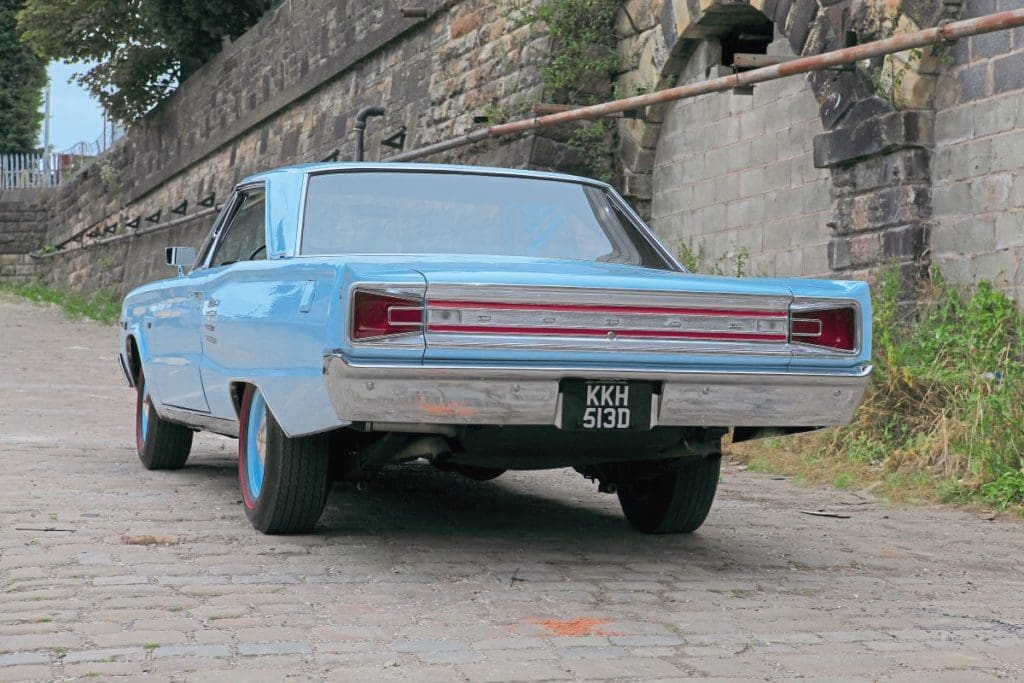 The engine is, of course, the 426cu in Hemi but there's a story behind that too. "Apparently the original Hemi blew up so it was replaced by another 426 Hemi, according to the Galen inspection it's an RO23 Super Stock drag race motor (one of 55 built for Plymouths) that was cast in 1966 and assembled in February 1967. It's got the period Chrysler electronic ignition fitted but it's a blue box rather than the usual orange one – meaning it's the NASCAR specification designed for a 9000rpm redline – not that I'll ever take this one anywhere near that."
Of course, I have to ask Jay how his Dodge drives. "I love the car but it's horrendous," he laughs, "it's way too much engine. It's bad in the dry when you get wheelspin in the first three gears, but in the wet you just think you're going to die. Of course, there's no power steering – the Hemi takes up all the space for it under the bonnet – and at first the brakes were too keen." Jay has now upgraded them using "1976 cop-spec brakes since the originals were garbage and they leaked and I've added stainless steel brake lines throughout – they were only $138 for a complete kit. Of course, I've saved all the original bits I took off.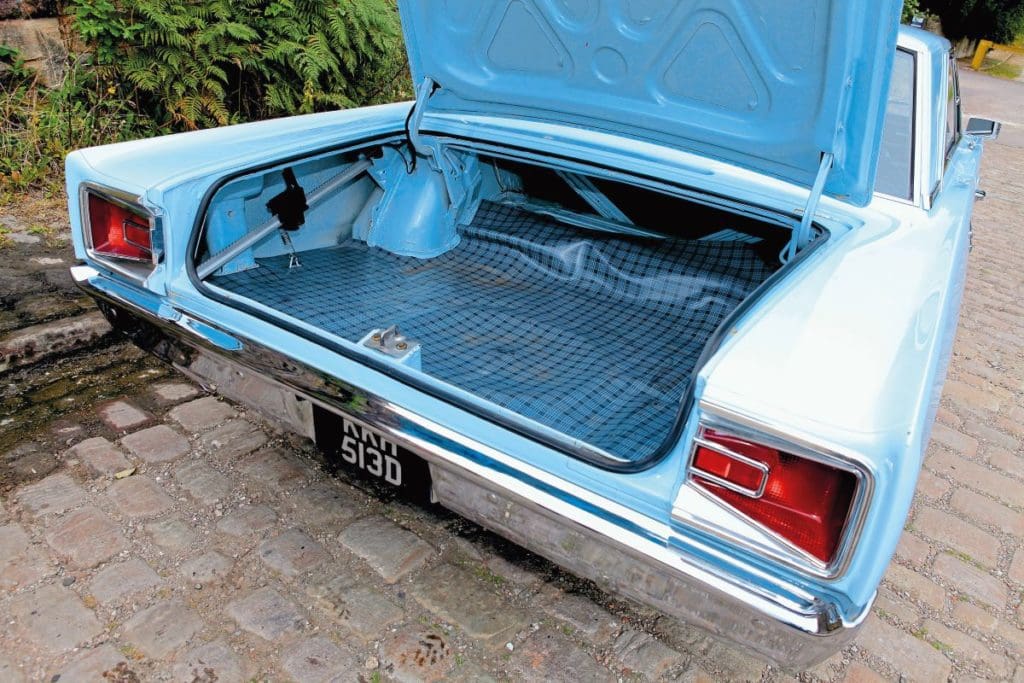 "It's basically like a powerful one-ton pick-up with no weight in the back – that rear suspension is harsh. The engine is great though, it warms up quickly and idles well – which you don't often get with an older Hemi. It's the stock exhaust and even the stock headers – which I was surprised to see since they rob about 50bhp. One change I planned was swapping the shifter mechanism for a Hurst; it wasn't bad, I just prefer them since I use the car regularly. But when I examined it I found someone had already fitted a Hurst and adapted the stock gearstick to it. The only other changes I'd consider would be purely to make it more usable; the Hemi is a great engine but it's flawed, if you drive it as a daily you'll be adjusting the tappets every month and fitting new pushrods twice a year. In spite of its issues I really like my Coronet – I've never owned a car with any real history before. Next I want to fill the boot with plastic jugs full of water and see how fast it runs the quarter mile with around a ton of weight in the back – just like it was built to…"