Well, here's an odd-looking thing, a 1941 Ford 'Moonshine' truck that was recently listed on H&H Auctions website. Estimated to hammer at between £15-£20,000 it's described as a 'unique truck with with early 1940s aesthetics and late 1990s running gear' the latter seemingly being a 1988 Chevy 4×4 military ambulance. The cab, bonnet and front wings come from a '41 Ford pick-up which has then been combined with the newer vehicles drivetrain and underpinnings, including a 6.5-litre turbo diesel engine, automatic transmission, power-steering, ABS brakes and electric windows.
The truck wears a patina'd/rusty hillbilly look that's preserved with clear coat lacquer to prevent further corrosion. Inside is an equally acquired taste, as it has been re-trimmed at a cost of some £4,500 in hides and furs (Davey Crocket wants his truck back!). H & H state that the truck benefits from "Numerous ingenious design touches including an exhaust system heated hot water tank… The exhaust system is routed through a copper hot water cylinder whose contents are thus heated for showering. An old gas canister has been modified into a barbeque and there are numerous other ingenious design touches such as beer keg storage lockers." Sadly the vendor Lot 1113 only reached a maximum bid of £14k, so it's unclear whether it sold or not. For more information see: www.handh.co.uk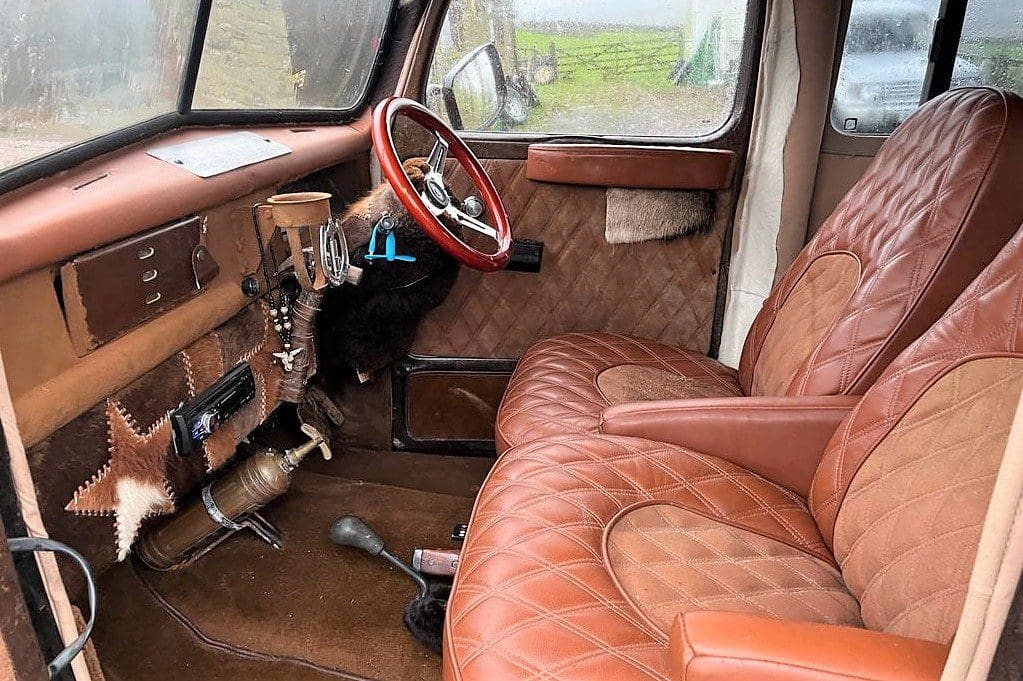 ---

Enjoy more Classic American reading in the monthly magazine. Click here to subscribe.
Sell your Classic American car here.