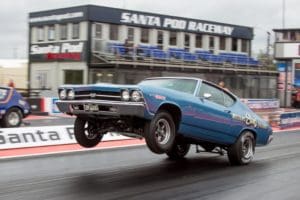 Santa Pod Raceway
Sat.19 – Sun.20 May 2018
Article continues below...
Santa Pod Raceway, in collaboration with Argyll Entertainment, the UK licensed operator of RedZoneSports.bet, is pleased to announce the first-ever online betting on Drag Racing at The Doorslammers event to be held over the weekend of 19th-20th May. The huge prize fund and the atmosphere will set The Doorslammers apart from Santa Pod's other traditional drag racing events and the competition will be open exclusively to full-bodied cars with functioning doors – hence the term 'doorslammers'. With the growing popularity of TV shows such as Roadkill and Discovery Channel's Street Outlaws, this eagerly-anticipated, street-style racing event is expected to attract intense interest from fans and racers alike.
Especially for the event, Santa Pod's famous dragstrip lanes will be renamed Red and Black and a number of exciting betting opportunities will be made available throughout the racing weekend. The first specials are now live on RedZonesSports.bet/SantaPod .
Warren Llambias, Co-Founder of Redzonesports.bet, commented: "As the British home of American sport, RedZoneSports.bet is delighted and immensely proud to be the first online bookmaker to offer odds on drag racing. Customers in the UK will receive the exclusive opportunity to bet on races from Santa Pod, via mobile or desktop, when The Doorslammers event comes to Santa Pod on May 19/20. Although this is a one-off event, we very much hope to provide betting on a wider range of drag racing events in the future."
Article continues below...
Advert
Keith Bartlett, CEO of Trakbak Racing and Santa Pod Raceway, added: "Santa Pod has been looking to develop online drag racing betting for some time and we're delighted to have found the perfect partner in Redzonesports.bet. Our new The Doorslammers event is the ideal occasion to introduce this exciting new element to drag racing and further to enhance our spectator experience. As a high-profile venue and host to such a spectacular sport, we are always looking to add value and enjoyment to our events. Therefore we look forward to working with Redzonesports.bet in the future to add a new dimension to the sport of drag racing."
For more details of The Doorslammers, and how to bet on the race, please visit www.thedoorslammers.co.uk

Enjoy more Classic American reading in the monthly magazine. Click here to subscribe.
Article continues below...
Advert
Sell your Classic American car here.