Three years' hard research turned up the perfect '57 Chevy for Steve and Trixie Clark and this one's here for keeps!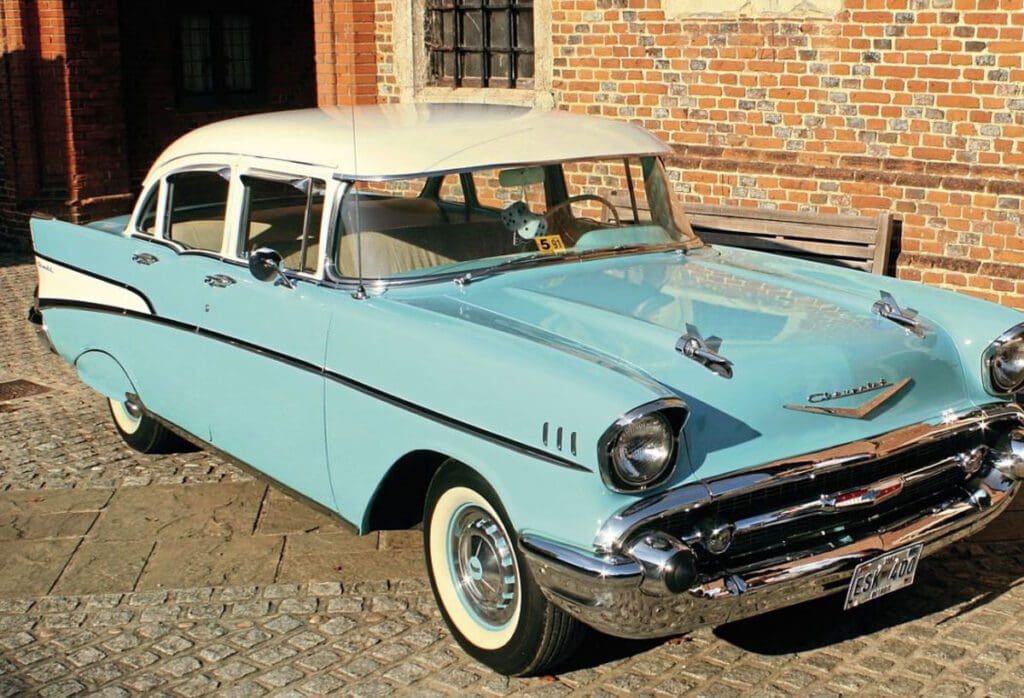 Author Pat Chappell wrote in The Hot One that the 1957 Chevrolet was "a nice way Ato end a three-year era of superlative accomplishments in design, engineering and competition". Designer Carl Renner commented:
"I think this was our objective, to make the 1957 look like a little Cadillac. I think that is one reason why it sold so well." It is generally thought that the '57 was an improvement over the '55 and '56 models in many ways. Nowadays, the Tri-Chevys are among the most coveted of all mid-Fifties American classics, with the '57 very highly regarded and collectable.
Essex coach driver Steve Clark had decided that he'd very much like to have an American car sitting in his garage and started a search for a suitable model. His wife, Trixie, declared that whatever Steve purchased it had to be a Chevrolet from 1957 and painted blue and white. "No pressure then!" jokes Steve. "Trixie's requirements all stemmed from Billie Jo Spears' '57 Chevrolet. The search took three years and we'd looked at quite a few, which didn't quite pass muster." Trixie adds: "We were also slightly sidetracked with the possibility of purchasing a Chevrolet Bel-Air convertible that had been fully restored by a relation in the US.
However, when we enquired about the asking price it was astronomical and we quickly moved on with our search. "In 2015 we spotted a 1957 Chevrolet 210 for sale on eBay, which was located up in Nottinghamshire," continues Steve. "I contacted the vendor, who informed me that technically the car had actually been sold, but after three days, he'd yet to receive a deposit from the buyer."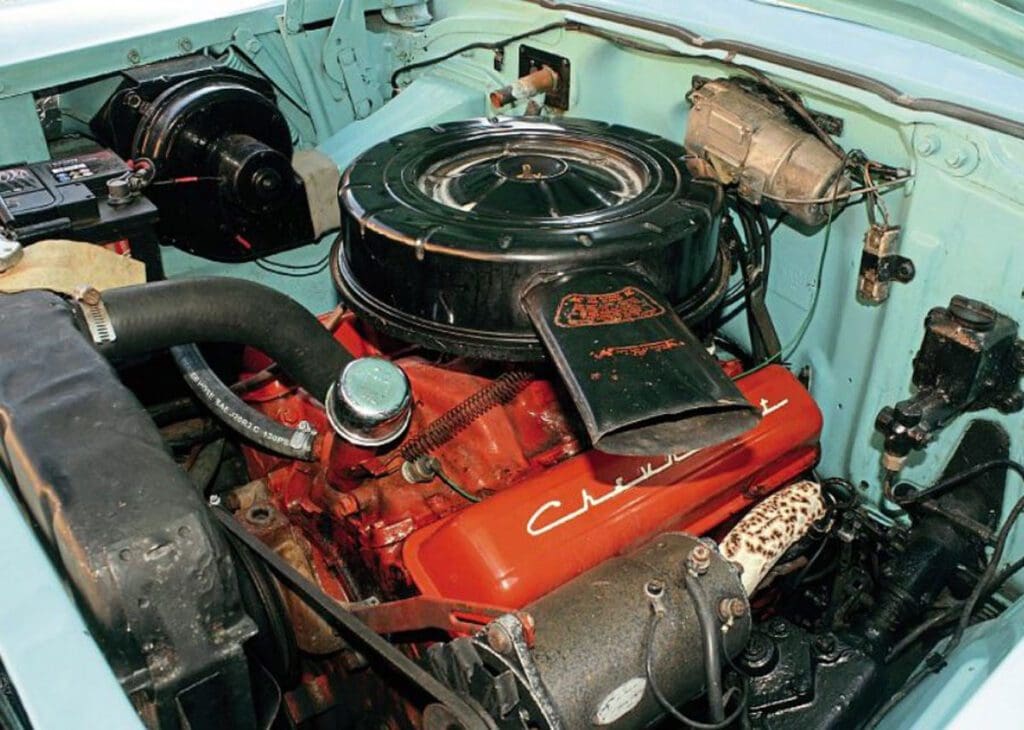 However, if Steve wanted to send a deposit, this would be fully refundable should he not like the car when he came to view it. Steve thought there wasn't much to lose, so he sent a deposit and then drove to Mansfield to view the car.
The Chevrolet 210, finished in Tropical Turquoise and Ivory, was manufactured at Chevrolet's Baltimore factory and had been sold brand new by Tuttle Chevrolet of Madison, NC, as the original dealer sticker on the boot lid will attest. The car was imported from Virginia in 1991 by its first owner on this side of the pond. It's powered by a 283cu in V8 engine coupled to a two-speed Powerglide automatic transmission. Trixie's son accompanied Steve and Trixie to view the car and as soon as he saw it, he whispered to them: "There's no way that we are returning to Essex without this car!"
Indeed, it did tick a great many boxes and featured an Ivory-painted sun visor, rear wheel arch skirts and overall an incredible amount of originality, as well as having had a full repaint to a very good standard some years ago.
The One
"All of the car's interior paintwork is original and remarkably well preserved," Steve points out. "The seat trim is also original and the front bench has had a clear cover fitted since the car was new, nobody has ever removed it. I have peeled back the cover, which reveals that the upholstery is in pristine condition – just like new.
The rear seat trim is also extremely well preserved, with just a little wear and tear at the top of the backrest on the offside which has just started to fray a little. I could possibly get that repaired, but it's all part and parcel of the car's original charm, proving that it has had a life and not been merely parked up like a museum exhibit. Just about the only thing that had been replaced in the interior is the headlining.
Interestingly, the passenger side sun visor still sports the original cardboard information sheet that slips over it, informing the owner all about the operation of the two-speed Powerglide automatic transmission. I wonder how many other Chevrolets still retain this original feature?"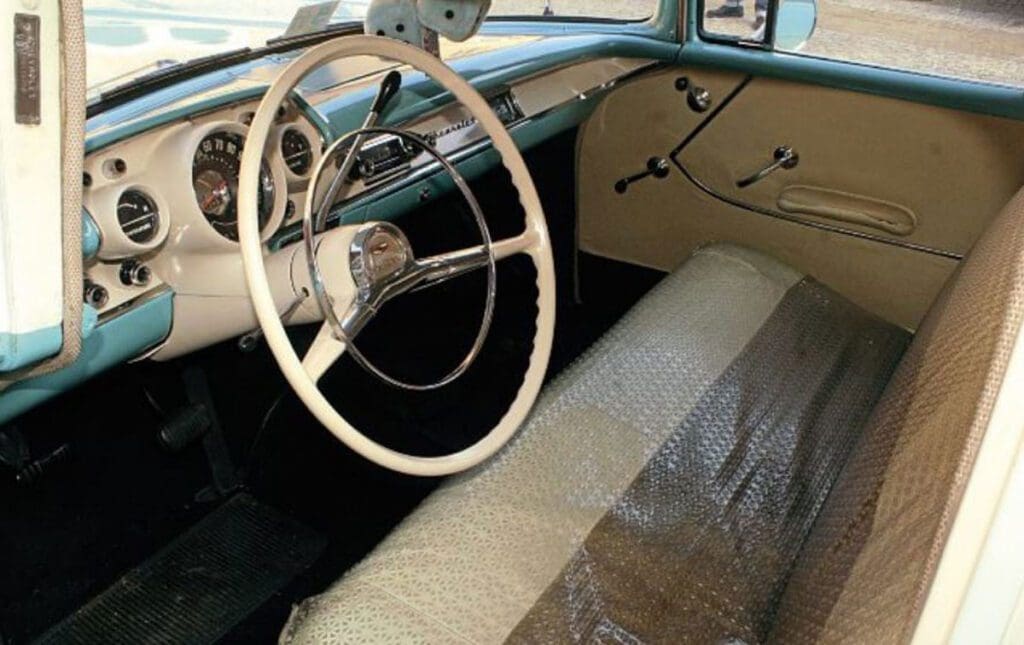 The Chevrolet's brightwork is also in wonderful original condition; the rear bumper showing only the very slightest bit of light patina where it has been regularly polished over the years. The only section to have been replaced is the lower centre section on the front bumper. The car's first UK owner ran it for a good number of years, always keeping it garaged and it's believed he never took it out on wet roads. "The 283cu in engine has been rebuilt, as there are receipts for all kinds of replacement parts and, indeed, the car came with a huge history file which took me several days to sort through," enthuses Steve.
"The engine starts and runs beautifully, not even two turns of the engine and the oil pressure light goes off, and it never smokes or burns oil. At some stage the radiator core has been replaced, but retaining the original top and bottom tanks. There's also a handmade stainless steel exhaust system fitted. I've had very little to do to the car in the way of remedial repairs, it's all been pretty much just regular maintenance. I've chosen to retain the cross-ply tyres which do make life rather interesting at times, on poorly surfaced roads especially, but the look does suit the car perfectly and in any event, we don't cover that many miles each year to really warrant fitting radial tyres.
"These old classics need using on a regular basis and we do drive ours as often as possible. We have friends who own Forties vehicles that are driven very infrequently and as soon as they go out, there are often problems."
Each year in January, Steve likes to have a major sort out of bits and bobs and larger things and in 2018, paradoxically, he made the decision to sell the Chevrolet. Indeed, it appeared in the classified section in Classic American magazine and almost became a Drive-Buy feature. However, the decision to sell was quickly rescinded and, most fittingly, it was used as the official wedding car in May 2018 when Steve and Trixie tied the knot. Ironically, it was the only day over the summer in Essex that it rained!
"We didn't really need to sell the car, but it's just this major clear-out thing that I have every January," admits Steve. The Chevrolet actually fits very nicely into Steve and Trixie's leisure time activities as they love participating in Forties re-enactment events and the Fifties scene in general, regularly attending dances and events.
"We are both involved with a museum in Horham, Suffolk," says Steve. "It was the headquarters of the 13th Combat Wing and home of the American 95th Bomb Group, which incorporates the 390th Bomb Group at Parham and the 100th Bomb Group at Thorpe Abbotts; unique in the fact that it's the only combat wing that has all three bomb groups together with museums.
Over the years, many people have been involved with the base's NCO Red Feather Club, of which there are about five buildings that have all been rebuilt in their original guise during the Second World War. The museum records what life was like at the base during the war. "Everything that's ever been done to the Chevrolet has been done, with a view to retaining as much originality as possible."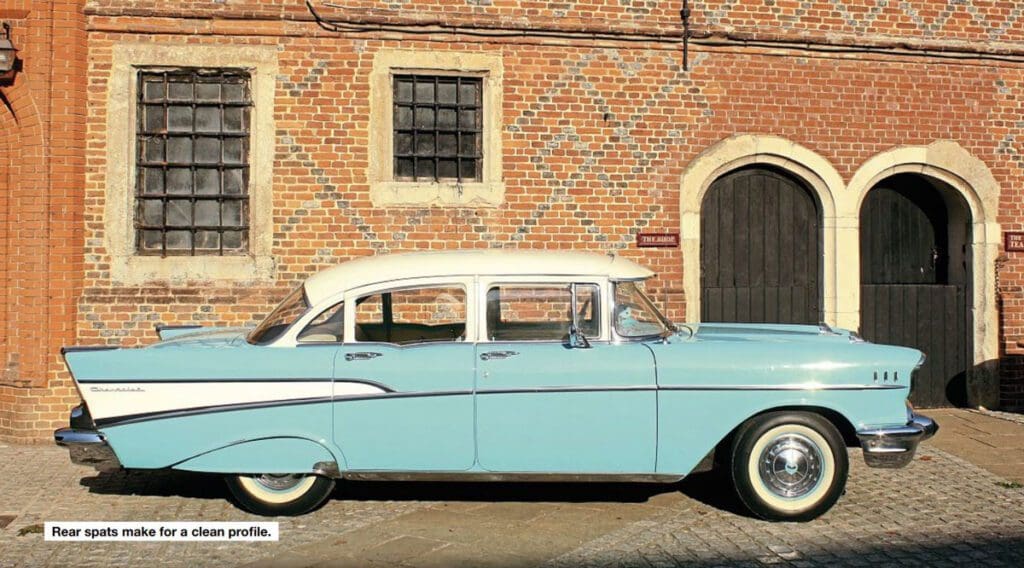 The car has been the recipient of a number of awards over the years, notably at Tatton Park, and has amassed around a dozen trophies, and it continues to attract plenty of attention. In the summer of 2018 the Clark family all donned Fifties-style clothing at a large show at Maldon in Essex and picked up an award for Best Dressed Group with Matching Car.
"We are lucky to have found a car with so much originality − they are becoming rarer and rarer to find nowadays," reflects Steve. It now looks like the Chevrolet is here to stay and will be 'a keeper' for Steve and Trixie. Three years is quite a long time to spend, looking for the car that you really want to own and we are quite sure that each January when Steve has to have his major clear-out, Trixie will stand firm and ensure that it will not include the '57 Chevrolet − perish the thought!