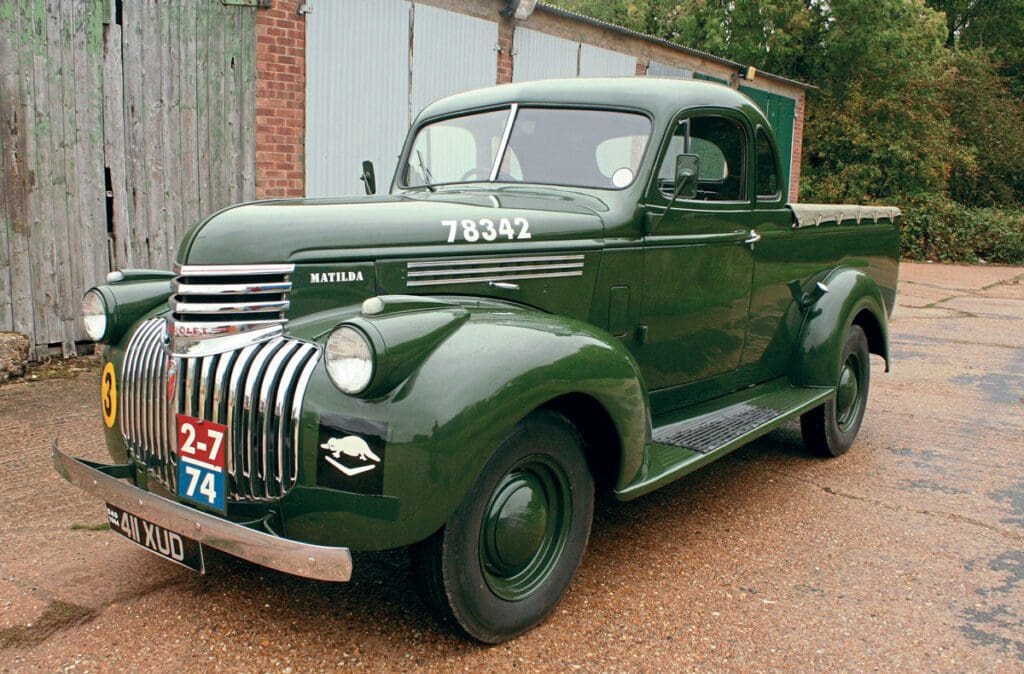 Words and photography: Paul Bussey
Rick Drewery went to the ends of the world to find this beautiful 1944 Chevrolet Maple Leaf ute and wasn't disappointed in its condition when it finally arrived… from Western Australia!
Over the years, Rick Drewery has had the pleasure of owning many classic vehicles, with his main interest being in light commercials and military models. Rick founded the Norfolk Military Vehicle Group more than 40 years ago after placing an ad in a local newspaper inviting prospective new members to an evening get-together at a public house near East Dereham, Norfolk.
"From memory, I think eight or 10 enthusiasts attended and I'd also got to know several owners of military Jeeps," enthused Rick.
"The NMVG was established in 1977, is still going strong today with around 200 members throughout Norfolk, and we attend many shows and rallies during the course of the year."
Rick's last military vehicle was a Dodge, on which he and his son Steve completed a major restoration.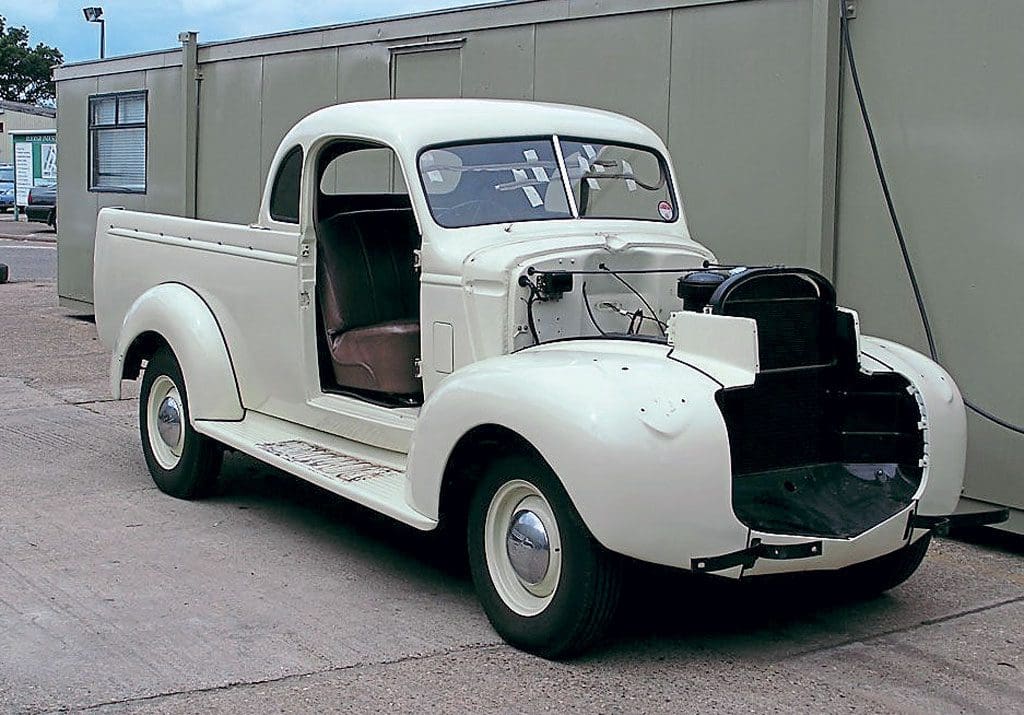 Many moons ago, when Rick started driving after he left school, he used to enjoy getting behind the wheel of a 1944 ex-army Chevrolet six-ton commercial truck with twin wheels at the back.
"When I spotted a 1944 Chevrolet 15cwt ute come up for sale that was owned by a fellow NMVG member, I wanted to own it as soon as I saw it. The ute brought back very happy memories of driving the six-tonner, but unfortunately at the time, I owned four trucks and wasn't really in a position to purchase it," recalls Rick.
"However, sometime after, I sold two of the trucks, so I then telephoned Ian McCallum, who informed me that it had been sold. The ute had gone to a new owner in Hayling Island, Portsmouth, Hampshire, and by a stroke of luck, Ian indicated he was still in contact with the new owner and it was again up for sale. So, my son Steve and I hot-footed it down to Hayling Island and purchased the ute in 2016."
Rick's Maple Leaf Chevrolet 15cwt ute has led an interesting life. It was built at the General Motors car plant in Oshawa, Canada, as a model 1311 – ½-ton light commercial, serial number 1734. It was produced as a chassis with a flat face cowl, complete with axles and transmission.
The 216cu in six-cylinder 3540cc OHV engine, rated at 90bhp@3300rpm, was packed separately in a crate, with the wheels and cowl removed for ease of shipment which, in the case of this Chevrolet, was to Perth, Western Australia, bound for GM Holden's plant.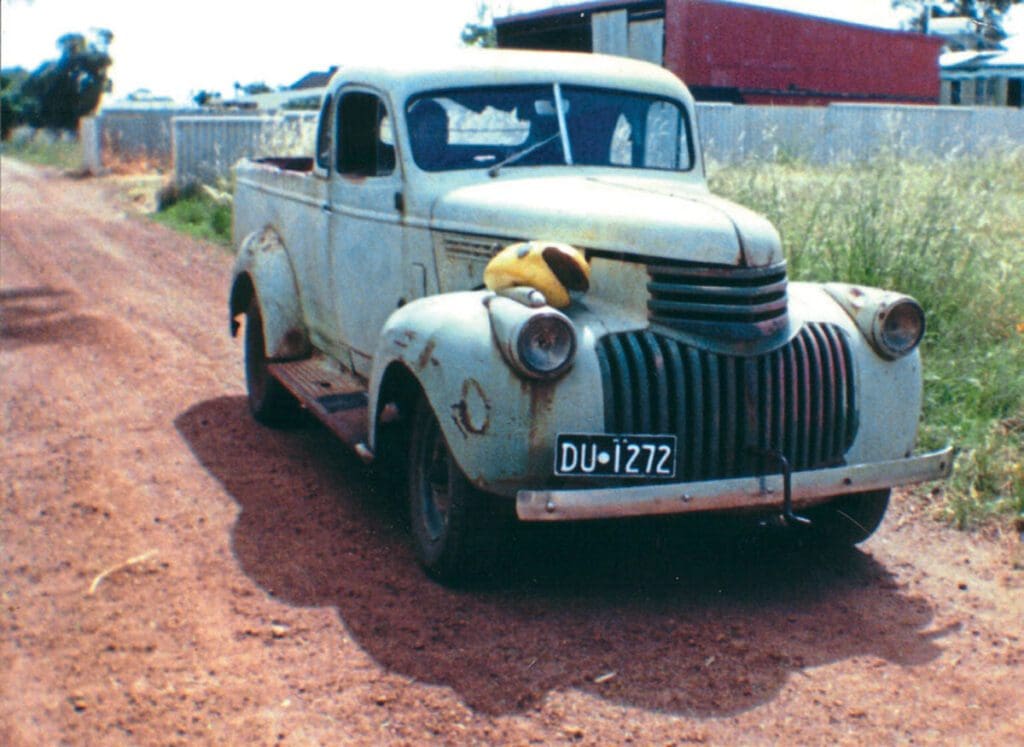 Here it was re-assembled and bodied with a one-piece coupe utility body (replacing the original bulkhead panel) which had been built at Holden's Woodville Plant in Adelaide, South Australia.
It is believed that less than 1000 were produced between 1942-1945 and Rick's ute still has the original brass data plate, mounted in the engine bay, stating it was number 822. It's also pleasing that the complete military specification dashboard instrumentation set-up has survived intact.
Although the vehicle is colloquially referred to as a ute, the official Australian military designate it as a 15cwt GS (General Service) van. The technical specification comprises a three-speed manual 'crash' gearbox, plus a reverse gear, hydraulic drum brakes all round, six-volt electrical system and a 16-gallon fuel tank, giving an approximate range of 224 miles.
Unfortunately, no information exists of the ute's actual military service record and the earliest history known is that it was discovered on a sheep farm near Kukerin, Dumbleyung, Western Australia, in 1994, still wearing its military green paintwork, heavily patinated, and a little rough around the edges.
When the farmer purchased the farm some 20 years previously, the ute was already parked up there in a derelict condition. Ownership then passed through several hands, until acquired by Peter Meulenbrook of Katanning, Western Australia, who wasn't a huge fan of military vehicles so he decided to restore the ute with a civilianised guise in 2001, complete with cream paintwork and shiny chrome hubcaps and front bumper, which did rather complement that wonderful 'Waterfall' front grille.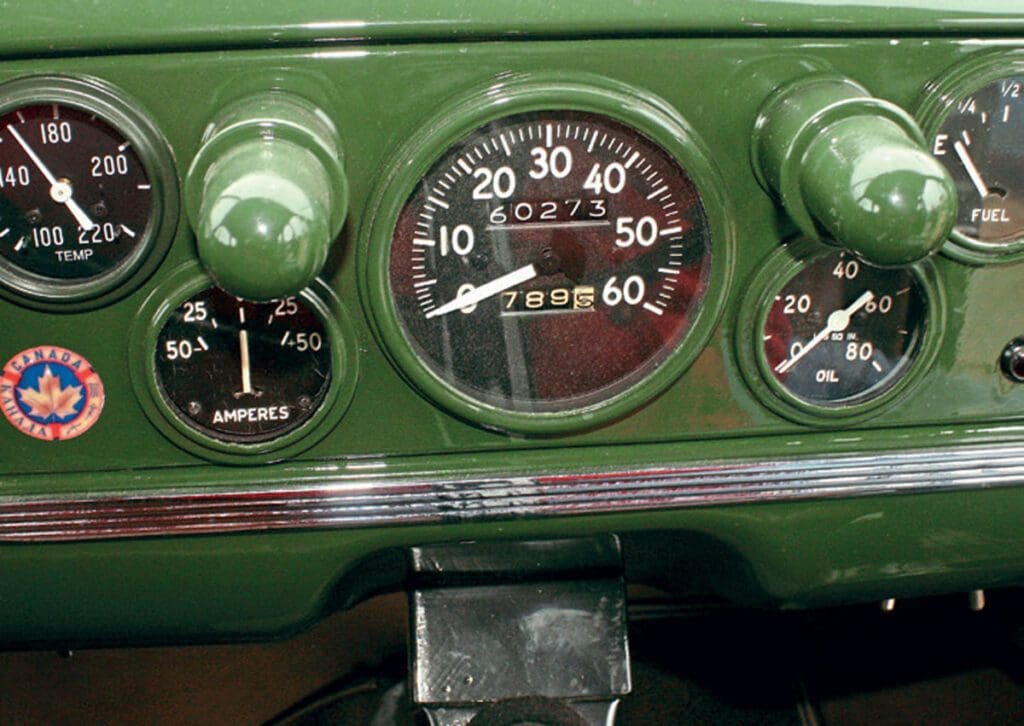 The ute was subsequently purchased by Ian McCallum, who is an avid enthusiast when it comes to military vehicles, is now on his 24th restoration project and currently the chairman of the NMVG.
Ian had always liked the lines of the coupe-cabbed Australian military ute and originally heard about a Chevrolet Ute coming up for sale in Melbourne, Australia. However, upon further investigation, it was found to be the model manufactured for the civilian market during 1945/46 which was fitted with the standard civilian style dash layout.
However, the vendor was a member of the Chevrolet Owners Club of Australia so was aware of a similar model in Western Australia that was up for sale. Upon inquiry by Ian, this was the military specification version he had been looking for.
The ute was effectively purchased sight unseen in 2006, other than perusing numerous photographs and a number of telephone calls. The clincher was that it was located around 100km from the port of Freemantle, making life a whole lot easier getting it back to England and thus that's how he came to purchase this 1944 model.
When the ute arrived in the UK, it was indeed an excellent example, but Ian's dilemma was what he would do with it. The cream paintwork obviously had to go, but it would be almost sacrilege to paint over the extremely well-preserved front grille and bumper.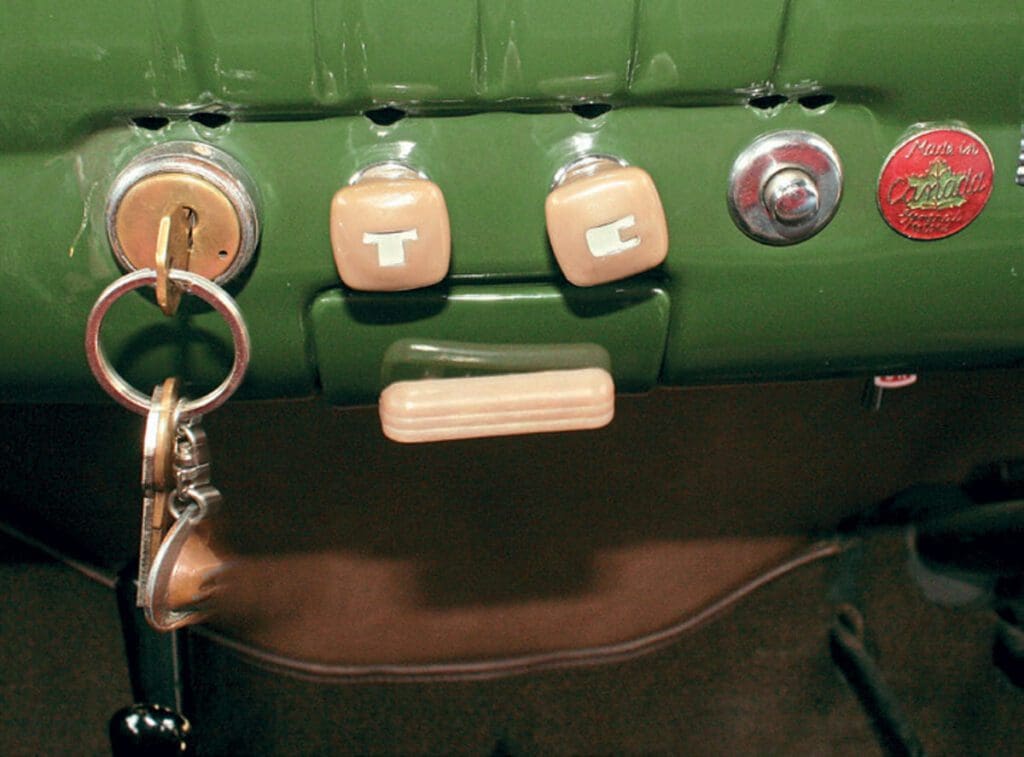 As it was of late war manufacture, he decided to return Matilda, as it became affectionately known, to a resplendent original 'home service' gloss Forest Green colour of early 1945.
The 216cu in engine had already been rebuilt and all that was left to do was have a new canvas tilt made up for the back and add a few military fittings that were missing. These included a driver's log book pocket, which is attached to the door card, and fit the correct bracket and fire extinguisher.
The seat had previously been re-covered in tan leather in Australia, which was indeed a military specification due to its long-term durability. Finally, all the various markings were painted on for total authenticity.
As it is possible the vehicle never left Western Australia, it was decided to use the markings of the 9th Australian Division, 2/7 Field Regiment, Royal Australian Artillery − a local Western Australia unit raised in 1940.
They saw service in North Africa (Tobruk,) the Middle East, New Guinea and Borneo; being disbanded in early 1946. During his ownership Matilda has attended many rallies in England plus several commemorative tours to France, and Ian confirms the vehicle drives extremely well and attracted attention wherever it appeared.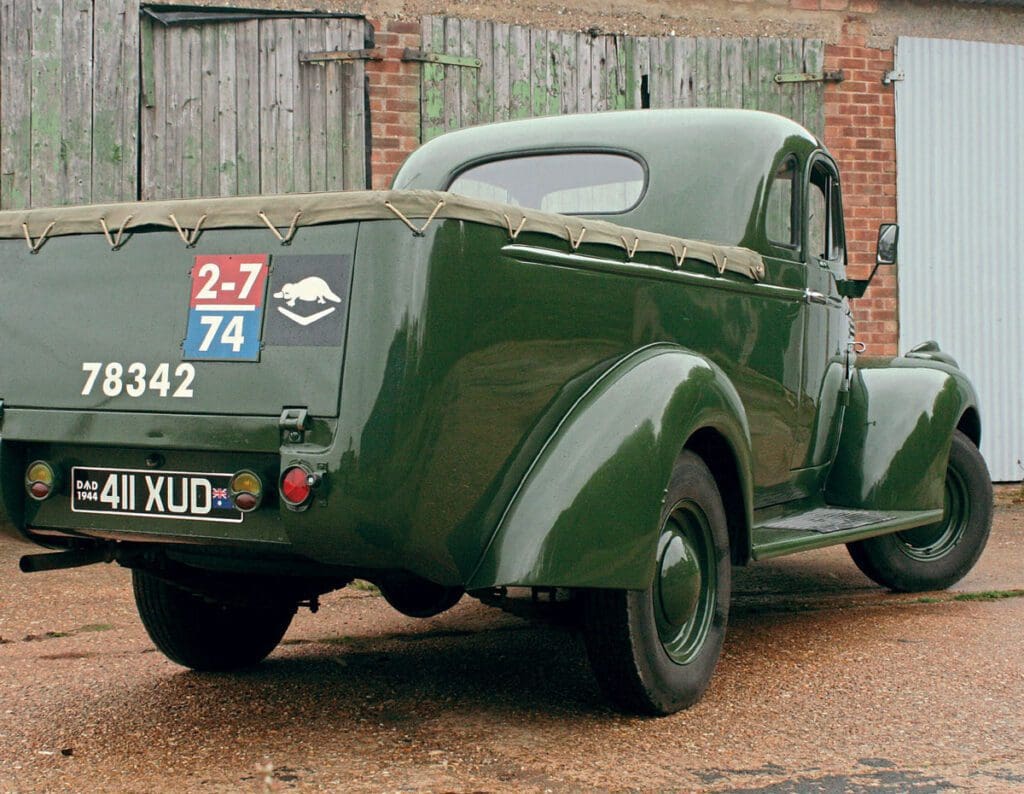 No wonder Rick was so keen to acquire this vehicle for himself − all the hard work had been done − but that's exactly what he wanted, now aged 86 and not wishing to embark upon any more restoration projects.
However, recent major health problems have prevented him from driving the ute much over the last couple of years, but it has been displayed at a show at Sandringham and the Hunstanton Military Weekend in July 2018, where we met up with Rick and his son Steve. Other than requiring a little adjustment to the brakes, the ute is now on the button and ready to go.
"Hopefully as my health improves, I aim to display the ute much more often at NMVG events during the year," enthused Rick. It's certainly one beaut' ute!