Classic American contributor Mike Renaut looks at the Government's plan to sell only electric vehicles within the next 22 years…
In late July 2017 the British Government announced a ban on the sale of new diesel and petrol cars by 2040 in a bid to encourage people – perhaps 'force people' would be more accurate – to instead buy electric vehicles. Currently just 4% of new car sales in the UK are electric and Environment Secretary Michael Gove warns Britain can't carry on with petrol and diesel cars due to the damage they're doing to our health and the planet. This 1964 Firebird IV (below) and the 1958 Ford Nucleon further down this article showed what US car designers of the day thought electric cars could look like.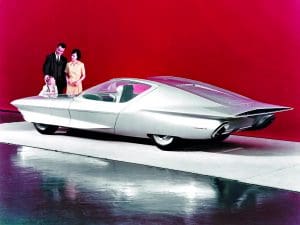 A National Grid report says the resulting increased demand for electricity could add some 30 gigawatts to the current peak of 61GW. To meet these 2040 requirements the UK would require another 10,000 wind turbines – at a present cost of £1.3 million each – or around 10 more nuclear power plants at a cost of £20 billion per plant. The National Grid also predicts Britain will become increasingly reliant on imported electricity, which will rise from around 10% of our total electricity to around one third. Concerns are raised too as to whether Britain will have enough charging points for this new generation of cars.
Some electric vehicles have twice the impact on global warming as a conventional car. The vast majority occurs before the vehicle has even left the factory in theproduction and transportation of the vehicle's lithium ion batteries – which consume large amounts of raw materials and energy. The UK currently makes most of its electricity from burning natural gas and coal – it accounts for 29% of the UK's greenhouse emissions. Yet Sweden and Iceland produce 70% of their energy from renewable sources, meaning an electric vehicle built and driven in Sweden is far more energy efficient than the same car in the UK. In the short term, diesel vehicle drivers on congested roads across the UK will face new pollution taxes and may be barred from travelling at rush hour.
Those same diesel vehicles that just a few years ago, you'll recall, the Government of the time encouraged us to buy. The number of diesel vehicles on Britain's roads rose from 3.2 million in 2000 to more than 10 million today after the slash on fuel duty on diesel in an attempt to reduce carbon dioxide emissions. It has now emerged that diesel vehicles emit harmful nitrogen dioxide, which can raise the risk of strokes, heart attacks and asthma attacks.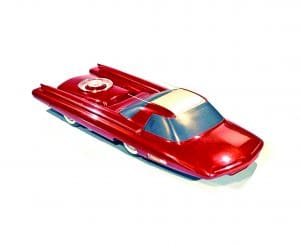 Article continues below…
Advert
Senior Labour figures including Sir David King – Tony Blair's chief scientific adviser – have since admitted that they were 'wrong' to promote diesel cars.
The present Conservative Government has begun to target drivers after losing a case against environmental campaigners ClientEarth over breaches of EU emissions standards. A new analysis has identified 81 major roads in 17 UK towns and cities in breach of EU emissions standards and putting people's health at risk. They're predominantly A-roads, and over half are in London, but also include the M4 near London and the M32 in Bristol.
Instead of pollution taxes, councils will be urged to improve the flow of traffic. This may include better sequencing of traffic lights – so drivers keep arriving at green lights rather than red ones, provided they drive within the speed limit – and removing speed bumps since cars repeatedly slowing down and speeding up almost doubles the amount of harmful gases they put out. Part of the air quality strategy urges local authorities to try reducing emissions by retrofitting the most polluting diesel vehicles. The strategy will insist that any restrictions on diesel cars must be 'time limited' and lifted as soon as air pollution levels fall within legal limits. A Government spokesman said: "Diesel drivers are not to blame and to help them switch to cleaner vehicles the Government will consult on a targeted scrappage scheme – one of a number of measures to support motorists affected by local plans."
Article continues below…
Advert
Whatever happens the outlawing of new petrol and diesel cars will have a huge impact on fuel retail businesses and see the Government lose a significant amount of revenue through their high taxation on fuel. The effect on the haulage industry, the emergency services and public transport also remains to be seen. Can an energy-efficient 40-ton electric lorry be built? Will all trains and buses switch from diesel to electric while aircraft continue to pollute our cities unchecked? Can there remain a sufficient fuel supply for the existing petrol vehicles or suitable conversions for our classic cars? The fact is that no one really seems to know…