If luxury American cars are right up your street, why not wallow in the delights of the August 2017 issue of Classic American magazine?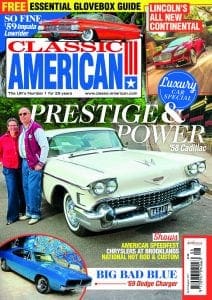 We've got a host of amazing motors to show you, including 1969 and 1970 Cadillacs, a 1963 Imperial and a 1958 Cadillac. It's all down to personal taste of course, but the roof-chopped 1959 Impala we're also featuring could just be the pick of a pretty-much-perfect bunch.
The usual gang is along for the ride again this month – all your favourite contributors including Tony Oksien and his Muscle Car Files, Huw Evans with news from Across the Pond and Richard Heseltine's regular feature From Here to Obscurity. We'll be surprised if you've ever seen the like of the car he's featuring this month – the GM Runabout, a three-wheeler with a built-in shopping trolley! And Will Shiers delves into the bracken and woodland again to deliver a selection of cars that have seen much better days in his hugely popular Discoveries feature.
Included with your super-value August issue is the ever-popular Glovebox Guide, your handy and indispensible reference to suppliers, dealers, insurers and other services relating to American cars.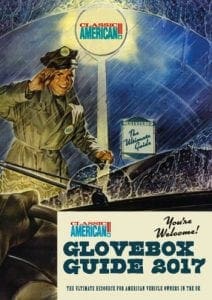 As it's the perfect size to pop into the glovebox of your car, your desk drawer or on the workshop shelf, it'll be a handy guide when and if you need the services of the multitude of advertisers inside.
So as the summer sun continues to beat down, why not flip through the pages of Classic American and check out all those forthcoming events? If you've got a Stateside model to show off, you can track down and attend some of the best shows around… and if you're looking to buy, where better to spend some time daydreaming than browsing through the colourful pages of your favourite mag?
Article continues below…
Advert