In the August issue of Classic American: a 1946 Hudson, Dennis Wright, Ford Econoline, Beaulieu Custom & American Show, and more!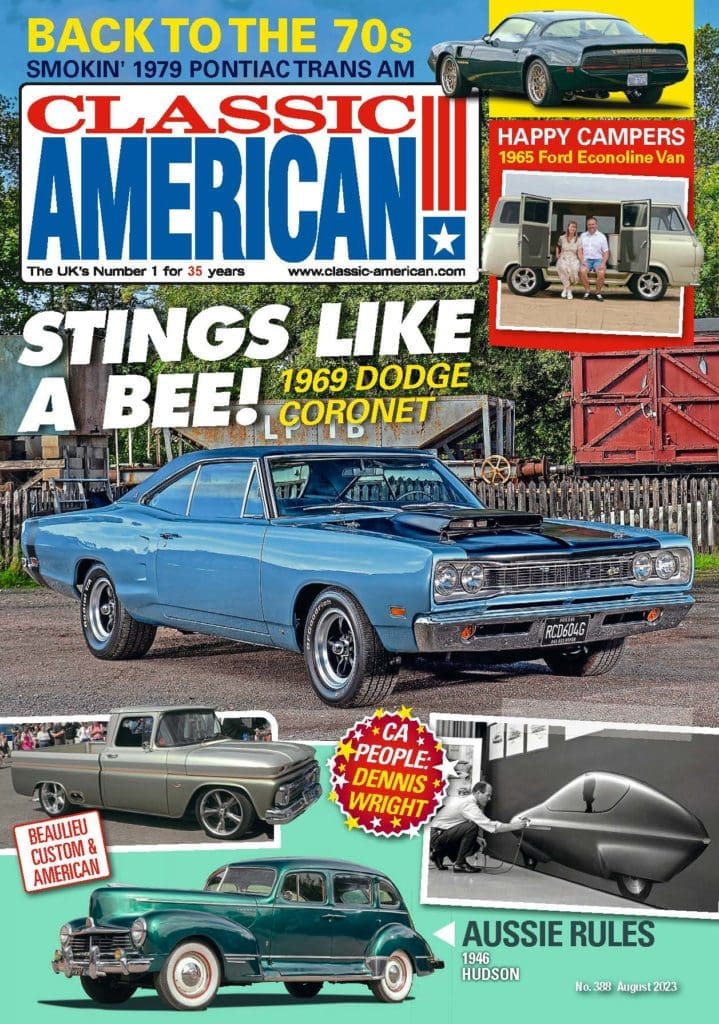 All your usual favourites are inside, including Muscle Car Files, From Here to Obscurity and Across the Pond.
Plus, this issue includes:
1969 Dodge Coronet
This 1969 Dodge Coronet was rebuilt as a fast road/drag car, but so far no one has taken it up the quarter mile – can any car really be too nice to race…?
1965 Generation 1 Ford Econoline
Although often mistaken for a VW camper van, this classic American van is a rolling testimony to its owners' automotive creativity and genius, resulting in a bespoke camper van loaded with a host of mod cons and comforts.
1946 Hudson
Any 1946 Hudson is a rare sight today, but here's one that's right-hand drive, has Ruskin coachwork and has done some travelling in its time.
Article continues below…
Advert
1979 Pontiac Trans Am
Leading classic car builder Retro Designs introduces the new 430bhp Pontiac Trans Am Firebird. Seventies swagger and modern performance are perfectly blended to create a phoenix-like complete rebuild and gold standard restroration…
There are lots of news stories to digest too, letters from readers and, of course, if you are thinking about buying an American car, there are some great offerings advertised within. If you're after parts, scale models, insurance or just suggestions of where to go over the summer, it's time to head out to the shops and pick up your copy, or order online here.
But if you've caught the bug and want your regular fill of Classic American, why not subscribe? It's cheaper than buying at the newsagent, you'll get your copy early and it's delivered FREE to your door!
Article continues below…
Advert