Ahead of the Lakeland Motor Museum's seventh anniversary on its current site this weekend (27 May 2017), it's been revealed that more than 500,000 visitors have now passed through the doors. The attraction relocated to its current home at Backbarrow, near the southern tip of Windermere, from Holker Hall in May 2010. The move tripled the amount of exhibition space, providing room to dramatically expand its collection and develop a world-class transport heritage site for the North West of England.
With a growing reputation as a world-class attraction, latest figures confirm that a total of half a million people have now visited the attraction since the big move. Chris Lowe, Manager at the Lakeland Motor Museum, says, "Half a million visitors is a landmark figure for us and really shows that heritage tourism is making a big contribution to the tourism sector – and the local economy as a whole.
 "It's important that it's not just car enthusiasts we're seeing, but also plenty of couples and young families who want to take a look at some unique motoring machines they won't see in their day-to-day lives. We get schools, coach parties and even people bringing their dogs along too!"
He adds, "We've also introduced private evening hire for special celebrations and corporate events, after visitors kept asking us about exclusive use of the Museum. As we continue to grow as a business, these special evening openings allow us to offer more flexibility and give people an exclusive experience in a genuinely unique location."
Article continues below…
Advert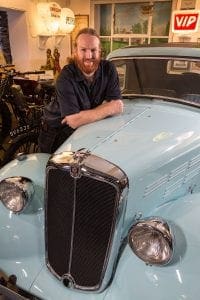 As well as ever-popular Isle of Man TT and the Campbell Bluebird displays, other eye-catching exhibits range from a very rare 1930s SS Jaguar 100 to a collection of legendary Vincent motorbikes and iconic vehicles from the 1970s and 80s.  The TVR Cerbera Speed 12, which was originally conceived as the world's highest performance road car, is another popular crowd-pleaser.
Article continues below…
Advert