ATOMIC Vintage Festival
Saturday 19th & Sunday 20th August
Sywell Aerodrome, NN6 0BN
A spectacular two-day celebration of 1950s music, dancing, cars, action, style and fun at historic Sywell Aerodrome, near Northampton. Featuring top-quality international bands, pre-63 classic and custom car show, traditional flag-start drag racing, classic car rides, the 'ATOMIC Cavalcade of Chrome', wall of death, large covered dance floors, huge vintage and retro market, rock'n'roller rink, fairground rides, dance classes, crazy golf and lots more… including the return of the much-loved Poodle Parade!
ATOMIC is a chance to take a step back in time and experience a truly unique weekend, with plenty of fun and action for the whole family.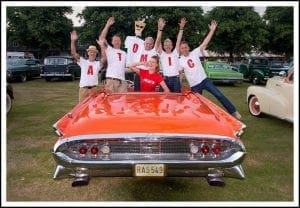 Tickets are on sale now at www.AtomicFestival.co uk or call 01435 812508 for bookings, information and flyers.