Danny Luke's Buick Electra 225 Custom was one of the best American cars you could have purchased in 1973 and this well cared for example shows just how good they still are today.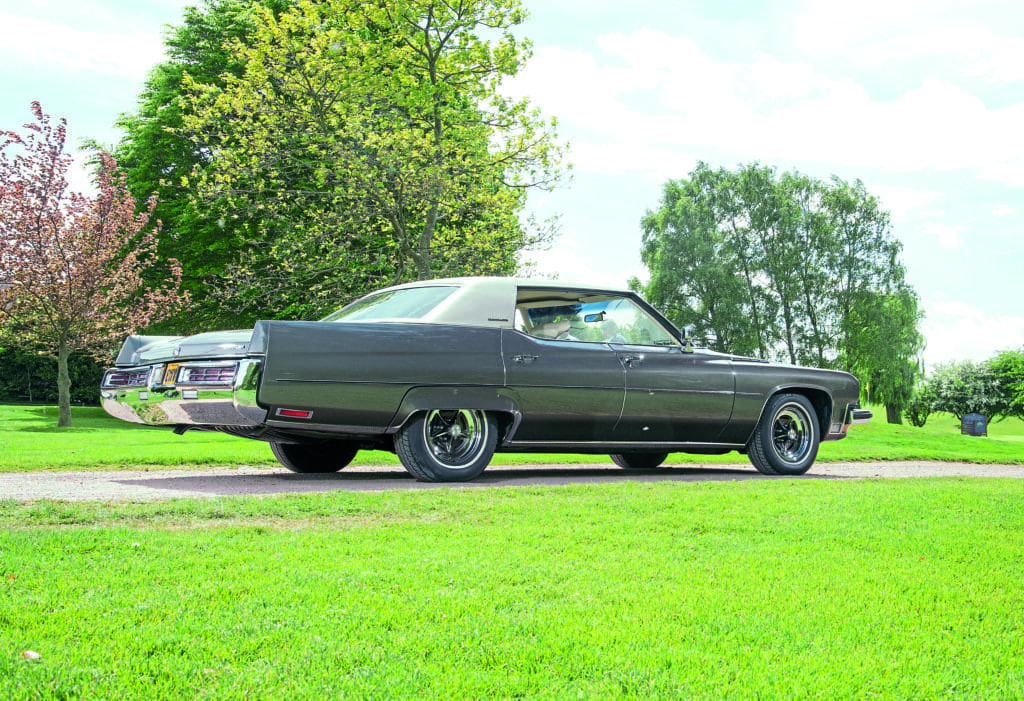 Danny Luke is no stranger to owning American cars; in fact, he and his family share quite a collection. The stunning black 1960 Impala in our August 2017 issue was one of theirs and their automotive tastes run from Thirties hot rods to muscle cars and classic pick-ups. The majority of the collection is full-size cars though. They have a number of Cadillacs, mostly Coupe deVilles imported from New Jersey and their storage unit feels a little like walking on to the set of the movie Goodfellas. The 1973 Buick Electra 225 Custom we've come to see would make the perfect mobster car; it's imposing, classy, comfortable and big enough to carry a couple of bound and gagged schmos in its cavernous trunk. Not that Danny has any Mafia connections as far as we're aware…
For all things Classic American, like our page on Facebook here!
?"I got into American cars watching Daisy Duke on the Dukes of Hazzard," remembers Danny. "She was my first love, but my first Yank was a 1964 Mustang, then I got a series 3 Jaguar E-type which I then sold to pay for my wedding. Around 2003 I went to the Knebworth show and saw a Mustang Mach 1 for £5500, I thought that seemed a lot of car for the money and I ended up buying a 1972 Mustang convertible. After that, I've had a Corvette, a Trans Am and some Mustang Mach 1s over the years. Then I bought a 1968 Electra 225 in 2014 (this car was in last year's Car of the Year competition and was featured in issue CA300/April 2016) that I sold quite quickly after. It had just 11,000 miles from new and I immediately regretted selling it, so I was keen to find another one.
"I don't ever watch TV – instead I watch eBay, usually looking for cars. I really love the styling on these four-door hardtops and this Buick turned up at Ross's Valley Auto Sales in Boise, Idaho with just over 50,000 miles and three previous owners.
"After having a professional inspection done, it sounded perfect, so I made a holiday out of collecting it with my dad, Alan, in April 2016, flying to Salt Lake then driving to Boise to pick up the Buick. We then drove it from Idaho across Nevada to the California coast.
"Nevada was a great drive, the two of us in a big luxury car on those long, straight roads. It was a fantastic trip, we went into San Francisco, went across the Golden Gate bridge, drove the Pacific Coast Highway, came into Santa Barbara then finally to Long Beach where we shipped the Buick back home to the UK via Felixstowe."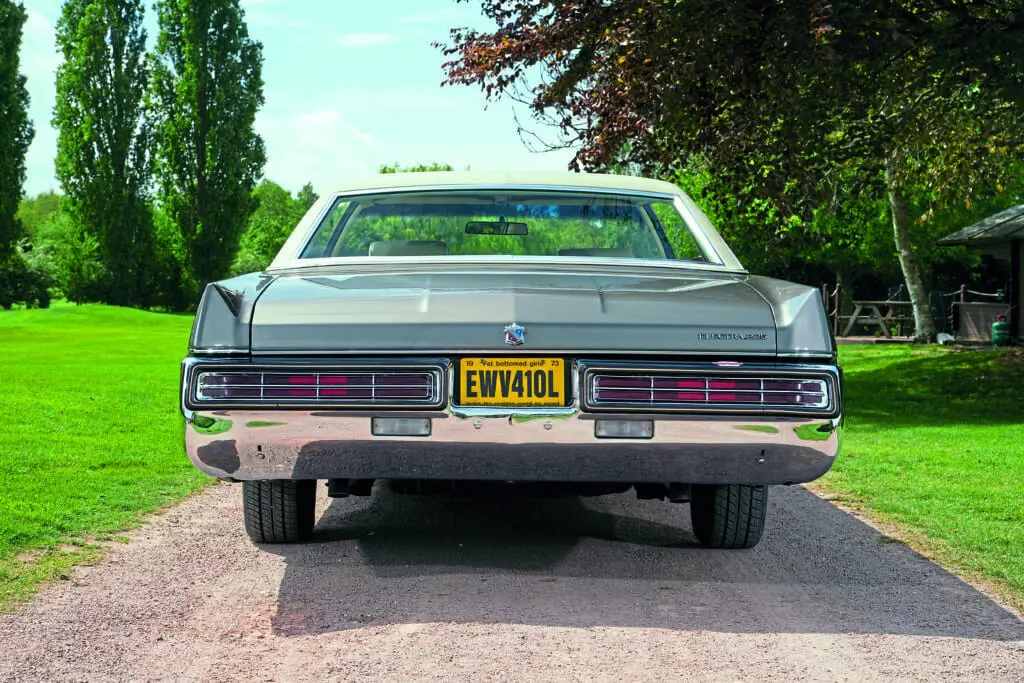 A Buick for everyone
Buick were busy in 1973 as they introduced the Chevrolet Nova-based Apollo model to an already crowded line-up, marking Buick's re-entry into the compact market. The status of a car was still measured in size and weight, with the 111-inch wheelbase Apollo being the entry-level Buick. The intermediate car offering was the 112-inch wheelbase Century/Luxus/Regal, next up were the LeSabre/Centurion models riding a 116-inch wheelbase. They sat just below the full-size Electra, which boasted a 127-inch wheelbase and shared the billing with the boat-tailed Riviera as the top luxury Buick model.
The Electra range comprised two models, further split into two sub series; the Electra 225 and Electra 225 Custom, the name derived from the model's introduction in 1959 when that year's car was 225 inches long − although by '73 it had grown to 231 inches. A Limited trim package was available for the Custom, with what Buick called 'bright metal underscores' along the sills. Both series comprised a four-door hardtop sedan and two-door sport coupe each capable of carrying six passengers.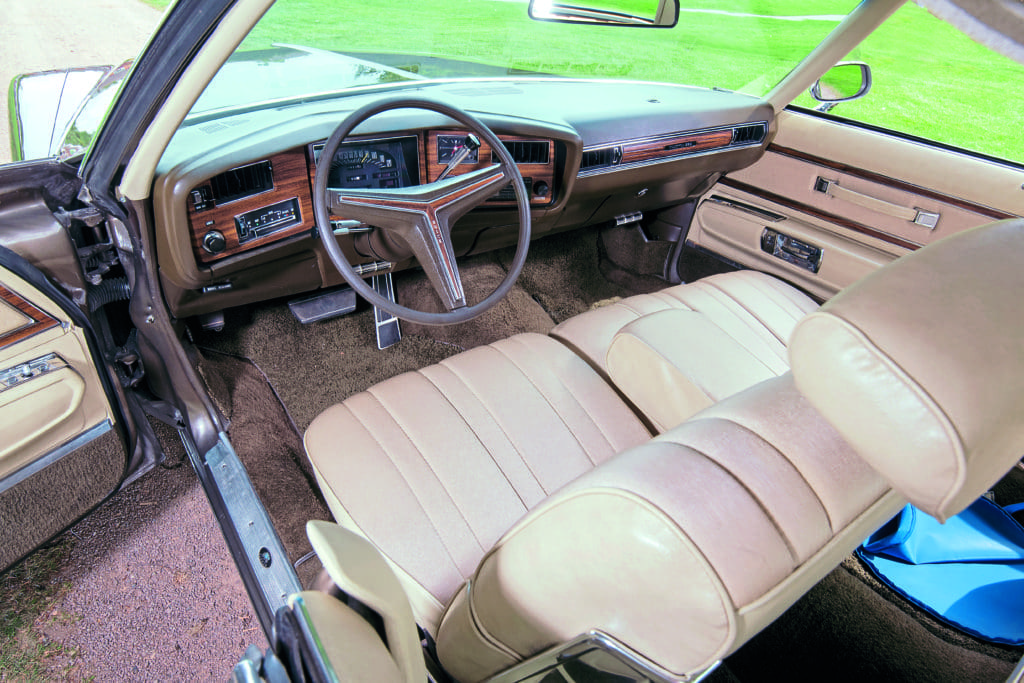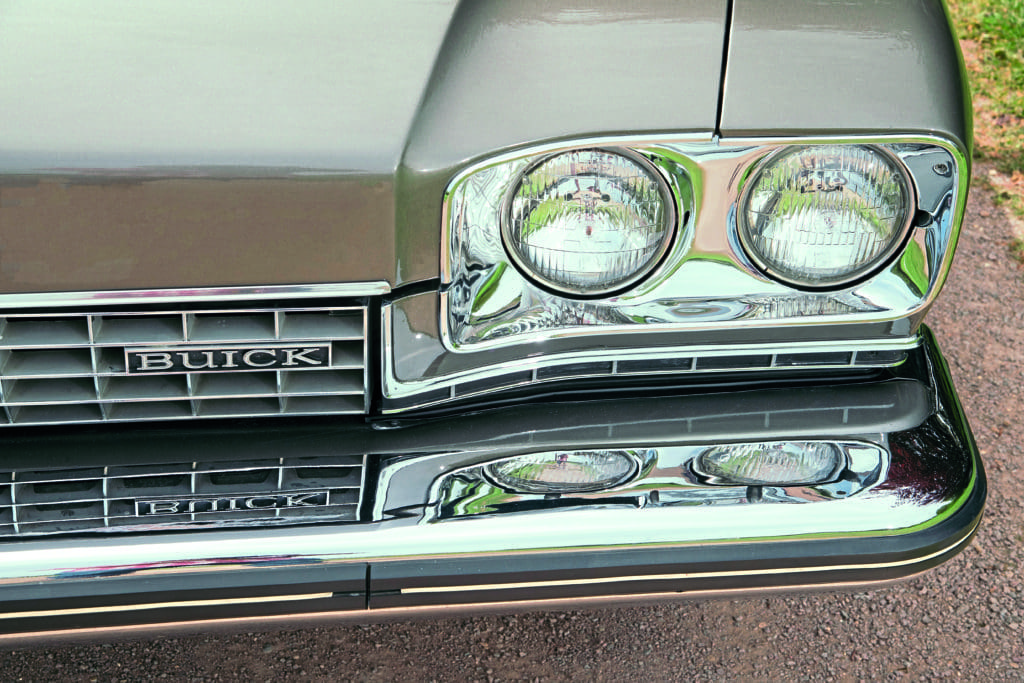 Under those vast bonnets, a single four-barrel carb and 8:5.1 compression ensured the 455cu in motor was never stressed. Buick were especially keen to keep their reputation for high-build quality and, when constructing the engines, they ensured no foreign matter could get inside by running the block backwards while blasting it with compressed air. Each engine was then run on a dyno and the tolerances carefully checked before that block was installed in a car.
That V8 somehow only managed to put out 225 horsepower through its TH400 three-speed automatic gearbox, yet that was still enough to haul those 4580lb of car up to 60mph in 10.9 seconds and on to a top speed of 119mph. Models equipped with a dual exhaust – such as our feature car – slashed 0.9 of a second off that time. It's doubtful any owner ever took their '73 Electra drag racing, but if they had, the standing quarter would take around 17.4 seconds at 82mph.
For all things Classic American, like our page on Facebook here!
No doubt that time could be bettered if the Electra in question was fitted with the optional MaxTrac computerised braking system, which monitored rear wheel slippage and reduced the power to any slipping wheel. Despite only costing $89 ($10 cheaper than a vinyl roof) and being quite effective, it was rarely specified. Automatic climate control was another innovative option; simply select the temperature you require and the system kept the car interior at precisely that level without any further intervention. Clever stuff.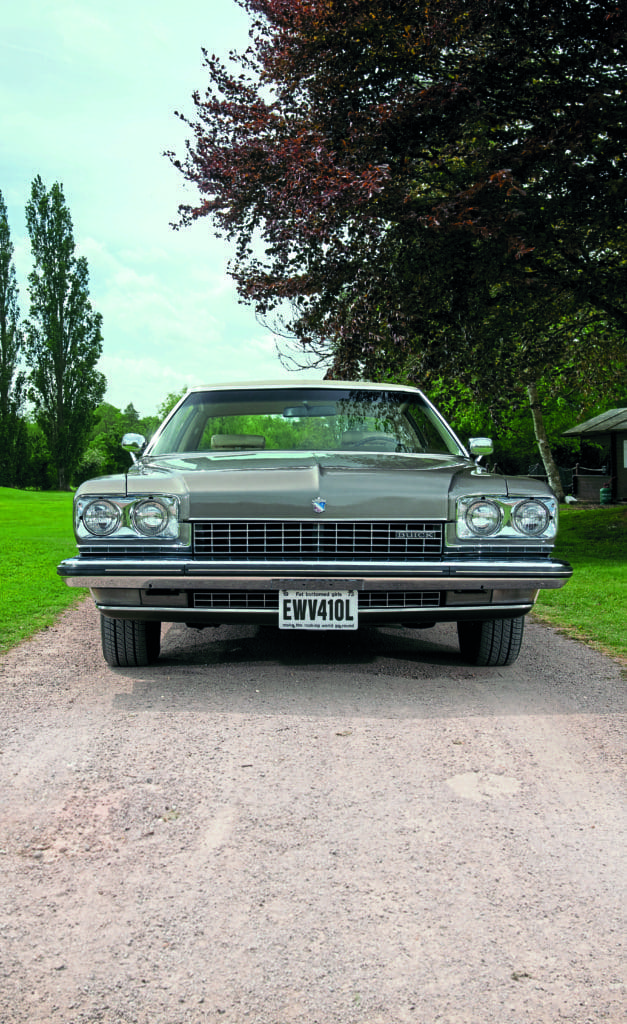 The 225 Custom offered a slightly more luxurious interior than the 225 (although much Custom equipment was optional for a 225) including fold-down centre armrests, front and rear and carpeted lower door panels. The front seat in Danny's '73 is the optional 60/40 split which would have added $70 to the price. Standard equipment included an electric clock, Super Deluxe wheel trims, safety belts and a radio aerial buried in the front screen. This Electra has the speed alert fitted (a buzzer that can be set to sound if a pre-selected speed is exceeded) along with power windows, power door locks, power front seat and electric trunk release.
Despite the Custom costing $177 more than a standard Electra, it outsold the cheaper model by six to one. Danny's Electra 225 Custom is one of 107,031 built, versus just 17,189 of the cheaper standard Electra sedans. The factory price was $5105. It's not hard to see why Buick's sales totalled 726,191, marking 1973 as their second best year in Buick's history.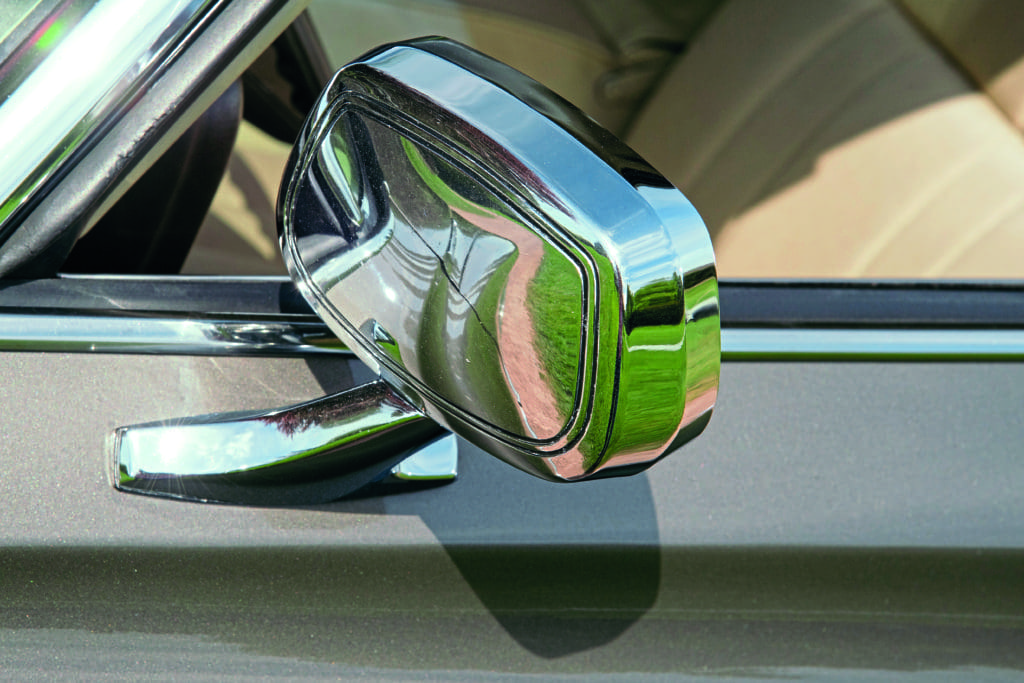 Detroit doll
Our featured Buick was born in Flint, Michigan and when Danny registered his Electra in the UK, the DVLA decided it was built in January 1973. But the VIN and the factory-applied door stickers suggest that although it is a 1973 model, it actually rolled out of the factory in October of 1972. "The first owner was a lady from Sandpoint, Idaho, who had the Buick for 17 years," explains Danny, "and the second owner was there when she bought it; he'd been wanting to buy it ever since and he kept it a further 24 years. What struck Dad and I as odd during that American drive was that not one person who saw the car actually knew what it was."
For all things Classic American, like our page on Facebook here!
Ironically, barely 10 minutes after telling me that, while on our way to take photos, Danny stops to let two women cross the road and one yells out: "Nice Electra – is that a '73?" Her companion then adds by way of explanation, "She's American – her parents used to own one…" Small world.
Other than the air conditioning compressor starting to screech part way through, their 1200-mile American trip was uneventful in terms of problems. Those only started when Danny went to collect his previously shiny Buick from the UK docks. "The rear wings had got badly scratched during shipping, in the end I managed to get the company to admit that it had occurred when the car was loaded at Long Beach. They offered me compensation to get the back half of the car painted but, since it would never have matched perfectly with the original paint, I paid extra to have the whole car resprayed in as close to the original colour as possible." Happily, Danny hasn't had to do much else to his Electra. "I fitted a passenger mirror since this age of car only ever seems to have one and it's easier driving a big left-hand-drive car if you have an offside mirror, other than that it's just been driving it and cleaning it.
★ Thanks to the staff at Letchworth Golf Club for all their help with our location.