In the April issue of Classic American: a 1936 Cord Westchester Sedan, 1979 Pontiac Trans Am, 1970 Lincoln Continental, and much more!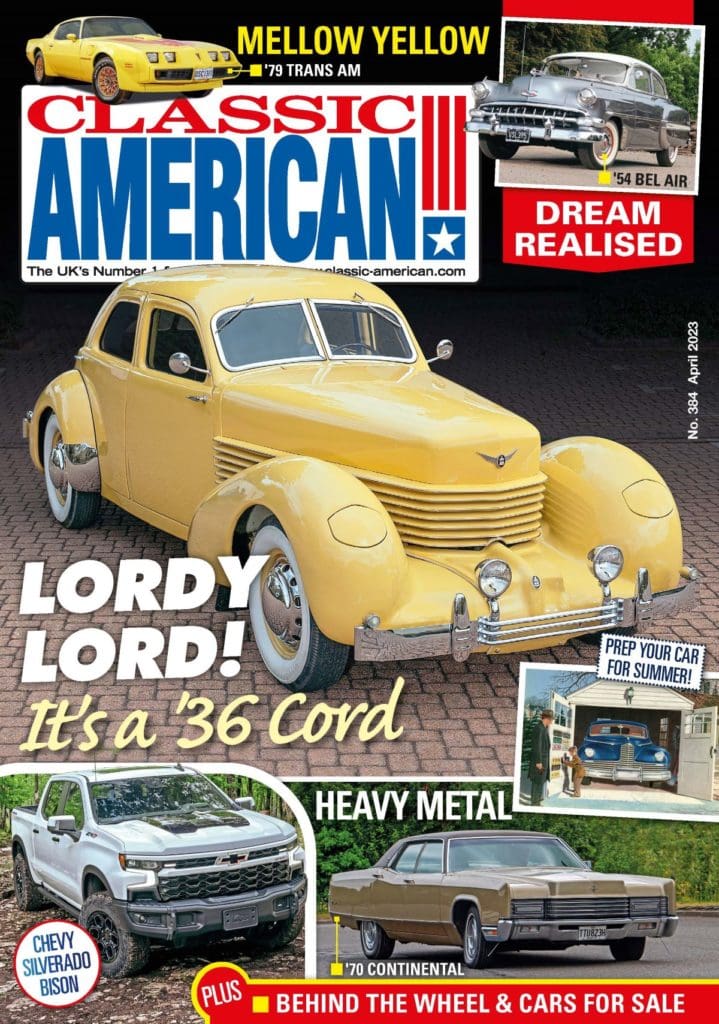 All your usual favourites are inside, including Muscle Car Files, From Here to Obscurity and Across the Pond.
Plus, this issue includes:
1936 Cord Westchester Sedan
This masterpiece of American automotive design was created by the legendary car designer Gordon Buehrig and remains one of the most ingenious vehicles of its day. It was the first mass-produced front-wheel-drive car, with gear selection made using a tiny electrical selector near the steering wheel, and it had a ground-breaking Lycoming engine and hideaway lights. We were lucky enough to meet up with this example's British owner.
1970 Lincoln Continental
The 1970 Continental really was all new, fitting for the dawning of a new decade. Editor Ben Klemenzson gets up close and personal with a low-mileage example that looks almost as good as the day it rolled off the production line. If you like big, beautiful boats, you'll love this Lincoln!
1954 Chevrolet Bel Air
"Good things come to those who wait," so they say – it's appropriate then that this fan of Fifties Chevys finally had his dream come true when he discovered this absolute beauty of a '54 Bel Air for sale after a lifetime of looking…
Article continues below…
Advert
Get your car ready to roll!
Yep, spring is just round the corner, so if you've laid your car up for the winter, or just been using it far less, make sure you check out our handy guide to 'Waking the Giant' with everything you need to know and do when taking your car out of winter storage.
There are lots of news stories to digest too, letters from readers and, of course, if you are thinking about buying an American car, there are some great offerings advertised within. If you're after parts, scale models, insurance or just suggestions of where to go over the summer, it's time to head out to the shops and pick up your copy, or order online here.
But if you've caught the bug and want your regular fill of Classic American, why not subscribe? It's cheaper than buying at the newsagent, you'll get your copy early and it's delivered FREE to your door!
Article continues below…
Advert