Who's the Boss? You'll find out in the amazing April issue of Classic American – out now!
One of our Car of the Year 2016 classics takes to the roads of the Lake District for a glorious photo-shoot in superb surroundings. This 1970 Ford Mustang Boss 302 – in its stunning Grabber Orange and black livery – is certainly the bee's knees!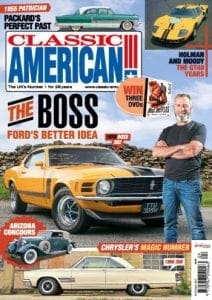 But we've got plenty more to tempt and tantalise you with as summer approaches and the show season starts to rev into life. Event organisers are busy advertising their shows within our pages, so get out your diary and start filling in those weekends where you can head off into the sunshine with your gleaming American metal.
This month's Readers' Rides feature has a grave message – it's a 1986 Chevrolet Caprice Classic hearse. Find out more about its rein(car)nation from owners Sandra and Dean, who compile the Classic Hearse Register.
Also for your delight we have a 1966 Chrysler 300, a 1955 Packard Patrician and a 1951 Pontiac Delivery, a sizeable beast if ever there was one. Plus our regular experts on the American car scene give you all the inside information you'll need to impress your friends on the rally field.
Oh, and if you like to settle down with a timeless film classic, we have three DVDs of the star-studded 1957 British film classic Hell Drivers to be won. For that day when you'd planned to take your car out for a spin, and minutes later it decides to rain…
Article continues below…
Advert
And if you've yet to buy the car of your dreams, why not pick up the latest issue and peruse all the marvellous models our advertisers have for sale. There's sure to be one that takes your fancy! In the meantime, check out the preview of this month's issue here…