We're lucky in this country to have a major automotive book publisher, Veloce. Not only that it produces a surprising number of titles on American themes, presumably for export back to the US. Its latest American-themed tome is this one: The Legend of American Motors (The history of America's most innovative automaker). This hardbacked, 352-page book is beautifully laid out, well printed and uses high quality stock paper and while all those factors are important, it's the actual content of a book like this that probably is of most relevance to readers, the bulk of which I would imagine would be AMC fans.
The book introduces AMC as "The little automotive company that made a bit impact… an antidote to the excesses of Detroit's Big Three." In a way, that sums up AMC and this book in a nutshell. Formed from the merger of the Nash Kelvinator Corporation and the Hudson Motor Company, AMC was the 'fourth' American car manufacturer for almost three decades. Its 'smallness' compared with the Big Three meant it was relatively agile at responding to consumers' desires and was able to morph its products to what the market wanted far quicker and easier than its competitors. The 20-odd chapters follow AMC's history from before its establishment, to its USP in the Fifties and Sixties offering smaller vehicles tht, certainly before 1960, no other domestic manufacturers were offering – hence VW making such great strides with its Beetle and Chevrolet challenging it directly with the air-cooled, rear engine Corvair.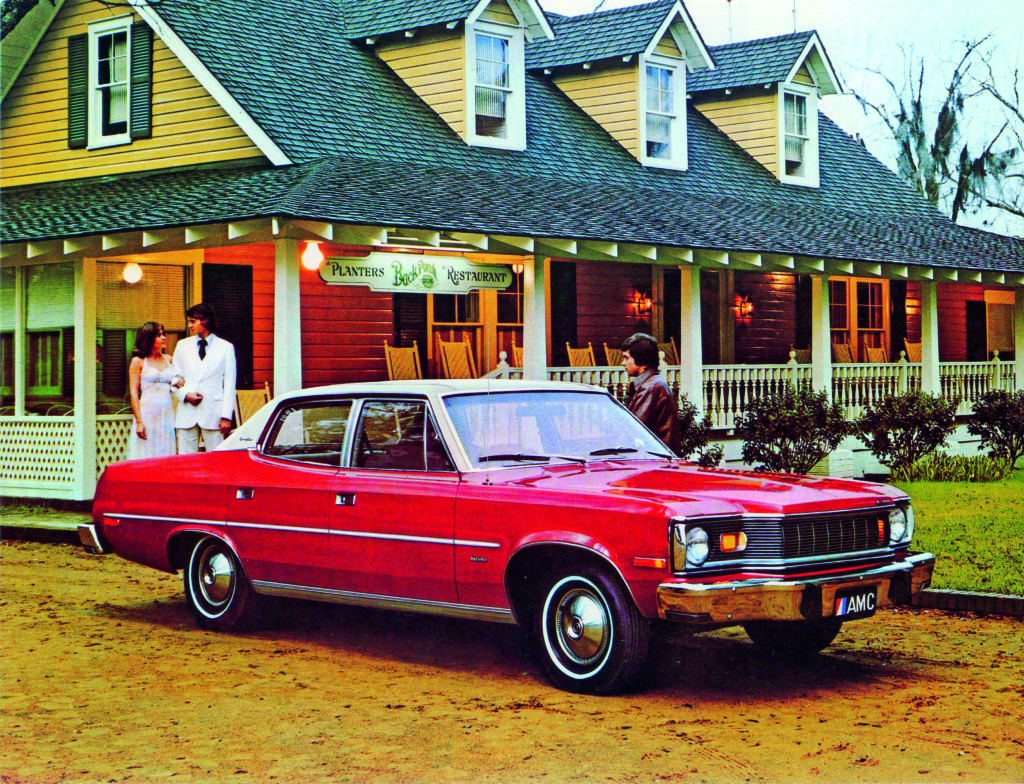 AMC's sensible, solid, but not excessive cars certainly struck a chord with a certain section of the American car-buying public and cars like the Rambler and the American sold well. Of course, when the muscle car era emerged, AMC was able to nimbly pivot to answer that call as well, with cars like the AMC SC/Rambler, Javelin and AMX. Interestingly, author Marc Cranswick hails from Australia, so there is a bit of an Australian flavour to some of the content; unsurprising when you consider AMC also sold its wares here in the UK in right-hand drive. Again showing how dexterous it could be in terms of creating product, after the oil crises of the early Seventies, AMC was soon churning out sub-compacts like the Pacer and Gremlin. The fuel-bound early Seventies gave way to the louche mid-Seventies and again AMC answered the call with cars like the Matador, even offering glamorous signature models like the Pierre Cardin-inspired version.
Interestingly, in light of AMC's eventual merger with Jeep, the company was offering four-wheel drive versions of its vehicles like Eagle, almost predicting the off-roading/SUV mania that would grip the American market four decades later. Cranswick covers AMC's Jeep era well and the story more or less ends with what many consider to be AMC's unfortunate demise: its merger with the Renault and oddities such as Alliance and Encore. Of course, the final nail in the coffin was the Eagle brand. Cranswick's thoughtful and insightful analysis of what, how and when makes sense of the AMC story and in many ways foreshadows what was to become of the whole American car industry a couple of decades later. Interested in AMC and the American car industry? You'll love this book!
The Legend of American Motors is priced £60 and is available from: www.veloce.co.uk
---

Enjoy more Classic American reading in the monthly magazine. Click here to subscribe.
Article continues below…
Advert
Sell your Classic American car here.