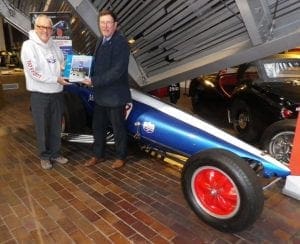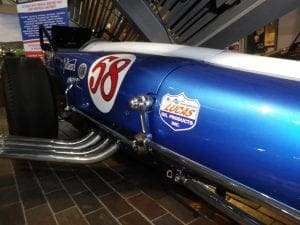 Latest news about the restoration of Europe's first dragster – Sydney Allard's 1961 Allard Chrysler owned by the National Motor Museum, Beaulieu – concerns the official hand over of the 390 page history of the project and its restoration to Museum Manager Doug Hill. The sponsorship by Lucas Oil has also been marked by decals affixed to the body panels – a special deviation from its period correct status. The official history was handed over to Doug Hill on January 23rd by Allard Chrysler Action Group Chairman Brian Taylor. It includes the dragster's full history; why Sydney Allard decided to build it in the first place and the story of its racing career. It then details the 9-year restoration by the Allard Chrysler Action Group (warts an' all) along with all part numbers and documentation – including the engines original brass identification plate. All this will be placed in the library for use by researchers. A recent addition to the restoration has been the application of period correct Castrol and Wynn's logos in the engine bay on the firewall. These were original sponsors of Sydney Allard back in the mid-1960s and we have photos of these decals in place at that time. However it has been Lucas Oil Products UK that has provided all the lube requirements during the restoration so, after discussions between Brian and Doug, the National Motor Museum has agreed to honour this support by applying Lucas Oil decals to the body panels. This is not of course period correct and would not have been allowed back in the day, but it was felt that the company should be treated as a special case to reflect their support.
---

Enjoy more Classic American reading in the monthly magazine. Click here to subscribe.
Sell your Classic American car here.