Living in the centre of London can make owning a car very difficult, so imagine what Sanjay Shabi has to go through, owning four American classic cars. Yet he loves every minute of it… in fact, he says it's therapeutic!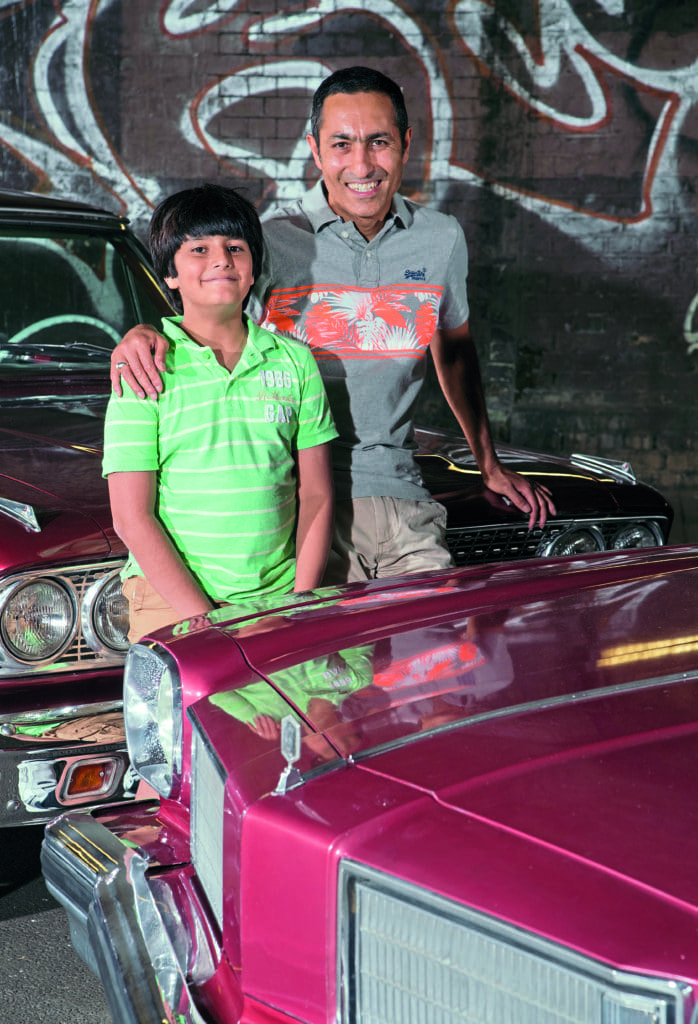 Parking space is always at a premium in London but, thankfully, not everyone has given up owning a car. Sanjay Shabi is more than happy to use a 'Boris Bike', but when it comes to city driving he admits he prefers intermediate-sized cars. "Compacts always seem too small, though full-size cars can get too large for central London. I'd love a Continental, but I couldn't get it through the width restrictions in Whitechapel where I live."
For all things Classic American, like our page on Facebook here!
Sanjay's first American car was a 1967 Mustang which he bought in quite an unusual way. "I'd joined the Classic Car Club in London where you pay a fee and get to use their cars. I liked all their classics, but when I first drove their Mustang I absolutely hated it, especially because I couldn't control the throttle. I took it back and they gave some guidance and suggested I persevere with it. Well, then I really grew into it." So much so that Sanjay ended up buying that 1967 GT coupe and he still owns it now. "I had wanted to get a speedboat instead," smiles Sanjay, "then I found out the Mustang was the same age as me, it was built in July 1967. All my cars have names because they are like family members to me and once I bought Suzie Q − that's the name of the Mustang − I discovered I was driving it all the time.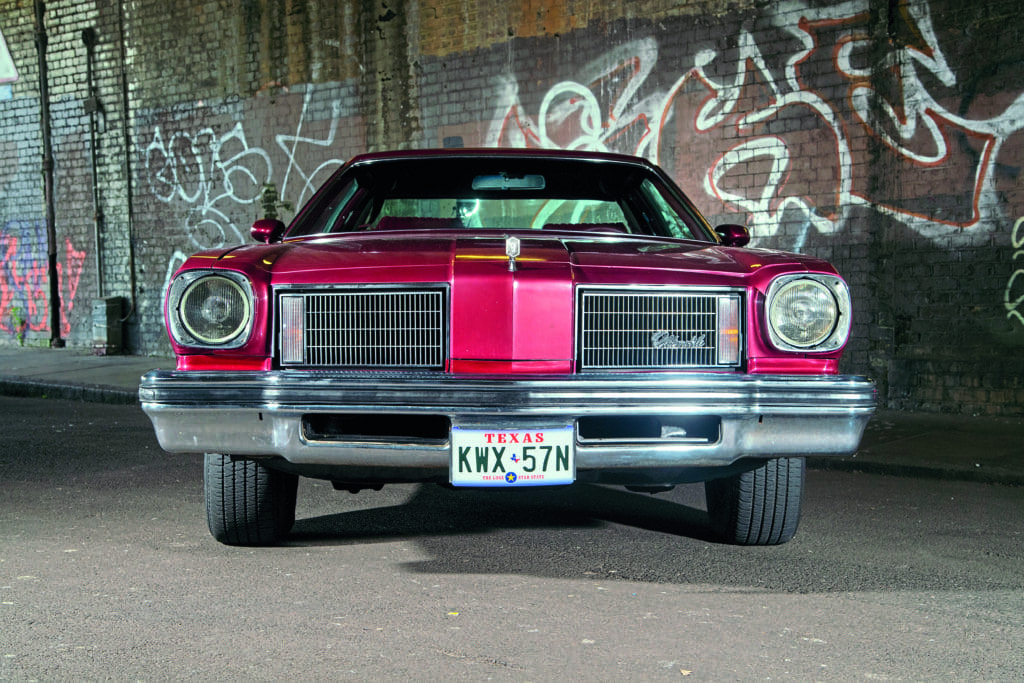 "After a while I arranged with the club to look after the car for me and to store it." That meant the Mustang was available for hire. "Every time I went over to get it out someone was using it, so I started looking around for another Mustang to buy. Then it occurred to me, why buy exactly the same thing again? Often you don't know exactly what type of car you want until you suddenly see it. I like two-door coupes and I spotted this 1963 Ford Fairlane 500 at Fast Lane Classics (www.fastlaneclassics.co.uk/07831 362446.) Dave at Fast Lane is a racer and I believe he imported it to turn into a track car; it certainly could be a Thunderbolt replica in the making.
Follow Classic American on Instagram!
"I was going through a honeymoon period with American cars and pretty much liked anything I saw but, more importantly, my wife and family loved the car too. We took the Fairlane (since named Ruby) for a drive and just had to buy it. It reminds me a lot of my dad's old Mk1 Cortina. It came with the front seats from a newer Ford Escort which, although obviously not original, were a good bargaining tool to get the price down!
"It's now our daily classic," continues Sanjay, "and does get used quite a bit in spite of the drum brakes. It's also still fitted with the larger, wider tyres it came with. To be honest, I would prefer more originality – it rides worse with them and seems to wander more. Still it sits happily at 60mph, it's a nice example and it came with a book of notes from the previous owner."
For all things Classic American, like our page on Facebook here!
Sanjay then admits the Fairlane has also been the most problematic car he's ever owned. "It's had two carburettor rebuilds and endless fuel pump problems. One time I popped out for five minutes and it broke down, which turned into me being out for six hours. I had to phone my son, Leo, and talk him through making his dinner in the microwave!"
For 1962, Ford's Fairlane models were downsized into intermediates. Filling a gap in the range and the marketplace by measuring eight inches longer than the compact Falcons, and a foot shorter than the full-size Galaxies, they were actually identical in size to the 1949/50 Fords. Available as Fairlane or Fairlane 500, the styling closely followed the rest of the Fords then available. All Fairlanes came with either a 170cu in six or the new 221cu in small-block V8 with thin wall casting, making it one of the lightest V8s ever produced. A pillarless 500 Sport Coupe variant arrived in mid-1962 that included bucket seats and a new 260cu in V8. Fairlane sales of 386,192 cars helped Ford to its second best overall production total ever.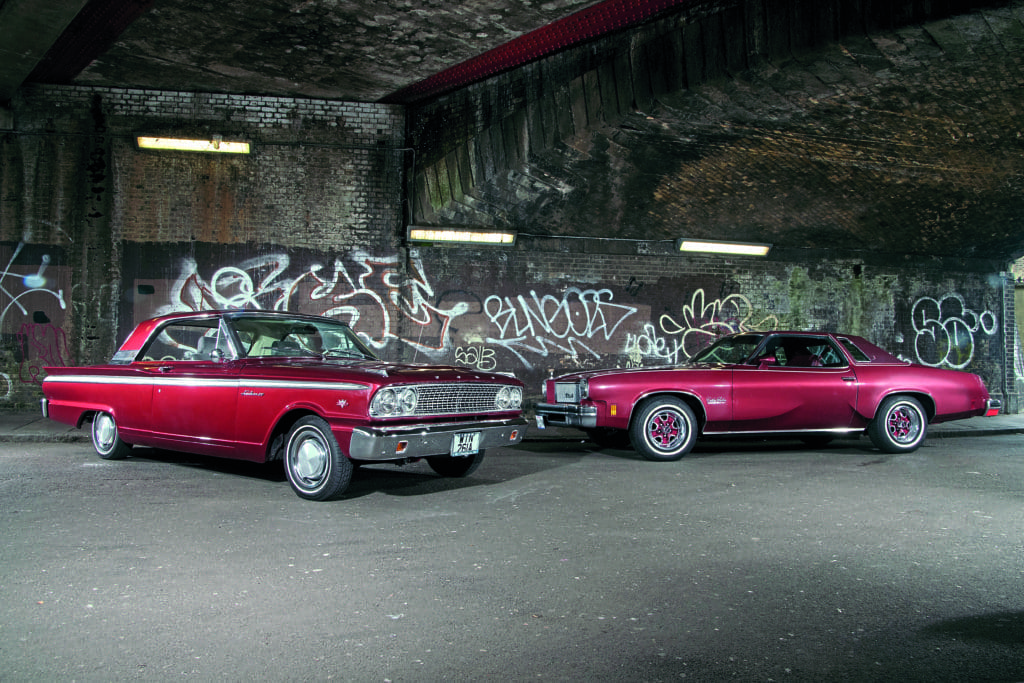 For 1963, Fairlanes got a new front end with concave grille and revised trim. The basic Fairlane series remained a two- or four-door sedan. The 500 still offered those plus a coupe, but now added three series of station wagons. A mid-year 19631/2 Sprint performance model introduced an optional 289cu in V8. Sanjay's Fairlane was built in San Jose, California on August 1, 1963, and is a Fairlane 500 two-door hardtop with Challenger 260cu in V8, optional ($189.60) two-speed Ford-o-Matic transmission and 3.00:1 rear axle. One of 37,031 built and with a base price of $2427, it left the factory for a dealership in Phoenix painted Tucson Yellow with a gold interior – Ruby has clearly undergone a few changes since then.
There are advantages to owning an old car that's made of metal rather than plastic too. "Ruby is built like a tank," says Sanjay. "One summer night while turning, I was sideswiped at 30mph by a boy racer jumping a traffic light in his Ford Focus. Ruby ended up with a huge black bumper mark running two-thirds of my driver's side. I feared the worst, but on inspection in daylight and after two hours with nail varnish remover and cotton wool (courtesy of my wife) only a few very faint scratches were left. Meantime, the young chap who hit Ruby ripped off his entire front bumper section, smashed his headlight and damaged the wing. Ruby's a tough ol' girl!"
For all things Classic American, like our page on Facebook here!
Sanjay soon found that two American classics weren't enough for him. "It must be due to the infatuation with American TV shows I watched as a kid; CHiPs, The Fall Guy, Dukes of Hazzard, TJ Hooker, etc., but after the Fairlane and the Mustang I thought I needed a convertible. So I bought Amber, a 1966 AMC Rambler 770 Classic, a nice intermediate size with four seats and a V8. Then the penny dropped that I really preferred two-door coupes and I needed something from the 1970s. I spotted a 1975 Oldsmobile Cutlass Salon for sale in Crewe that was supposed to be a very original car and I kept looking at the photographs. I'd actually set out to find a Monte Carlo," admits Sanjay, "like the one in the film Training Day, and when I first saw Cherie (the Cutlass) I was really disappointed. The paint didn't look very good and it had small dents all over it so I walked away. Then I started to talk to people in the car club and they explained about originality and old car patina. I went back to Crewe with a fresh viewpoint and finally understood the value of this car. Now the last thing in the world I'd do is repaint it."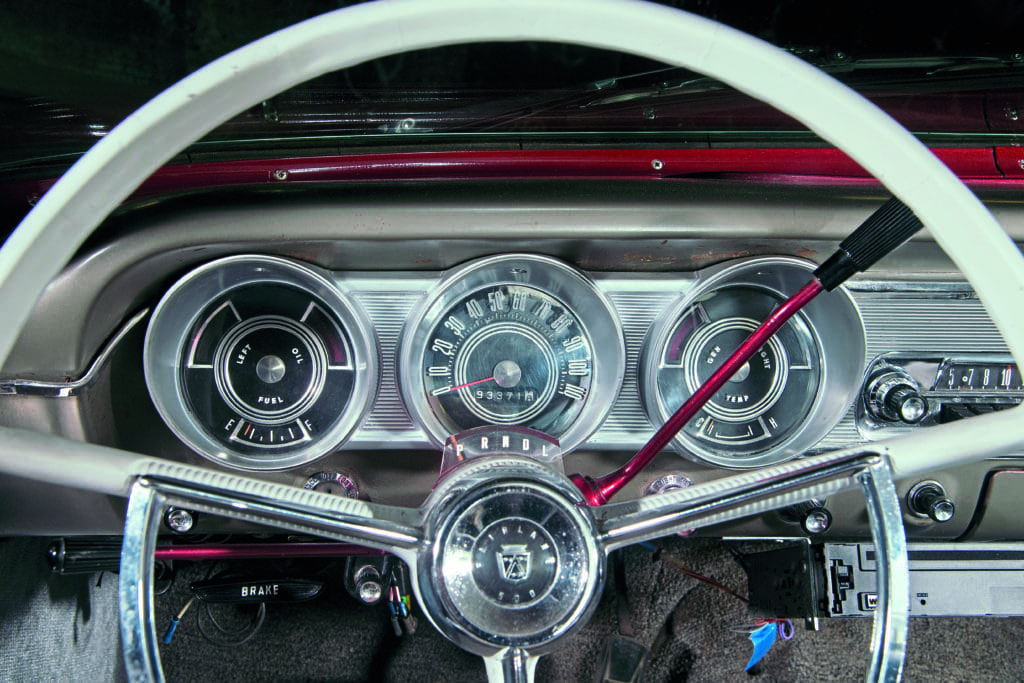 Olds like new
There's low-mileage cars and then there's this Cutlass Salon. Bearing in mind it's over 40, the Olds has apparently covered just 12,000 miles from new. "It spent the first 30 years in Tennessee with a couple who just drove to and from Wal-Mart every week. To prove it, there are two identically sited dents on each door where it's clanged the shopping trolley parking posts." It still hasn't all been plain sailing though: "The Cutlass did once break down and a recovery truck was called. The driver turned up very confused because he'd been told to pick up 'an old mobile.'"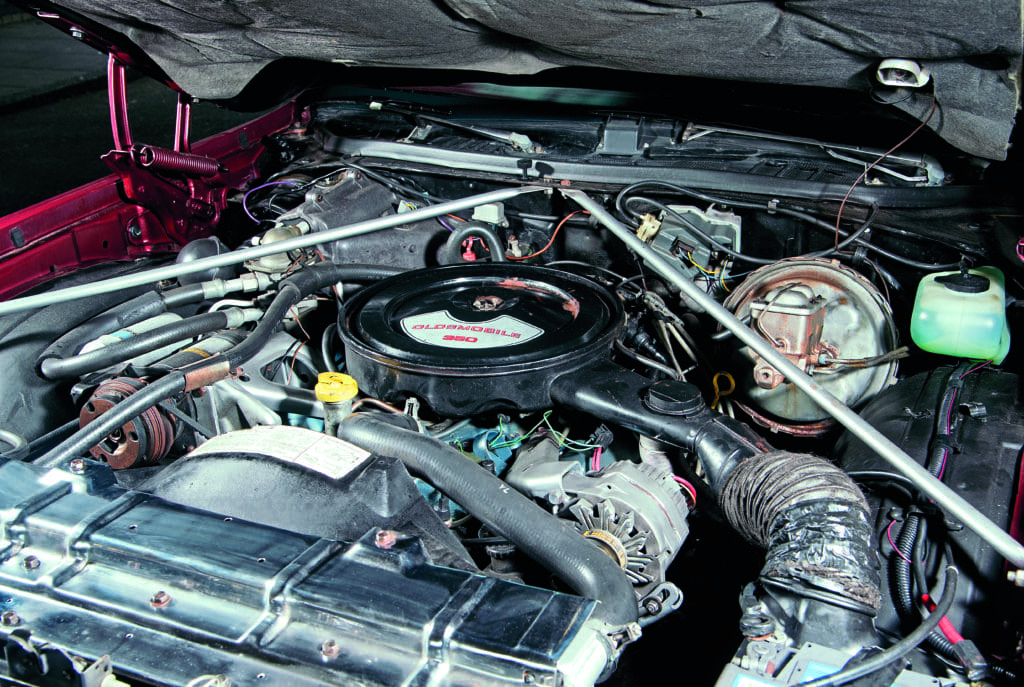 The Oldsmobile's VIN decodes as a 1975 Cutlass Salon 'two-door hardtop coupe' with the 350cu in V8 and single, four-barrel carb. It was built at the Doraville, Atlanta assembly plant and was around the 62,200th example. A three-speed manual gearbox was standard, but most buyers opted for the $237 Turbo Hydramatic as fitted to Sanjay's Cutlass. Although the fuel crisis was over and America was buying larger V8 cars again, the '75 Cutlass now listed a $24 fuel economy gauge among its optional extras. American car sales for 1975 were 400,000 lower than 1974 at just under 7.1 million.
For all things Classic American, like our page on Facebook here!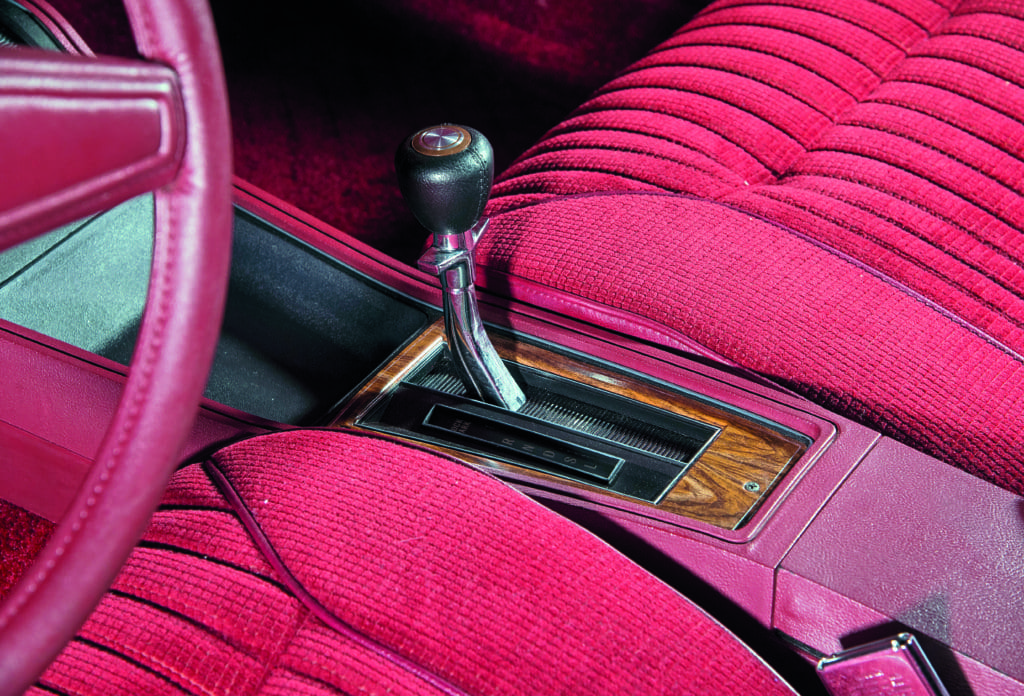 Oldsmobile was in third place after selling 631,795 of those and was greatly helped to that position by the Cutlass Supreme coupe − which was by far Olds' best-selling model with almost 150,874 finding homes. Indeed Cutlass retained that title for much of the Seventies. The Salon was the top model of the Cutlass range, base price was $4654 and 39,050 Salons were sold in 1975.
In a nod towards economy, the Chevrolet 250cu in straight six engine was reintroduced (it had previously powered 1966-71 Cutlasses.) Standard engine for '75 on all but Salons was a brand new 260cu in V8 based on the existing 350, while optional was a big 455cu in V8 that put out 190bhp.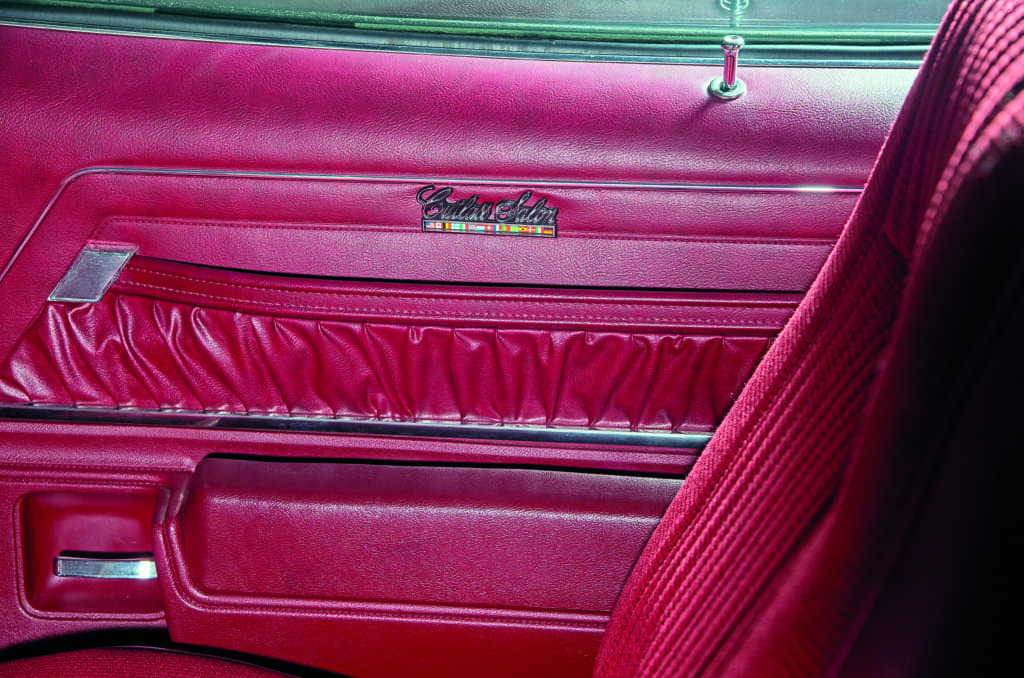 Like all American market 1975 GM models the Cutlass wore a catalytic converter (although it was optional for Canadian buyers). Interestingly, Chrysler only installed converters on 75% of their 1975 cars and Ford only 70%.
Olds boasted its $3756 Cutlass got 21mpg on the highway and 16mpg in the city, asserting: "It's A Good Feeling to Have an Olds Around You."
For all things Classic American, like our page on Facebook here!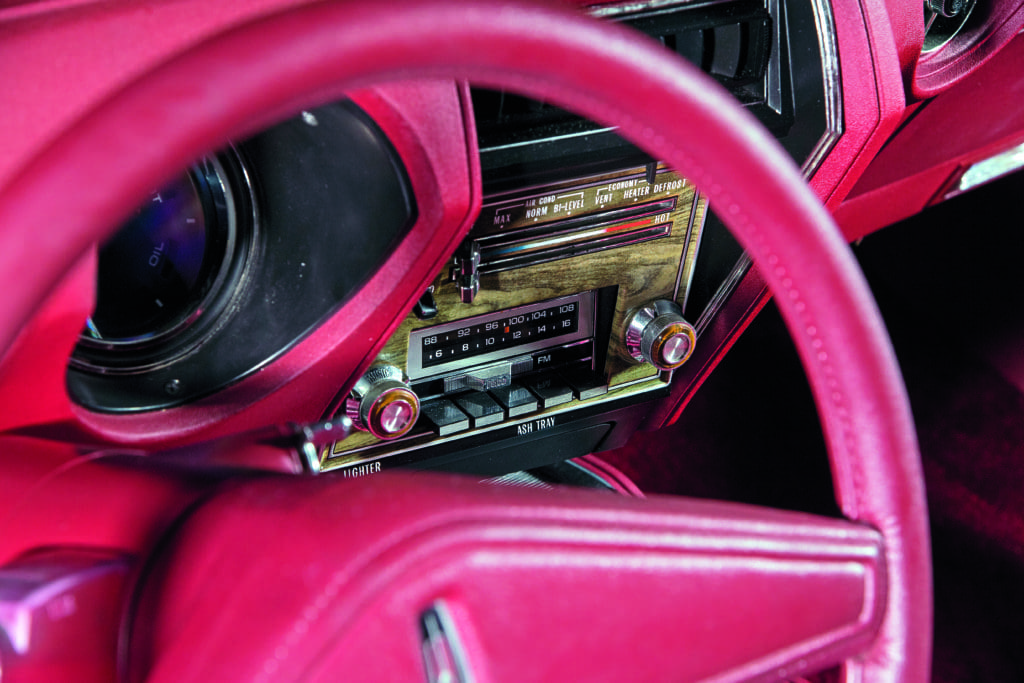 Despite new tail-lights and the front turn signals now integrated into the grille, the '75 Cutlass still looked a lot like the 1974 model. Now, here's a fun fact: in 1974, GM made its Air Cushion Restraint System (ACRS) available as a regular production option (RPO code AR3) in full-size Cadillacs, Buick and Oldsmobile models.
For all things Classic American, like our page on Facebook here!