Could you breathe new life into this old timer? Here's a beautiful 1959 Cadillac just crying out to be saved from the crusher.
Our roving Rustfinder General, Will Shiers, stumbled across this classic motor languishing in the yard of Ernest & Sons Auto Wrecking, where thanks to Colorado's high desert climate the Caddy's bodywork is almost completely rust-free.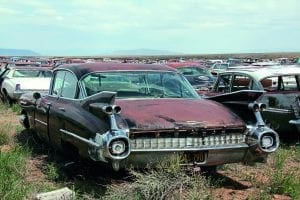 Each month in the pages of Classic American, Will trawls the vast plains of the US to bring you incredible salvage surprises. Get this month's copy for your fix of fantastic fins!