Ewan Howieson's 2011 Ford Crown Victoria police car is one of very few that remains completely original and he reckons it's ideal for everyday use.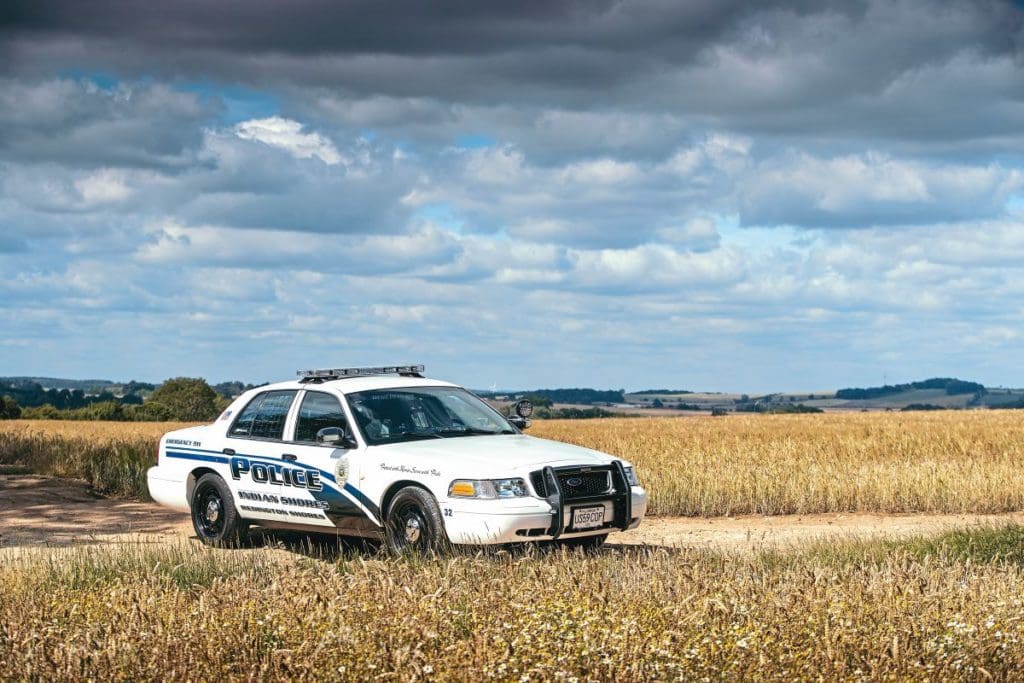 Words: Mike Renaut Photography: Gary Chapman
What makes someone want to own and drive an American police car in the UK? Ewan Howieson has several answers to the question. "I really wanted one, having seen so many movies that these Crown Victoria police cars were in. It's an iconic shape and watching them slide around in car chases looked like a lot of fun. Plus, so many have been wrecked in service or in movies that the cars are getting rare and they're actually quite practical to own."
Ewan's is a 2011 Ford Crown Victoria P7B Interceptor. "I asked the owners' club if anyone was selling one and in August 2018 one of their members, Scott Blazer from R&S Motorsports in Largo, Florida, said a local police force was selling four cars. Another club member, Matt Keefe, was on holiday nearby and offered to check the cars. We did a video call where Matt pointed out what he felt was the best example and I bought it there and then. He ended up buying two of the others. I found out later that after I'd put down a deposit another police force tried hard to buy the cars.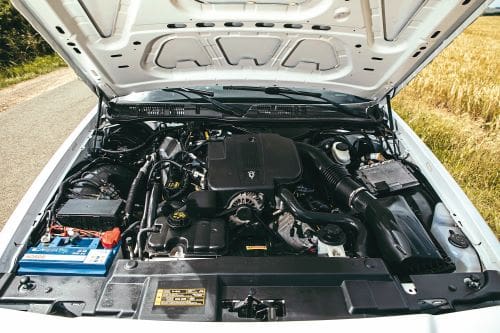 "Crown Vics are really in demand since they're one of the best police cars ever made and police officers are always reluctant to let them go.
"I'd wanted a low-mileage example and being a 2011 this is one of the last Vics built. From 2008, they were only available to fleet sales and government agencies, although a small number went to the Gulf. I was very lucky the Florida Police let me buy this car virtually complete – it's just as it was in service including the Whelen lightbar, Go Rhino pushbar, Setina prisoner partition and shotgun rack. Usually the lights and all decals would have been removed before the car was sold – an American civilian can't own one with police markings on − but all they did was pull the radios and computer equipment."
Ewan had his car containerised and shipped to Felixstowe. "When I first saw it on the docks I thought 'wow' because it was really shiny and polished. It turned out it was the officer's take-home car at night and he'd really looked after it. The glovebox was full of his business cards. They even included a servicing kit with all the oil and air filters etc. – the whole thing was $21 since parts are so cheap out there. I've heard stories of buyers finding bullets in their cars and even bullet holes, but these Vics were used in Indian Shores, a small town where the speed limit was 30mph, so likely never saw serious action.
"The only aspects I had to get used to were the size of the car and the steering column gear change – all police cars were built with column shifter since the centre console houses the computer and controls. I was surprised how fuel-efficient the car is; it's a 4.6-litre V8 with four-speed automatic 'box, but I get about 30mpg. It helps that we have higher octane petrol in the UK. Since 2008, Vics were built with Flex Fuel, which is petrol and a percentage of ethanol mixed in, but I just run this on normal unleaded."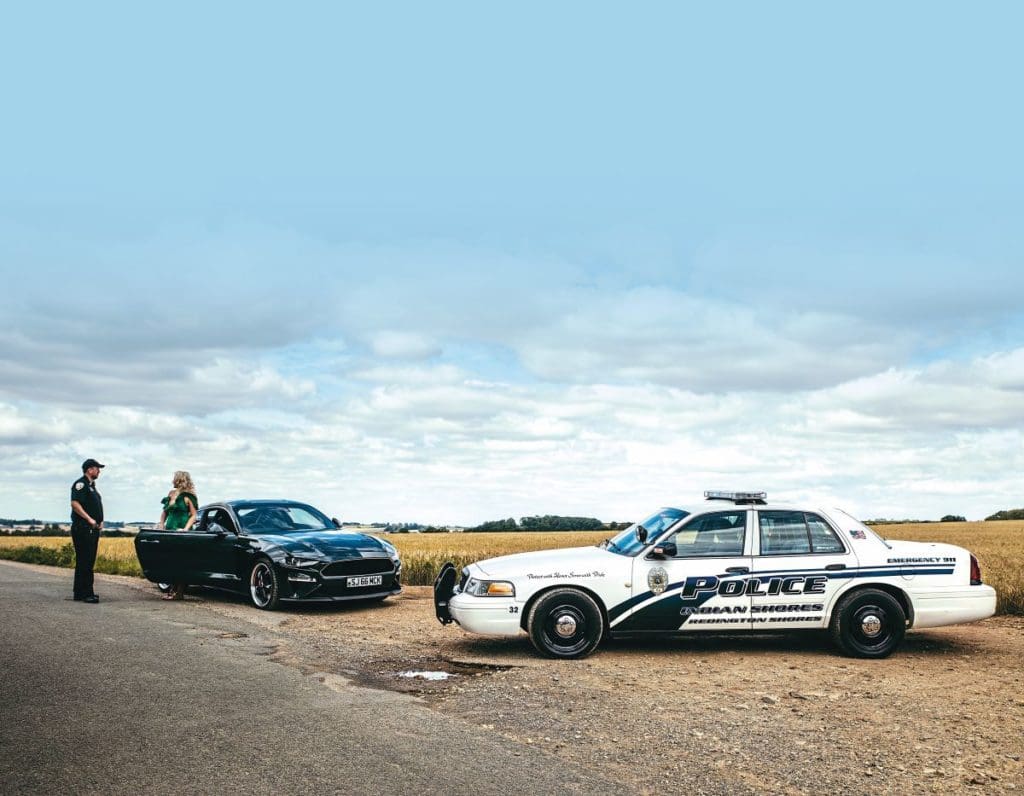 Road Legal
"It just needed a fog light, orange indicators and the headlight aim adjusted for driving on the left. In terms of legality, when driving a police car like this in the UK, members are advised to fit a cut-off so the lights and sirens can't be switched on from inside while the car is being driven. It's unlikely a car like this would ever be mistaken for a British emergency vehicle and the reactions from the UK police have always been positive. They're usually fascinated by American police cars, wishing they had cop cars like that, and the club does a lot of charity events and shows that involve the police.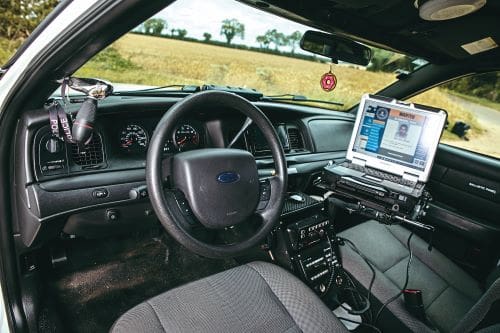 "Until recently, I also had a 2007 Crown Victoria P71, the P71 being the serial number for the Ford police package. Apparently they ran out of VINs so adopted the P7B number for later cars. I restored my 2007 car earlier this year and reluctantly sold it; this 2011 is in better condition though, it's far more of a show car. I'll underseal it, since being a Florida car it's completely rust-free; I plan to buy a new Challenger for daily use.
"Values are creeping up in America and while you can still find old police Vics cheaply they're usually extremely tired and a false economy, especially once they're shipped over here. These are immensely well-built cars designed to do 600,000 miles and once out of service many are bought by taxi companies, then they'll become a kid's first car because they're so big and safe. Incidentally, Ford offered a specific Crown Victoria taxi model and it has a slightly longer wheelbase with more room in the back; there's only one in the UK as far as I'm aware."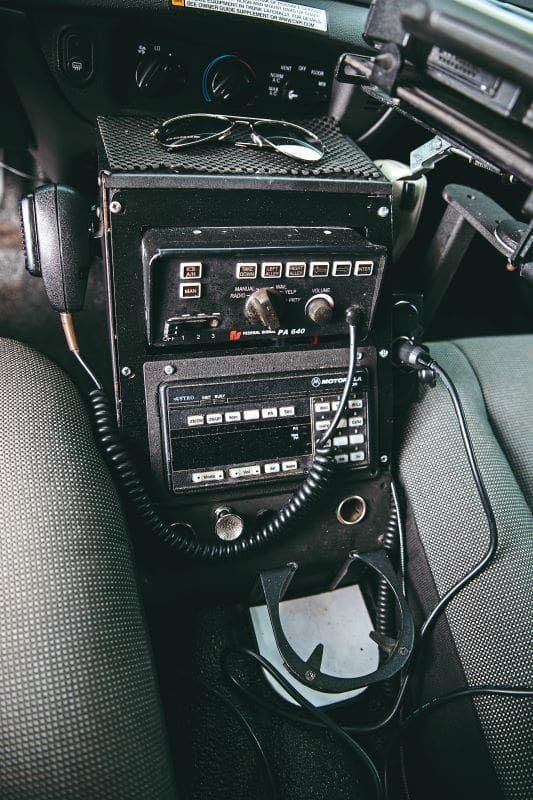 Ewan has the build sheet showing the original price was $29,015. That included $25 to delete the power windows in the rear doors and another $25 to delete the rear internal door handle and lock mechanisms. The car was built at St Thomas, Ontario.
"The police-spec cars came with uprated 'heavy duty' suspension; it's a sports version of the Panther chassis including uprated gearshift map, better air intakes and external oil coolers. Dashboards have calibrated gauges and the heater switches are replaced with a simple dial. The police cars got dual exhausts, black honeycomb grille and a spotlight; LAPD cars had two spotlights since they have two officers in a car. Police Vics were designed to sit idling for hours then suddenly experience full rpm acceleration, so have a gauge showing the amount of hours the car has sat idling at low rpm. The wheels can hit a kerb at very high speed without denting, preventing tyre deflation, and the passenger cabin will survive being hit from behind at 75mph. Being body on frame with bolt-on panels, they're easy to repair and there are YouTube videos on virtually every aspect of these cars. It's a Ford, so parts are generally cheap and any Ford main dealer or UK garage with modern equipment can hook up their diagnostic computer. My car gets serviced at Lincolnshire Corvette."
Bullet resistant
"This Crown Victoria has the trunk pack with a Kevlar-lined boot to stop anything sharp puncturing the fuel tank and the front doors are also lined to be bullet resistant – although the rear doors aren't. The front seats are extra wide with the seatbelt built in, not because American cops like their donuts, but because they have to wear large utility belts and firearms. The seats in the back are vinyl with rubber lining so any 'spillages' from prisoners can be hosed out… My car also has cruise control, which I believe is fairly unusual, electric adjustable front seats and foot pedals that can be moved up and down to suit different height drivers. I'm six foot three and fit in it fine − front or back…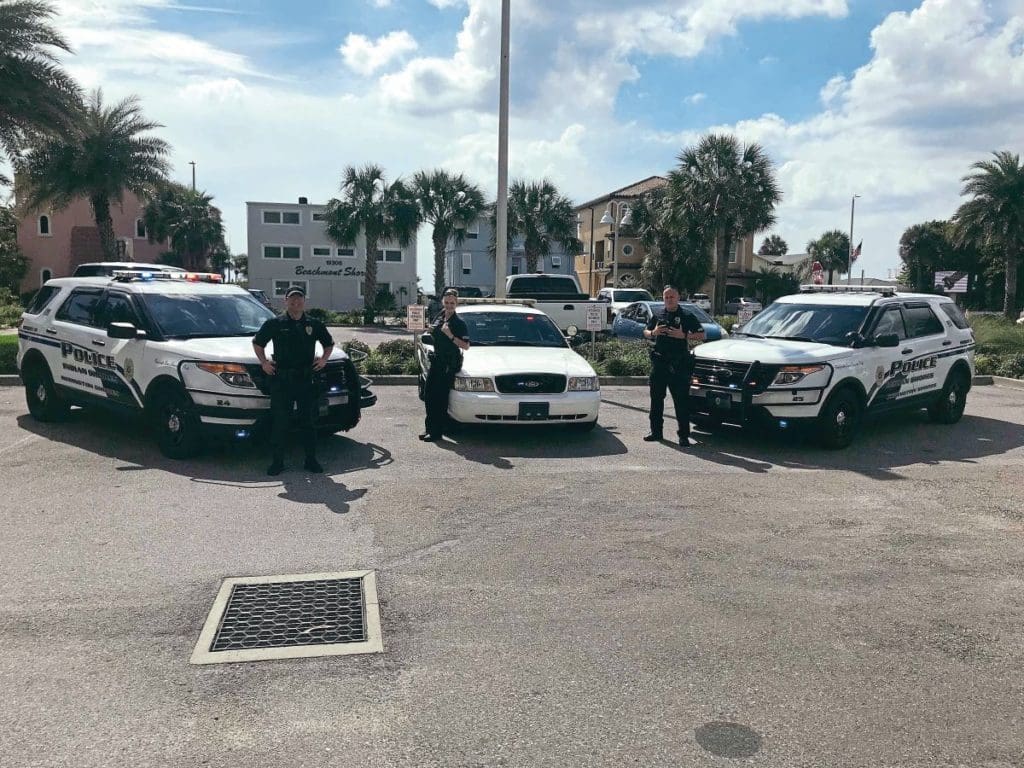 "The Florida police naturally removed their computer and radio, but I've managed to find exact replacements, they don't pick up genuine transmissions, but I have a loop of radio messages and a programme that shows realistic-looking information on the computer – it's fooled a few people at car shows.
"With the stiffer cop suspension the car handles pretty well, it doesn't wallow; it feels like a large European saloon. There's traction control, but the on/off button is removed although the wiring is still under the dashboard. There's a lot of demand for the cars for weddings – there's more room in the back than you'd expect even with the prisoner cage, and owners are often asked to do filming/promotional work.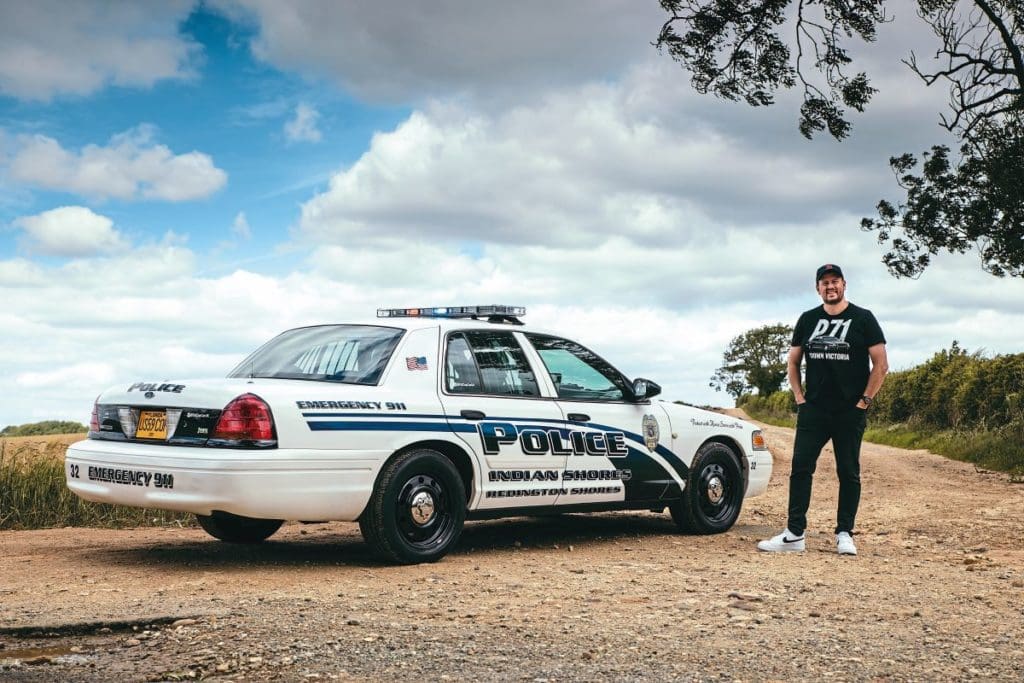 "My only stipulation is that the markings can't be removed from my car – it's one of the very few in private ownership with its original authentic police logos intact.
"You can occasionally find Vics with really low mileage; I've heard of cars with under 20,000 genuine miles that were a backup car and rarely driven. They tend to be retained by police forces; when production ended in 2011, a lot were bought and stockpiled since they're just so popular with officers.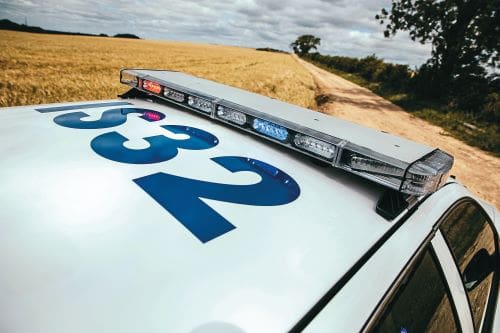 "A Crown Victoria is perhaps the cheapest and most practical way into owning and running a full-size America V8 car," continues Ewan. "I've been using mine as a daily driver for the past few months and apart from taking up one-and-a-third parking spaces because it's so long − and it's too big for a UK drive-thru' − there really isn't a downside. It's funny, too, how everyone seems to know it's a Crown Vic.
"On a motorway, the traffic slows because people are constantly filming the car. I've never owned any car that gets such attention and provides such enjoyment." ★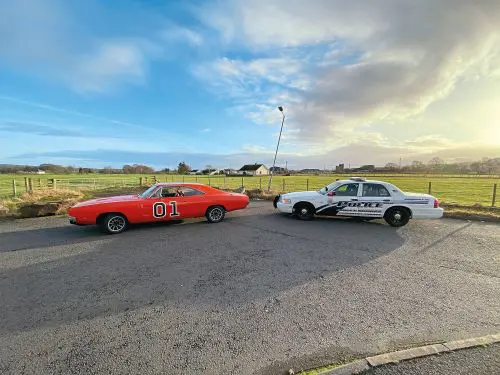 ■ If this feature has whetted your appetite to own a Vic, check out the 'Ford Crown Vics Police Interceptors Europe P71' and the 'Official US Cop Cars UK' pages on Facebook for advice and information. Ewan's car is on Instagram and Facebook @USCopCarUK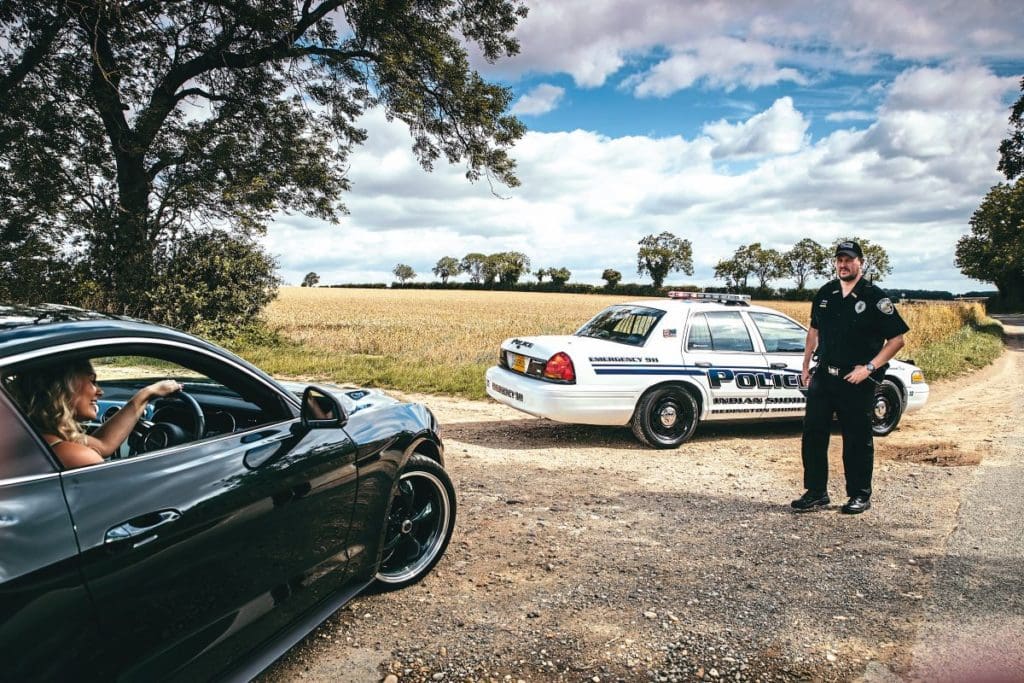 Thanks
Thanks to Jurate Elertaite for bringing along Stuart McKay's Bullitt Mustang and to Chris Smith-Moorhouse from Commercial Vehicle Solutions, Tamworth, and Rory Duncan for their help.