The year 1976 was a significant one for Cadillac – it was the last year for convertibles and the full-size leviathans with the 8.2-litre engine. Yet it was a year of incredible success, thanks to cars like this Coupe de Ville…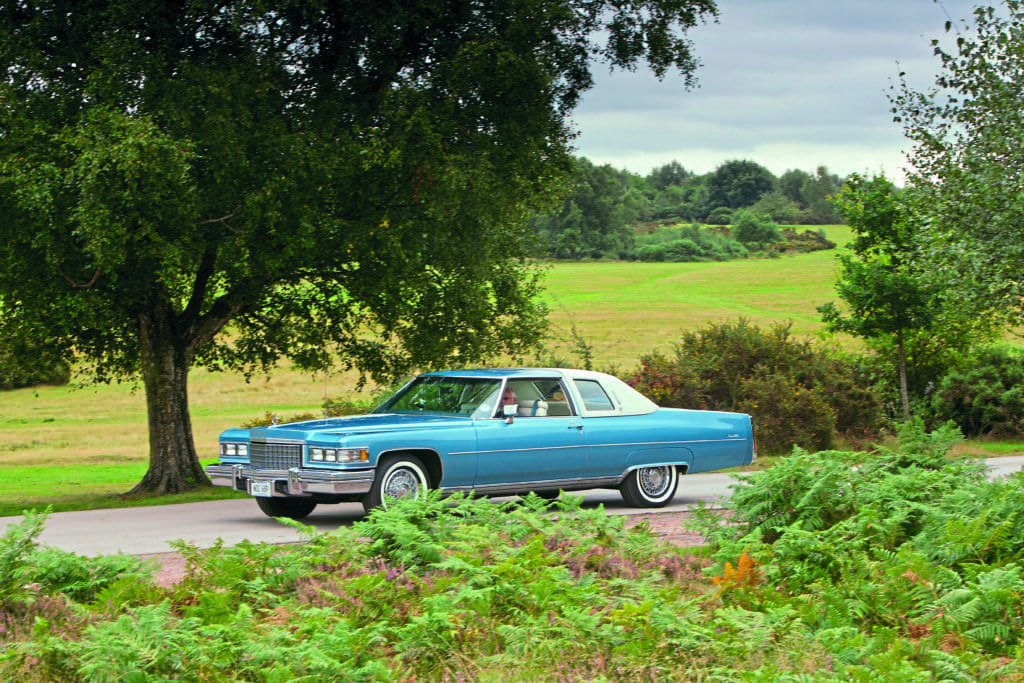 Let's talk numbers. In 1976, Cadillac broke their own annual sales record from 1973, selling 309,139 cars. Of those, 114,482 were Coupe de Villes, advertised that year as 'America's favourite luxury car' – with good reason, you'd have to agree. This two-door, six-passenger car sat on a 10ft 10in wheelbase with an overall length of 19ft 3in and pushed its 5025lb mass around with a 500cu in (8.2-litre) V8 engine, the largest in the industry.
For all things Classic American, like our page on Facebook here!
Look back at some of the older Cadillacs in this issue, say the 1957 and 1960 convertibles on pages 28 and 36, and you'll find cars a few hundred pounds lighter and a few inches shorter, powered by engines that were still large without being quite so immense as this version. They were products of a company making less than half as many cars in the late 1950s as they were in the mid 1970s, yet Cadillac had been growing steadily and strongly from a deep dip at the worst of the Depression in 1933, when they sold a mere 6736 vehicles.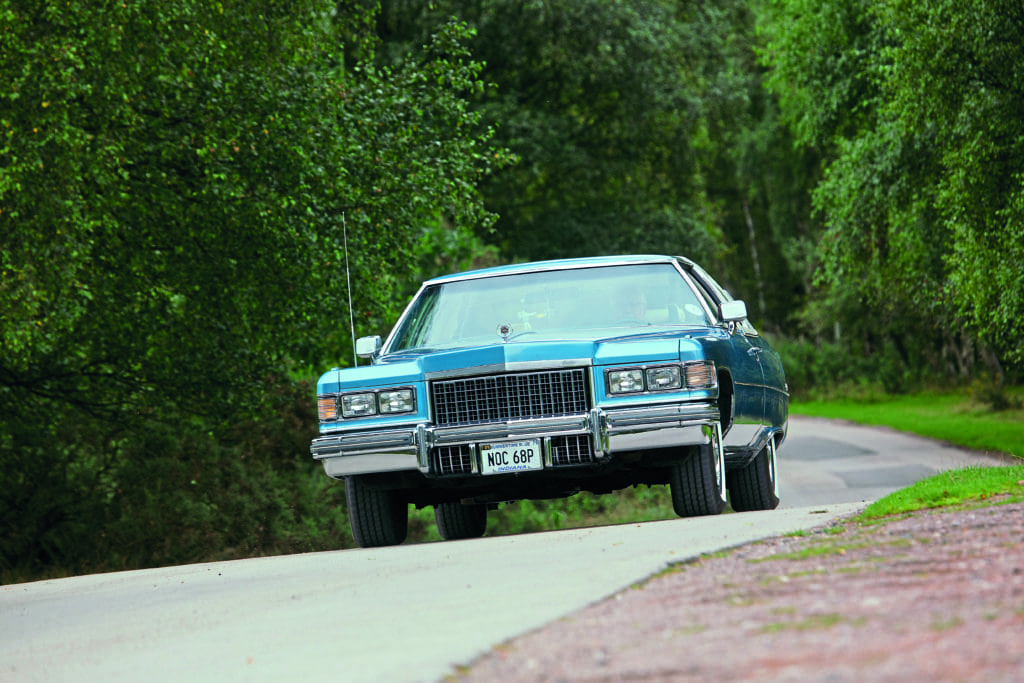 By 1950 they hit 100,000 a year and passed 200,000 units in a year for the first time in 1968. That 1973 record took them just past 300,000 sales. Yet the cars were not becoming cheaper or being taken down market – quite the opposite; with innovative features appearing on a regular basis, they were ever more packed with technology, luxury, power and presence. But it couldn't last.
Everything Cadillac had done since postwar production kicked off had led up to cars like this, the 1976 Coupe de Ville. It was the culmination of 20-odd years of development driven by a need to impress an ever more picky customer and (uniquely, compared with other car markets around the world) almost unhindered by worries to do with size, economy or cost of re-tooling. So with all that in mind, it should be pretty special… shouldn't it?
For all things Classic American, like our page on Facebook here!
It is, but we'd bet not many people realise this. Cadillacs of the 1970s, like most American classics made after the muscle era faded away, have been undervalued for a long time. There's a perception that the accountants began to rule the roost and both build quality and styling went downhill. This might be true of some marques – ill-fitting plastic dashboards don't compare well with the metal constructions of 10 or 15 years before – but it doesn't stand up to scrutiny in Cadillac's case.
It just so happens we have the perfect example for demonstrating what we mean.
It's John Carwardine's glorious 1976 Coupe de Ville in Crystal Blue Firemist with white leather and a padded vinyl 'cabriolet' roof. Heard the term 'powder puff'? It's one of those: 22,000 miles and only two owners before John found it in St James, Missouri.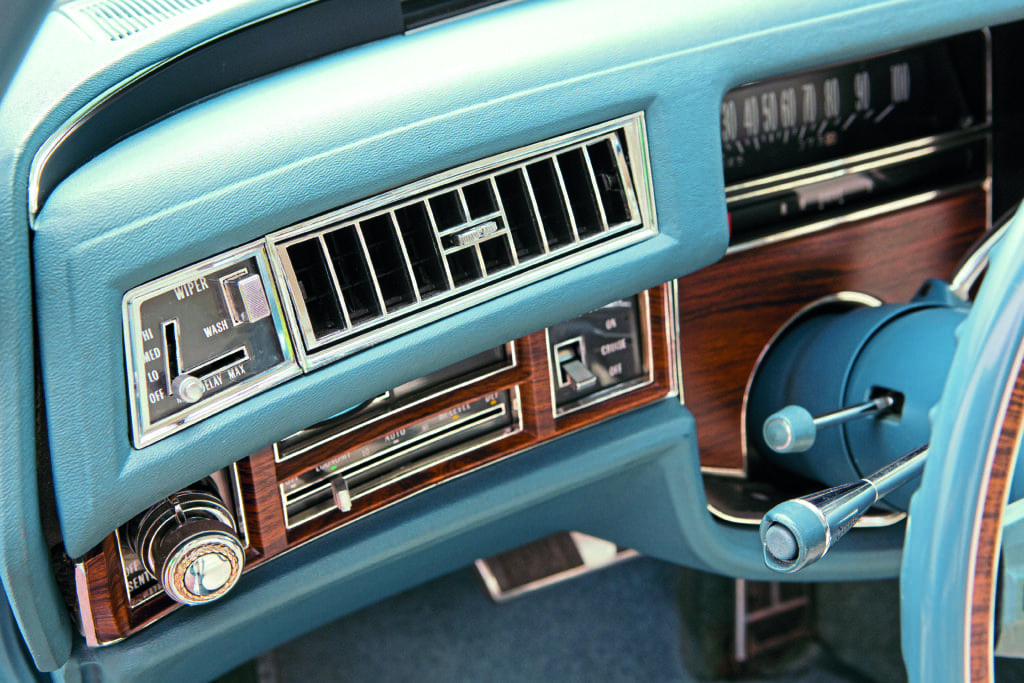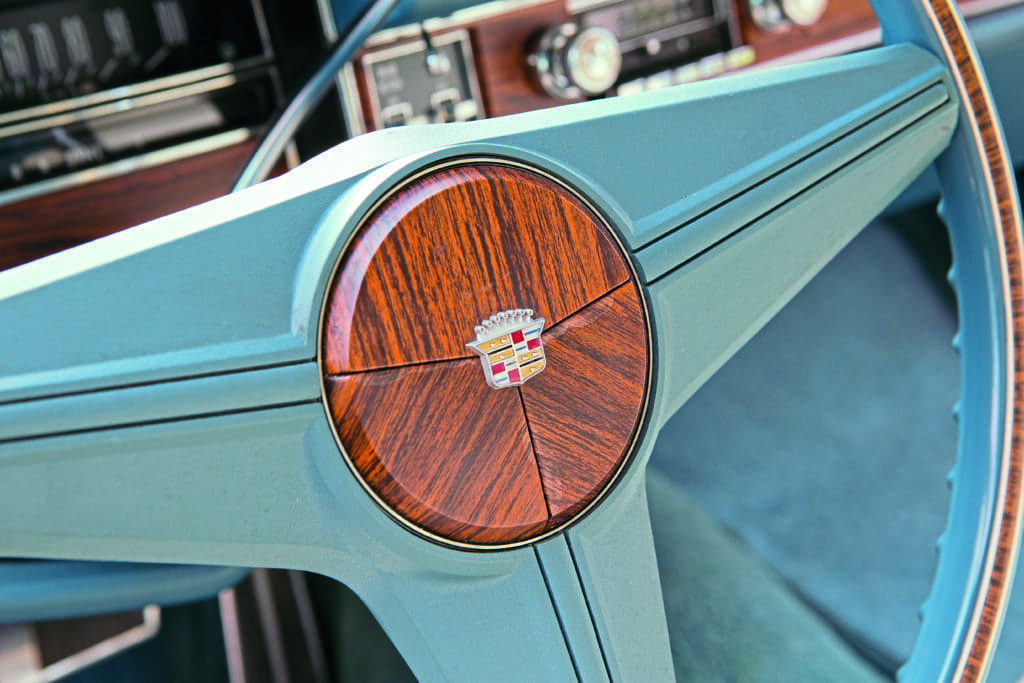 John has always been a Lincoln man, owning a succession of Mk IVs and Mk Vs, direct rivals of the Coupe de Ville and the Eldorado in the mid-1970s. But a friend with a 1959 Cadillac urged him to change sides, so he bought a 1972 Coupe de Ville.
"It was a dog," says John. "It wasn't really the car to judge Cadillac by, but then another friend named Terry Green spotted this one on American eBay. It was with a dealer. I thought 'wow, those colours!' and got in touch."
For all things Classic American, like our page on Facebook here!
The dealer gave a succession of encouraging answers to John's questions and the car seemed too good to be true – especially when John found to his surprise that he'd agreed a price a good deal lower than that advertised. Remember what we said about such cars being undervalued? This was even more the case back in August 2013 when the deal was done.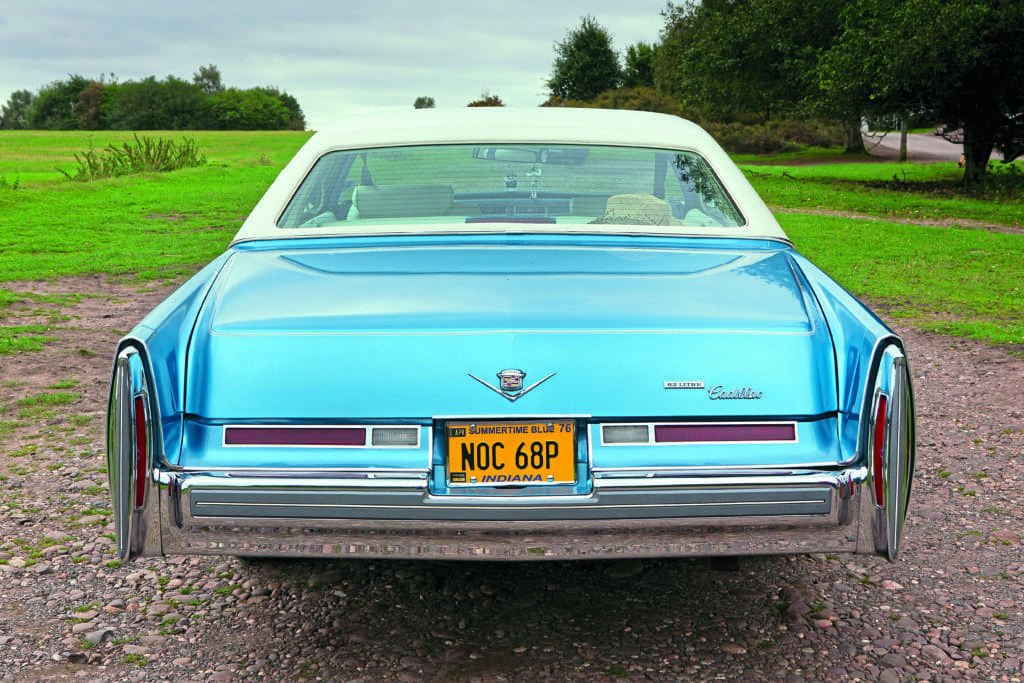 "I found out about the first owner," says John. "He'd bought the car because the news got out that 1976 was going to be the last year for the big Cadillacs. There was a sworn affidavit from him with the car, in which he declared it had never been driven in rain or snow. So I spoke to Hill Shipping and it all happened pretty quickly – the car arrived in October that year."
John still remembers the transporter driver who brought the car up from the port saying: "It drives really nicely – you'll be pleased with this one" and of course he was. But it let itself down first time out, steaming up so quickly and completely that John couldn't see out.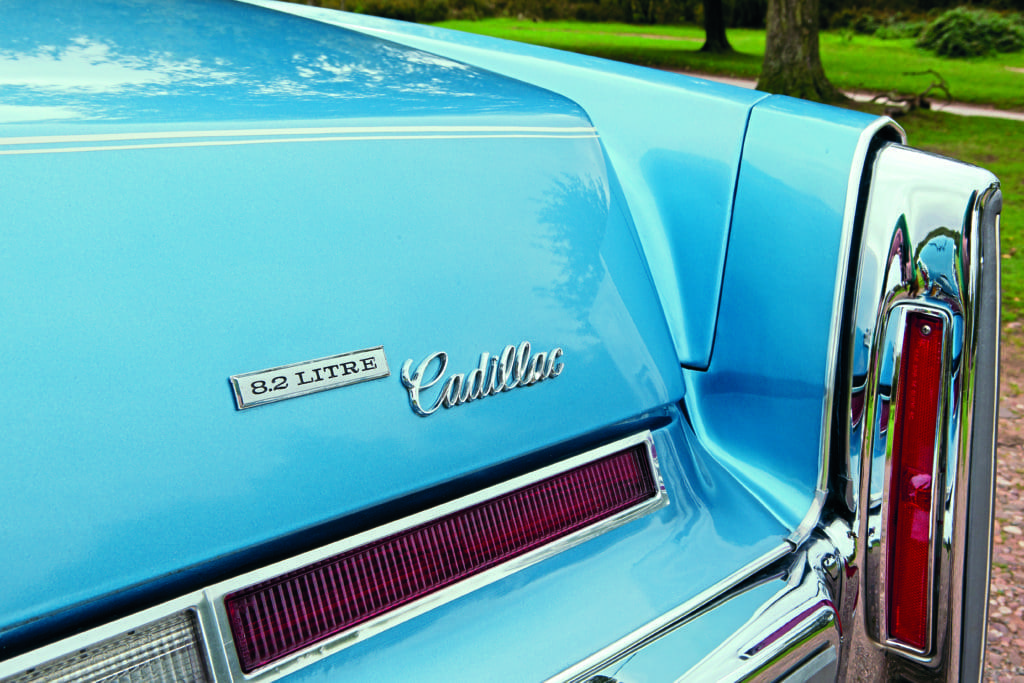 "The heater core was leaking," he says. "Replacing it was an awful job. I had the dash top off, other bits removed from underneath the dash, brackets, wiring and vacuum pipes to move… and that was just getting the old one out. Replacing it and trying to get all the holes to line up was even worse."
Luckily, that was it for running problems, bar an overcharging alternator that John replaced. But there were a couple of cosmetic jobs to tackle. First up, this generation of Cadillacs used closing panels between the ends of the rear wings and the mouldings for the rear lights. They get brittle and crack, sometimes disappearing altogether from really sad examples.
"The bumper and vertical 'cathedral' mouldings are all one piece and had to come off to fit them," says John. "I had them painted the right colour first and they're a very good match."
For all things Classic American, like our page on Facebook here!
A spot more paint was required to the nearside front wing to remove a mark left by spilled brake fluid. The only notable change from factory standard is John's replacement of the self-levelling struts at the back with coil springs and conventional dampers, allowing the car to sit flat and handle rather better than it did, without the cost and complexity of future repairs to the system. New heater hoses, a windscreen wiper motor and wideband tyres (they make all the difference, visually, from the narrow-bands it came with) completed John's work in returning the car to roughly the condition you'd expect at one or two years old.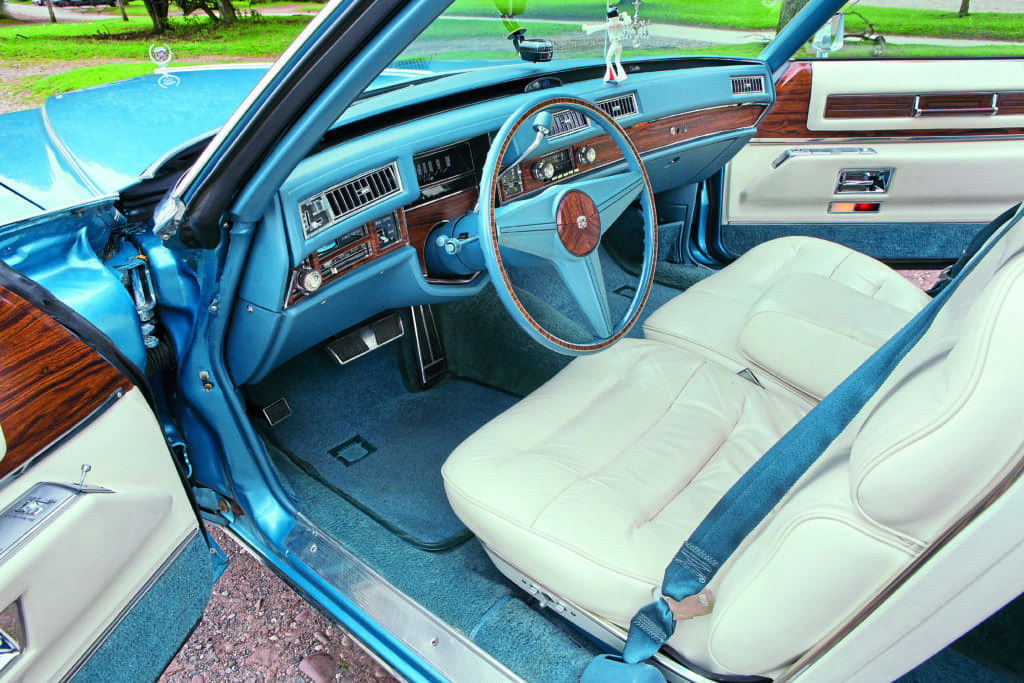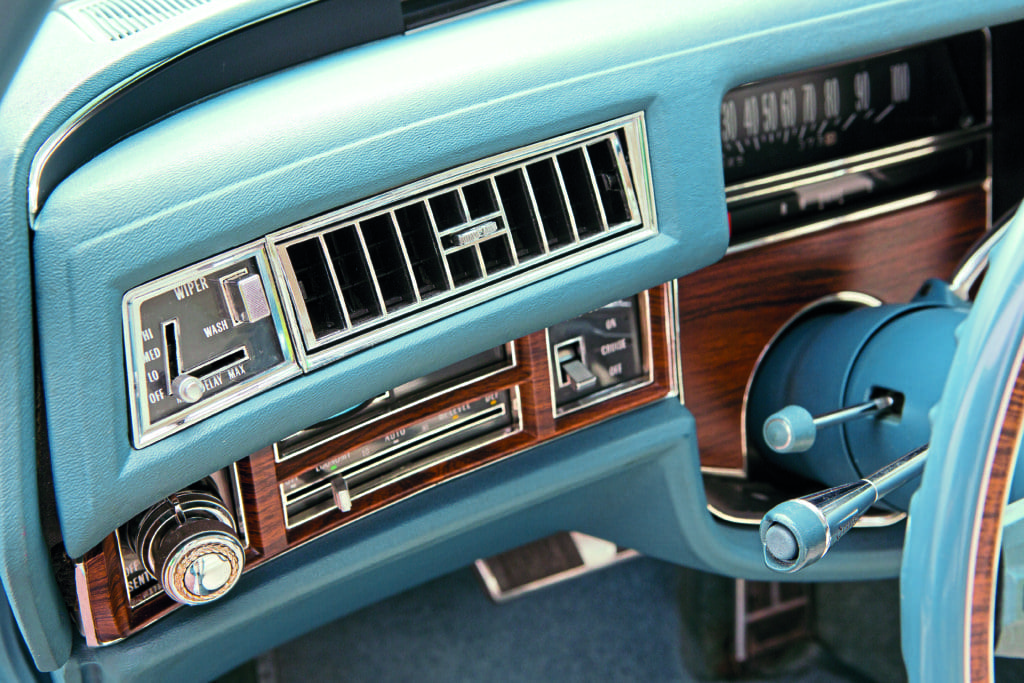 So what exactly are those who dismiss 1970s Cadillacs as gas-gulping, glitzy land yachts missing out on? John's car is loaded – there can't be many boxes that went unticked – and some of the kit is genuinely astonishing for a 1976 car. Did you know, for instance, that it has a soft-close trunk lid with a pull-down motor, of the type Mercedes popularised some 20 years later and continue to fit today? John says this feature arrived as early as 1959 – that's one we've missed off the Timeline of Technology on page 49!
We've barely got started. Let's list the standard equipment before we get on to optional extras: climate control, digital clock, remote control door mirror, automatic trunk light, map light, power six-way front driver's seat, power front disc brakes, central locking, power windows and steering, AM/FM radio with eight-track and power antenna, tinted glass, tamper-proof odometer, washer fluid level indicator. So far, so modern, isn't it?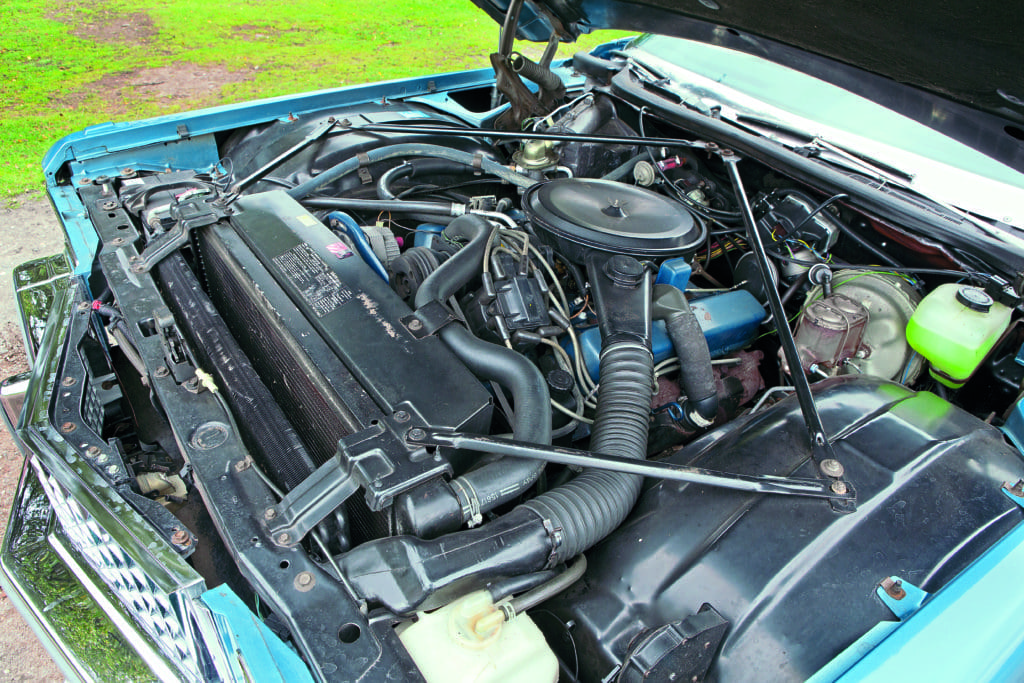 John's car is optioned with wire-spoke wheel discs, cruise control, heated rear window, auto-illuminated entry system, outside thermometer, tilt-and-telescope steering column and multi-speed intermittent wipers. You just reach up with your left hand and move the wiper switch along its sliding track, right for a long delay, left for a shorter one.
The 'Twilight Sentinel' headlamps switch on and off automatically and the amount of time they stay on after you get out is easy to set on the headlamp control. The 'Guide-Matic' headlamps themselves dip automatically, as Cadillac's Autronic Eye had been making possible since 1952. And in case you suffered a headlamp bulb failure, Cadillac fitted three little lamp monitors to the top of each front wing – one each for main, dip and sidelights – so you'd know straight away if something went out.
For all things Classic American, like our page on Facebook here!