If you fancy a trip back to the rockabilly revival of the Seventies, look no further than Tongue Tied, a new romantic novel by Judy Punch.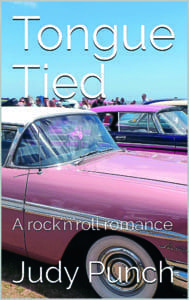 The nostalgic tale follows the adventures of Lauren McGuinty, a 40-year-old Memphis music teacher who gets a call out of the blue from charismatic English rock promoter Barrie 'Lightning' Bolt to tell her that Tongue Tied Gal, a long-forgotten record she made 20 years earlier has become a surprise hit in the UK's 
rock 'n' roll clubs.
Brought out of retirement for one last tour, Lauren sets out on a journey through a world of Teddy boys, classic cars and Fifties revival festivals in windswept holiday camps. But can she recapture her youth and manage not to fall in love with Lightning before she has to finally head home?
"Tongue Tied was inspired by the real-life stories of rockers like Hank 'Jungle Rock' Mizell, who were startled to be discovered by European rockabilly fans long after they were forgotten in America," says Punch.
"I wanted to capture the feeling of those rock 'n' roll days." Oh, and did we mention that Punch is a pen name of one-time Classic American music critic Douglas McPherson? He/she ought to know his/her stuff!
Tongue Tied is available to buy 
from Amazon.