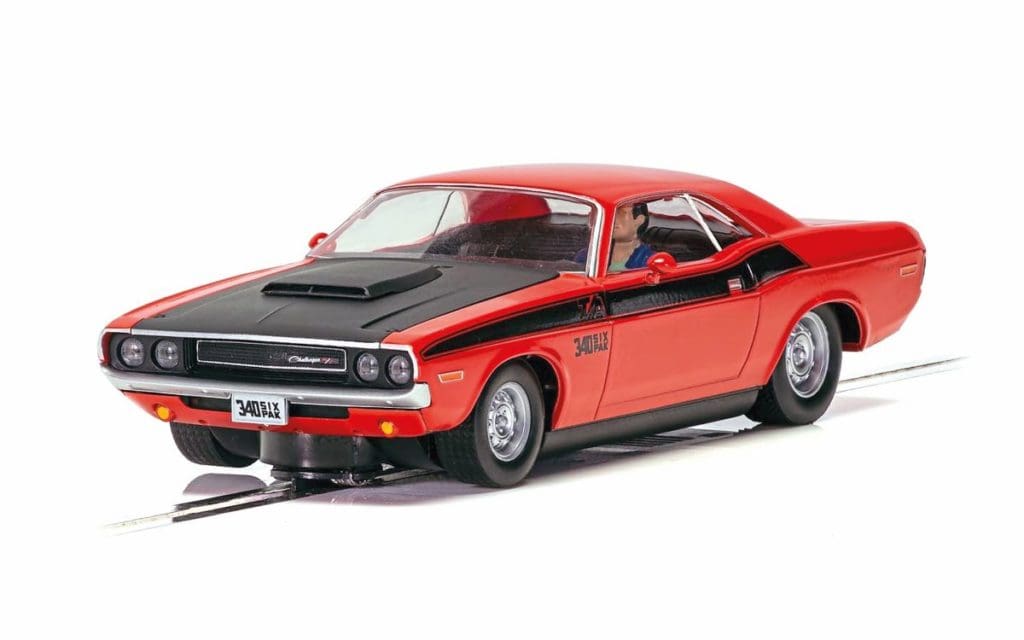 Words & Photography: Richard Coney
Scalextric Dodge Challenger
Is a slot car a model or a toy? Years ago, Scalextric cars were certainly intended for the toy market, mindful of the wear they would encounter in the hands of young carpet racers. These days such is the quality of their manufacture and decoration, with well proportioned bodies and many details, I'm sure many people collect these 1:32 scale slot cars for display, being too wary of their racing skills to risk damaging these excellent models. The fact that in recent years they have incorporated LED lighting and optional digital control makes them even more sophisticated, though obviously one would only appreciate such technical advances on the track.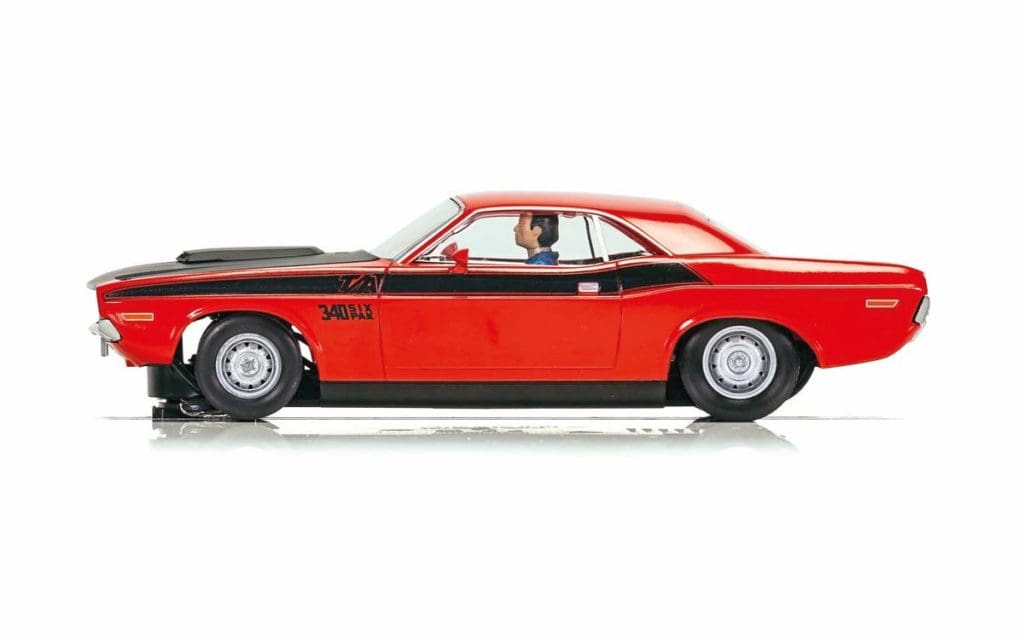 This iconic 1970 Dodge Challenger represents the one year only T/A (Trans Am) version which was introduced to homologate the car for the Sports Car Club of America's Trans American Championship. Dodge's participation was limited to a single season with the Challenger, but they were reasonably successful. They featured a 340 cid V8 with three two-barrel carbs rated at 290hp. With identifying '340 Six Pack' graphics, the cars also had a large air scoop on the matt black glass fibre bonnet. Similar to, but a couple of inches larger than, the Plymouth 'Cuda AAR, the Challengers came with several options, including pistol-gripped Hurst-shifted manual or automatic transmissions, manual or power steering. Front discs were standard, however, as was heavy duty Rallye suspension. Curiously for a production car, the front and rear tyres were of different sizes, having E60x15s Goodyear Polyglas on the front, and taller G60x15s on the rear. With only 2399 examples of the '70 Challenger T/A made, they are always rare. With natural wastage they are even more so now and command high prices whether restored or not.
The RRP for the Scalextric Challenger T/A is just under £50, though undoubtedly shopping around will find special deals. It is striking in its red and black livery, complete with '340 Six Pack' lettering and 'T/A' incorporated into the black side graphics. A tiny 'Challenger T/A' badge also appears in the blacked-out grille. It has silver trim throughout and body-coloured mirrors. The driver sits in a black interior. As with many new Scalextric cars, this example has working lights, Magnetraction for additional adhesion on the track and the aforementioned digital upgrade can be fitted. As Scalextric slot cars come in a sturdy plastic display box, with an opening lid and space underneath to store replacement electric braids, I'm sure many of these attractive models will never see track use.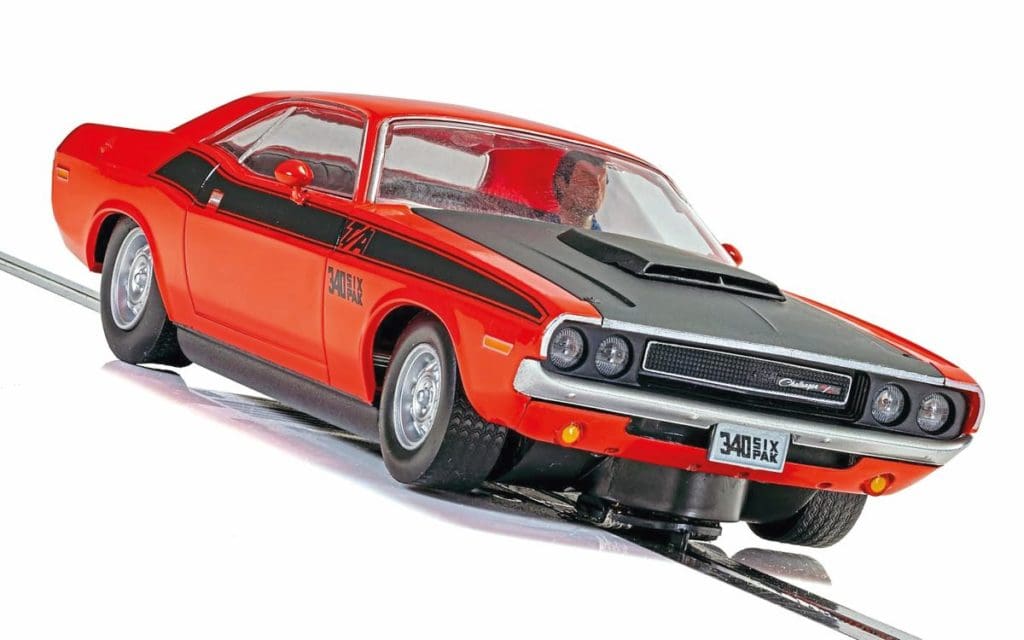 Ford ambulance curiosity
Whitebox continues to make affordable 1:43 scale die-cast cars to an acceptably high standard. I came across this odd, but surprisingly attractive, Ford recently. It is described by the manufacturer as a Ford Amblewagon, 1964. In reality, it is a 1960 Ford Country Squire station wagon, so I have no idea where the later date comes in, unless it was a one-off conversion carried out at that time on which the model was based. What makes it an ambulance are the frosted rear windows in the capacious rear load area and the centrally mounted red dome light on the roof. Otherwise, it appears to be a stock vehicle. I understand why they would use a Ford station wagon of the period as a small ambulance, as they had a nine-seater option, so the space available for a stretcher and presumably first aid equipment plus a medic, would have been more than adequate. Why use the top-of-the-line Country Squire, with its wood-trimmed flanks, rather than the Galaxie equivalent? Maybe it was as simple as this was what was available. Whatever the reason, the model is nicely finished with a mixture of chromed and printed silver trim.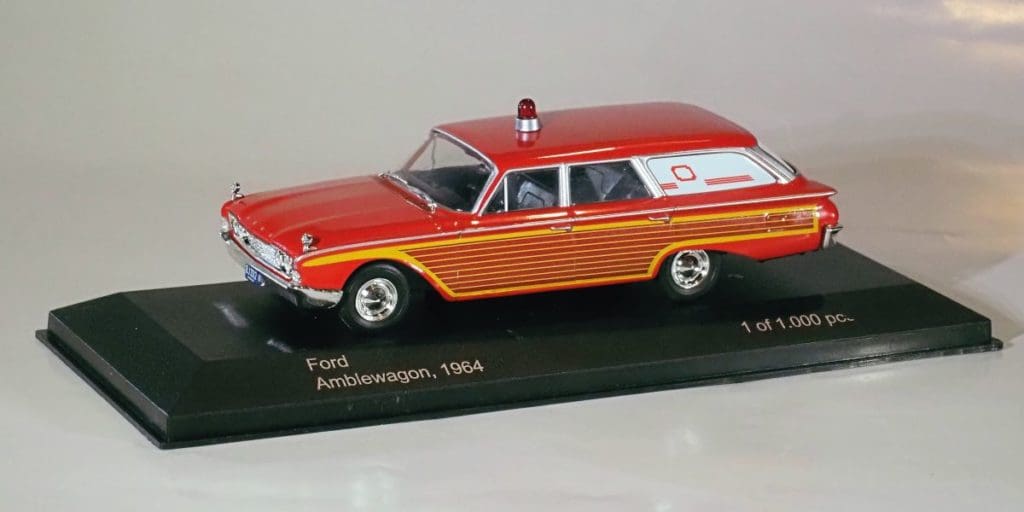 While the 1960 Fords were longer and wider by five inches than their 1959 predecessor, the styling was noticeably more restrained. The jet and rocket inspired rear wings were now much smaller and were styling cues, rather than dramatic statements. The horizontal rear lights have clear red lenses and similarly the headlamps and front indicators all have small clear lenses. What little can be seen of the interior is plain black. I suspect the prototype, if indeed there was one, would have had the rear seat removed. The hubcaps are quite plain, as are the tyres. No whitewalls here! The iconic side trim is Tampo printed, or perhaps a decal, but while there is no texture, to have added it with a moulding would have been over-scale. A limited edition of 1000 examples, it is an unusual addition to those who collect public service vehicles, but it is also a nice model in its own right. Expect to pay around £25 for a new example.
Article continues below…
Advert
A wide range of die-cast models and American-range plastic kits are available online at competitive prices. However, you should be able to source most models reviewed in Scale Autos from www.modelstore.co.uk or see American Classic Diecast at www.american-classic-diecast.co.uk
More from Richard Coney about scale autos in the Classic American magazine! Subscribe here or purchase individual issues here!