Check out the exclusive Classic American Christmas Gift Guide!
Yes, like it or not, it's that time again. The run up to Christmas can be an extremely stressful time finding ideal gifts for your nearest and dearest. So, we've made your life a hell of a lot easier with our exclusive Christmas Gift Guide! Check out some of these must-haves for a Classic American reader…
---
1. Six month subscription to Classic American magazine for just £20!
Price: £20, ClassicMagazines.co.uk
What better gift is there for classic muscle enthusiasts than six issues of their favourite magazine? This exclusive offer means you save money, and have your magazines delivered right to your door!
From prewar pioneers through to 1960s Detroit muscle and on to modern metal, this leading monthly magazine celebrates the style and glamour of cars and trucks made in the US of A.
Available: www.classicmagazines.co.uk
---
2. Keep your Christmas drinks flowing without spilling, with these classic coasters!
Price: £2.99, ClassicMagazines.co.uk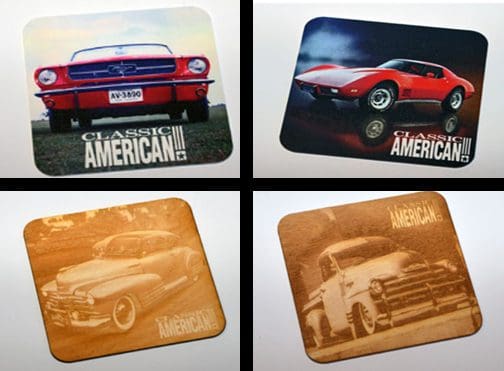 ClassicMagazines have some great Christmas gift ideas, including these superb plastic and wooden coasters, with a range of Classic American cars depicted on them including a classic Corvette, an American pickup and a stylish classic Mustang!
Available:  www.classicmagazines.co.uk
---
3. Get your Christmas read with the History of Speed bookazine!
Price: £6.99 or £5.99 for digital copy!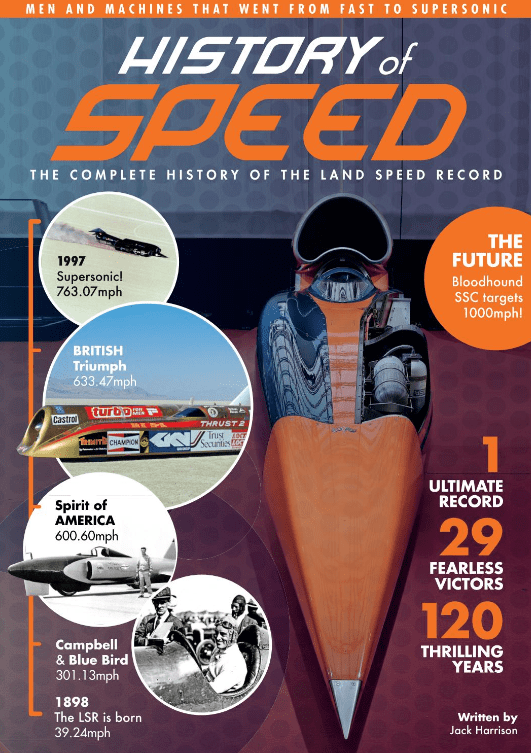 This 132-page special volume tells the story of the men whose names will be forever etched in the annals of history as land speed record holders, and uses a wealth of rare images to uncover how they each achieved immortality.
This is a must-read, make sure you get your Christmas reading fix now!
---
4. You'll never lose your keys again with these standout Classic American keyrings!
Price: £2.99, ClassicMagazines.co.uk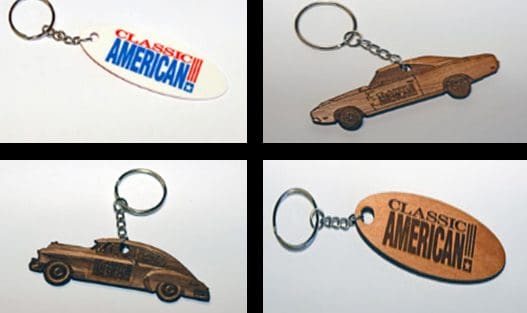 Are you clumsy and always losing your keys? Or do you want your keys to stand out among the crowd? Then this is the ideal gift for you, ClassicMagazines are offering these wooden keyrings carrying the Classic American logo, or in the shape of some classic american muscle cars!
With a metal ring and light chain to keep your keys safe, these aren't just a good look for your keyset!
Available: www.classicmagazines.co.uk
---
5. Show off your smartphone with Classic American magazine's phone cases!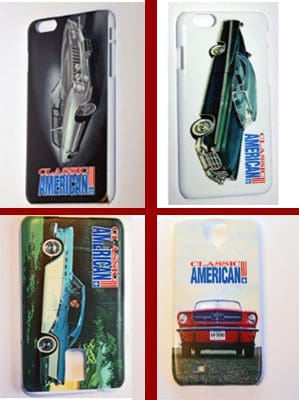 Price: £5.99, ClassicMagazines.co.uk
ClassicMagazines have unveiled these amazing new phonecases embellished with the Classic American magazine logo and depicting various gorgeous classic muscle cars!
Available for a variety of phones, including iPhone 5/5s, Samsung Galaxy S6 Edge, Samsung S4, Samsung S5, iPhone 6 and Sony Xperia Z5, this is an ideal Christmas gift not worth missing!
Available: www.classicmagazines.co.uk
---
6. Decorate your garage or home with this classic Corvette parking sign!
Go retro this Christmas with this great gift for Classic American car lovers! Made from stable sheet steel, the decorative tin sign is perfect for placing in your home, or as the star of your garage!
Available: www.amazon.co.uk
---
7. Keep your Classic American magazines in one place with a golden binder!
Price: £9.99, ClassicMagazines.co.uk
This official Classic American binder is part of the Classic American merchandise range. Keep those prized copies in one place and in tip-top condition!
Our smart magazine binders, embellished with the Classic American logo in gold on its front and spine, holds 12 issues easily and safely.
Available: www.classicmagazines.co.uk
---
8. Celebrate the Mustang, Oldsmobile & Hemi Road runner with brand new posters!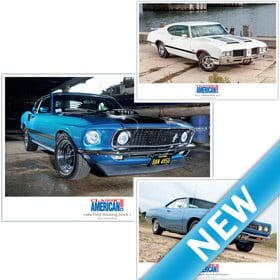 Price: £6.99, ClassicMagazines.co.uk
These brand-spanking new Classic American photos are digitally reproduced onto a 280gsm gloss coated A4 sheet.
These are very popular so get hold of them in plenty of time in the run up to Christmas with high quality images of the 1969 Ford Mustang Mach 1, 
1971 Oldsmobile 444 and 
1968 Plymouth Hemi Road Runner!
---
9. Look slick with the Classic American 'Who's the Boss?' tee!
Price: £12.50, ClassicMagazines.co.uk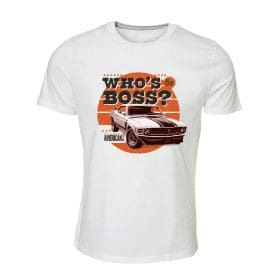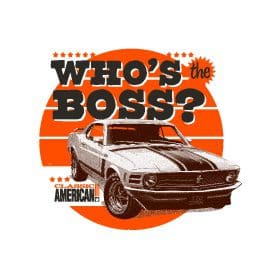 Show off your favourite magazine with this Classic American magazine t-shirt, the perfect Christmas present for American muscle car enthusiasts!
Excellent quality 100% heavy cotton short-sleeved t-shirt, with the original Classic American "WHO'S BOSS?" design printed centrally using three colours on a white garment. The unisex t-shirt is available in white only, in sizes small to 2XL!
---
10. Discover the revelation of Honda's Fireblade!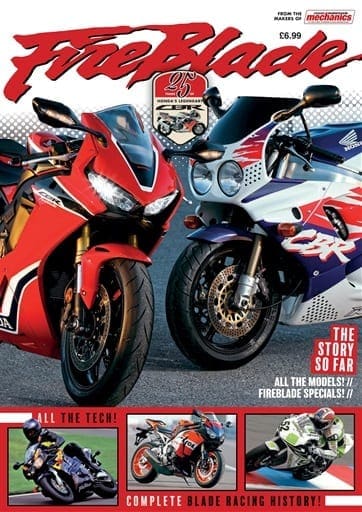 Price: £6.99, ClassicMagazines.co.uk
Grab your copy of the sought-after bookazine 'Fireblade' this Christmas!
When it first appeared in 1992, Honda's  BR900RR FireBlade was a revelation. It broke the 749cc sportsbike mould with its 893cc engine and established a dynasty which today, 12 generations of Blade later, remains at the cutting edge of sportsbike innovation as the CBR1000RR Fireblade.
All the models, all the Fireblade specials, your nearest and dearest can discover the story so far this Christmas!
Available: www.classicmagazines.co.uk
---

Enjoy more Classic American reading in the monthly magazine. Click here to subscribe.
Sell your Classic American car here.