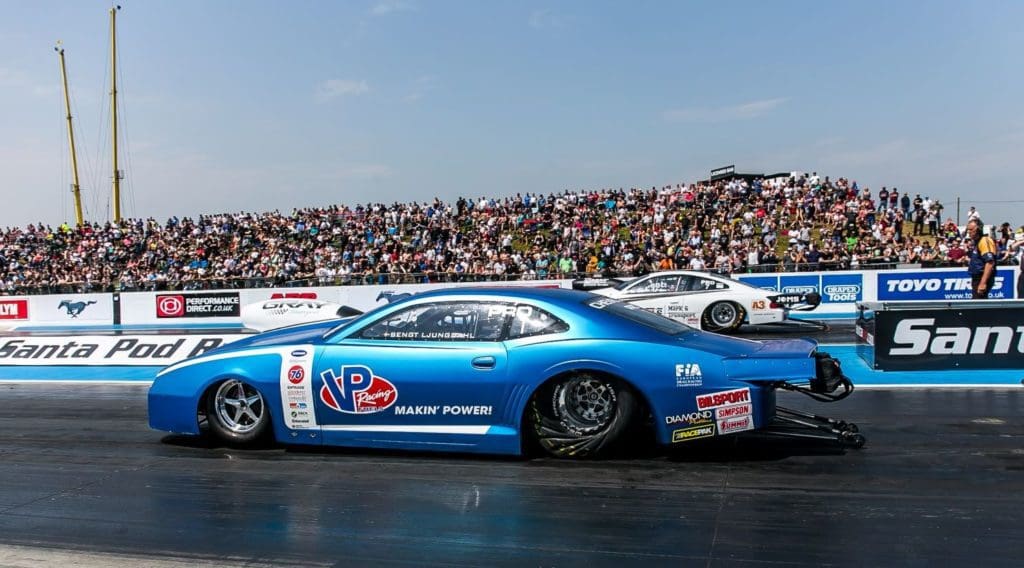 Santa Pod Raceway, the home of European drag racing, has renewed its partnership with VP Racing Fuels. VP will serve as Santa Pod's Official Fuel Supplier for at least the next two years. The deal sees the respected fuel manufacturer supplying its diverse range of race fuels to racers and teams throughout the year.
With many of the 'Pod's front runners from across Europe already relying on VP's unique formulations to power them to victory, the partnership will ensure that a reliable supply of this essential performance product continues to be available at the track. Race teams can order in advance for the ultimate in convenience or buy directly from the Pod Shop at race meetings.
Commenting on the deal, Marc Wesler, VP International Sales Manager, said: "VP Racing Fuels is best known as the World Leader in Race Fuel Technology™, fuelling champions around the world in virtually every form of motorsport. VP's fuels have a well-earned reputation for offering more power and unparalleled consistency. Santa Pod is the premier drag race facility in Europe so we are thrilled to continue our involvement with European Drag Racing and Santa Pod Raceway as their Official Fuel Supplier."
Caroline Holden, Santa Pod's Commercial Manager, added, "Naturally we're delighted to continue our partnership with VP. Their racing fuel is used by many of our leading teams and Santa Pod's on-site supply has hopefully removed some of the logistical problem of moving large quantities of fuel around." Racers can order fuel for delivery in advance simply by visiting Santa Pod's online shop www.santapodshop.com or by calling the Santa Pod team on 01234 782828.