The UK's No.1 American Car Magazine! Classic American car magazine celebrates the style and glamour of cars and trucks made in the US of A. Gloriously powerful sports and muscle cars such as Mustangs, Corvettes, Camaros and Chargers take centre stage with everything from prewar vintage pioneers to the tailfinned wonders of the '50s profiled and pictured as well.
Expert columnists from both sides of the Atlantic debate the hot topics of American car ownership and development and the histories of big names such as Ford, Chevrolet and GM are explored. Every issue features restoration tips, romantic wrecks, ads from the archives and news from the burgeoning UK scene. The magazine features reviews, tips, stories and more on many American cars. So don't miss out – get involved and take out your magazine subscription now!
December 2016 issue on sale now!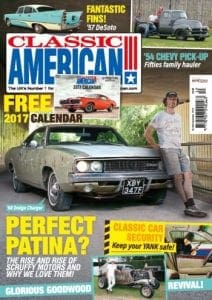 Fed up with festive TV advertisements before November's even had time to burn out like a cheap firework? Bored with baubles, fake snow and over-zealous Christmas marketing?
Then kick back, open a beer and relax with the December issue of Classic American! It's not quite a festivities-free zone, as there is the obligatory and very useful Christmas Gift Guide, but if you'd prefer to hark back to sunshine, summer shows and Sixties style (and classics from other bygone decades too), then we have pages of stunning Yanks to read about.
With daylight hours decreasing, we've got a useful guide to keeping your treasured motor away from the hands of the classic car thief. Other goodies to unwrap before the big day: features on a 1968 Dodge Charger, 1941 Buick, 1957 DeSoto, and, in the new and popular American & Modified section, a 1954 Chevy Truck.
Events under the spotlight are the Can Am Show, Goodwood Revival, Prescott Hill Climb and the 50th Beaulieu International Autojumble, and if that's not enough to keep you cheerful till the Brussels sprouts are cooked, why not delve into our four-page special feature on the Isle of Man Museum?
Regular contributors Huw Evans, Tony Oksien and Richard Heseltine keep you up to speed with their monthly contributions, while Will Shiers is still digging around in junkyards, discovering rusting hulks which were once someone's pride and joy.
Automotive legend Lee Iacocca's exploits are featured in our Classic American People section, while there's a tribute to the American motoring journalist Brock Yates, who died in October, in the busy News section. If all that wasn't enough, if you pop down to the shops you'll find the December issue is bagged with a stunning 2017 calendar! So why not cruise down to your local newsagent or superstore or – if you don't want to drag your Yank from its cosy spot in the garage – why not take out a subscription?