The UK's No.1 American Car Magazine! Classic American car magazine celebrates the style and glamour of cars and trucks made in the US of A. Gloriously powerful sports and muscle cars such as Mustangs, Corvettes, Camaros and Chargers take centre stage with everything from prewar vintage pioneers to the tailfinned wonders of the '50s profiled and pictured as well.
Expert columnists from both sides of the Atlantic debate the hot topics of American car ownership and development and the histories of big names such as Ford, Chevrolet and GM are explored. Every issue features restoration tips, romantic wrecks, ads from the archives and news from the burgeoning UK scene. The magazine features reviews, tips, stories and more on many American cars. So don't miss out – get involved and take out your magazine subscription now!
PREVIEW: December issue of Classic American
Make sure you grab the FREE Classic American 2021 Calendar – only available in our brand new December issue!
As ever, Classic American magazine is packed with the best classic American muscle features, the best from our events, striking pictures of some awesome machines plus MUCH more!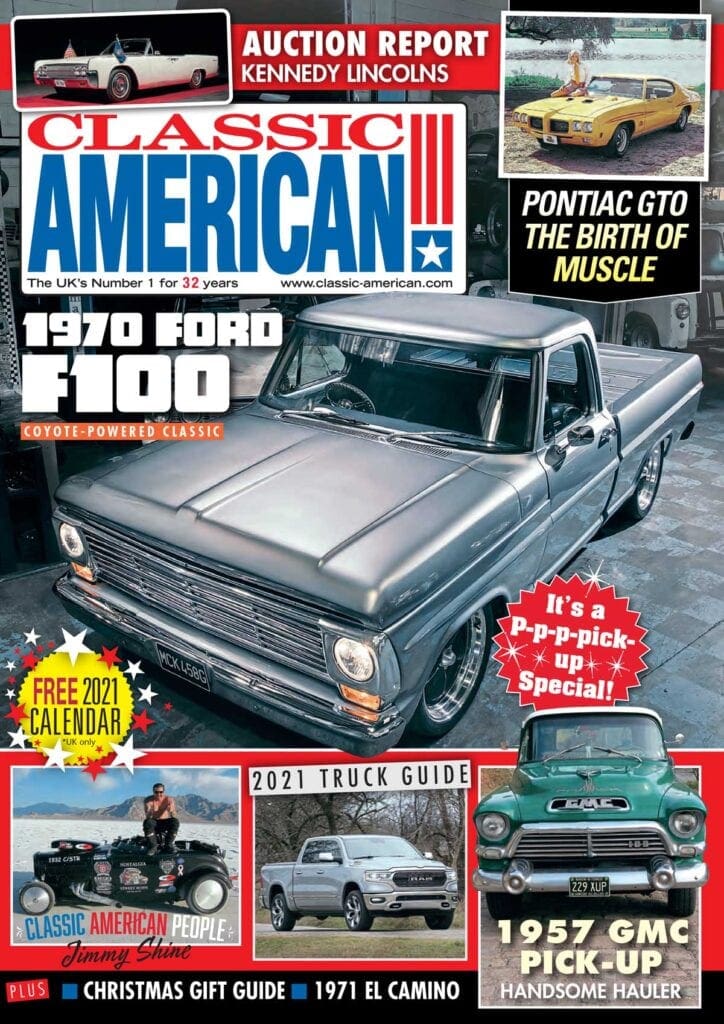 If you'd like to read the December edition, then you can cut to the chase and download the digital version, order the print magazine, or better yet save those pennies and subscribe to Classic American magazine. Here's what to expect this month…
1970 Ford F100
How's this for a first American vehicle? What had originally been planned as a business promotion vehicle created by Valley Gas turned out so well that the owner decided to use it as their daily driver!
Classic American People
Steve Havelock gets up close and personal with Jimmy Shine, who was a hot rod apprentice to Pete Chapouris, but ultimately has become an automotive celebrity in his own right today…
2021 Pick-ups
The latest raft of half-ton pick-ups from Detroit are the most versatile yet, says our man in North America, Huw Evans…
Classic American magazine is on sale in UK newsagents and supermarkets, and you can buy the current issue in digital and paper formats here!
You can also buy stacks of back issues, but it's cheaper to subscribe.